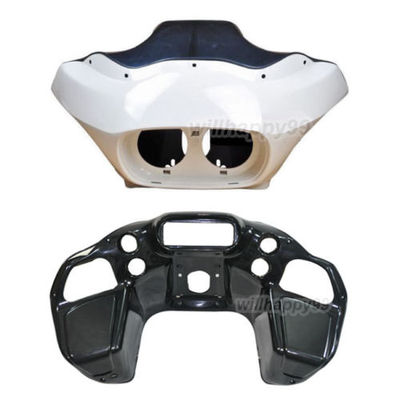 Harley Road Glide
It is one of most popular motorcycle in the USA, as it has convenient saddlebags for the long road trips . The road glide have huge fairings on them to conceal the inner workings of the motorcycle and it's shark nose design attracts our attention. But the huge front fairing is Very fragile,
So you need to replace the fairing.The entire front fairing of road glide can divide into an outter part and an inner part : The outer part faces the road and the inner part faces the rider. To remove the inner fairing, you'll need to remove the outer fairing first.
Remove The Harley Road Glide Outer Fairing
Remove the three outer fairing screws just below the windshield and two inner fairing screws just above the wind deflectors with a Torx driver
Remove the outer fairing screw below the right and left side of the fairing cap with a Torx driver.
Tilt the outer fairing toward the front. Remove the wire connector at back of the headlight assembly by squeezing the two external tabs.Then you can lift the fairing with the headlamp assembly off the motorcycle.