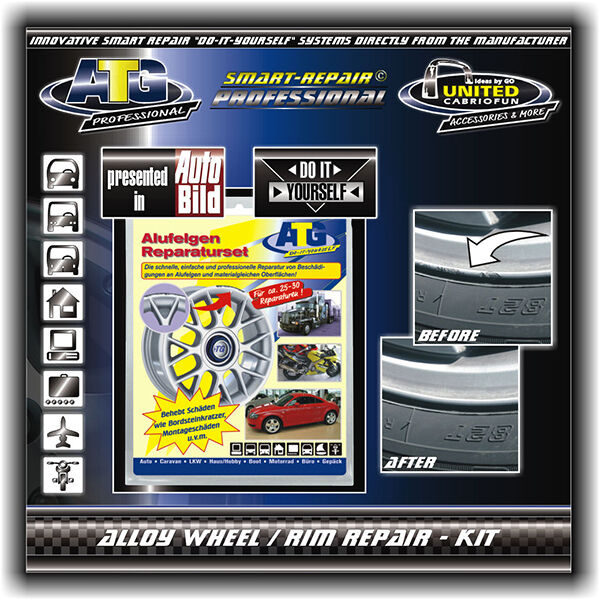 In many cases, repairing alloy rims is cheaper than replacing them. Whether an owner has stock rims on his or her vehicle or complex, customised alloy rims, it is possible to repair small damages without the intervention of a specialist. Although the alloy that manufactures use for wheel rims is a hard metal, it can still be subject to various types of damage. Some of the most common damages include scuffs, scratches, dents, and discoloration. Learning more about the different kinds of alloy rims damage and how to fix them at home can help car owners have wheels that look just like new all the time.
Knowing the Damages that Can Occur to Alloy Rims
Driving a car regularly means exposing its wheels to various dangers that can leave their mark on the rims. For example, pebbles and other road debris can cause scratches and even dents on alloy rims. Prolonged exposure to sunshine may lead to discoloration, whereas less-than-careful parking is a common cause for significant scratches and dents.
In most cases, car owners can deal with minor damages themselves. In case of more serious damages, car owners need to take the vehicle to a mechanic. Different types of metal require different approaches when it comes to repairs.
Type of Alloy Rims

Characteristics

Lightweight option

Better resistance to cracks and imperfections

Come in various models

Better resistance to bends

More susceptible to cracking

More expensive than aluminium rims

Increased racing performance
Most vehicles on the market have aluminium wheels. Magnesium wheels are more common for high-performance vehicles, such as race cars. However, they are available for car owners who want to tune their cars with less common aftermarket components.
Getting the Materials Required to Repair Alloy Rims
A car owner may need quite a few things to repair damaged alloy rims. Some of them are essential, whereas others are optional. Users need 220-grit or 240-grit sandpaper as well as600-grit sandpaper,spray primer, alloy wheel spray paint,masking tape, water, some cloths, and body filler or putty.
Using Alloy Rims Repair Kits
Car owners who want to spare themselves the trouble of finding all the above materials and buying them individually can opt for buying alloy rim repair kits instead. These kits come in various forms, but contain all the supplies one may need to repair scratches and small dents on alloy rims. Alloy rims repair kits are available in brick and mortar shops as well as online on eBay.
Fixing Scratches on Alloy Rims
In order to repair an alloy rim, the car owner first needs to strip the old finish around the scuffed or scratched area. The car owner can do this by dipping a cloth into a bowl full of paint thinner and use it to cleanse the scuffed area on the rim. The car owner should repeat the process and clean the area with the cloth. It is not necessary to go beyond the immediate vicinity of the scuff, since this can cause trouble when it comes to applying the new finish to the alloy rims.
Applying Body Filler and Paint
Using masking tape, the car owner should tap off the rim on the side where the scuffs are. Now it is time to use the240- grit sandpaper on the scuffed area. The car owner should try to rub repeatedly back and forth until the area is smooth. Next, he or she should apply the car body filler on the low areas and spread it until it feels smooth. Using the 600-grit sandpaper, the car owner should level the body filler, then rinse the rim with clean water and allow it to dry. After spraying the area with the primer, the car owner can apply the final colour, making sure the coat is thin. It is possible to apply several coats to get a correct colour match with the rest of the rim.
How to Buy Alloy Rims Repair Kits on eBay
To repair various scratches or dents that appear in alloy wheels, you need various materials. On eBay, you can choose to buy them individually or as part of an alloy rim repair kit. Simply type the words 'alloy rim repair kit' into eBay's search bar and browse through several pages of results until you find the items you need.
Scuffed or dented alloy rims ruin the look of a car and, even worse, diminish its resale value. Whenever damage occurs, it is easy to take care of scratches and discoloration with the help of a simple alloy rims repair kit.