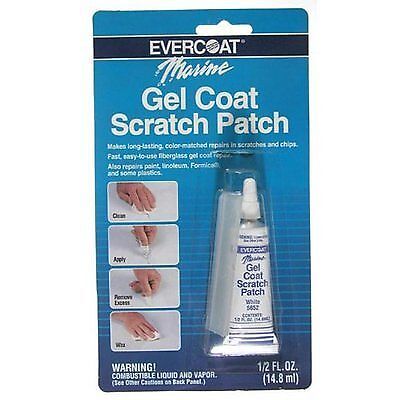 Every boat owner worries about finding scratches in their gel coat the next time they decide to spend the day cleaning and waxing their pride and joy. They wonder how the scratches could have occurred, fret over how deep they go into the boat's surface, and tremble as nightmarish visions of repair costs threaten to overwhelm their bank accounts.
Most owners fail to realize that debris carried by the wind, hard objects and critters such as winch handles and lobsters hauled on deck, handles, and saltwater chip away at boat gel coats, especially in boats more than a few years old. Fortunately, sea- and lake-faring explorers can smooth over scratches in their boat gel coat at home using a few easy-to-find tools and supplies.
Assess Gel Coat Damage
Before making repairs, owners need to assess the damage to their boat's gel coat to determine the proper steps to take. Most damage to gel coats occurs from objects and sea life. However, a series of cracks often indicates serious damage in the boat's installation.
Trace the cracks to their origin. If they come from stanchions, cleats, or other load-bearing equipment, owners can try shifting their load to another space on the boat to relieve pressure. If the cracks originate at joints or intersections in the cabin area or on the deck, they could indicate a structural weakness that professionals should repair.
Repair Process
Owners can repair most shallow scratches and cracks by buffing them out and filling them with paste.
Gel Coat Paste
Boat gel coat comes in two forms: a paste, which resembles thick putty; and a resin. Most experienced boaters recommend paste, as its thickness provides greater protection. Many repair kits include paste as well as hardener, pigments, mixing sticks, and a sealing film. If the boat owner opts to buy gel coat paste sold separately from a kit, make sure to choose a neutral, white paste.
Beyond gel coat paste, stock up on a flexible plastic spreader and sheets of sandpaper. Look for 220-, 400-, and 600-grit, wet-or-dry sandpaper.
Match Colors
Matching the color of a gel coat proves the most difficult part of the repair process. Visit a local paint store and ask for a color sample card to match the hue of the boat's exterior. After narrowing down the color, the clerk at the paint store can provide the tints needed to mix custom colors, as well as the formula needed to achieve the color of the gel coat. As a rule of thumb, the most important tints of the formula are those listed in the largest quantities. Mix the color by dropping one ounce of gel coat paste into a mixing cup and then adding each tint one drop at a time. Keep tabs on how many drops of each tint go into the mixture.
When the color changes to a huge that seems close to the boat gel coat, add a drop to the hull and compare it. Tweak the formula until the color comes out as a close match. Finding an exact match could prove impossible, so aim to hit on the color as close as possible. Add a hardener to the colored paste. The color changes during the hardening process.
Cleaning
Wash the area around the crack or scratch with soap or water to remove dirt, oil, and debris. Owners should rub any oxidized areas down with rubbing compound in order to match the color later. After the surface dries, mark it off with masking tape.
Widen Cracks
Although it may seem counterintuitive, owners must widen scratches by gouging at them in order to create a void large enough to fill with gel coat paste. Try a Dremel rotary tool. Now sand the crack lightly using 220-grit sandpaper. Wipe down the area with acetone to remove debris stirred up during the sanding phase.
Apply Gel Coat
Dip a putty knife into the completed gel coat paste and fill the crack with paste. Gel coat shrinks during the curing stage, so do not hesitate to fill the crack to excess. After filling, seal the coating away with plastic wrap or PVA curing agent, giving it time to set.
Sanding and Finishing
The final stage entails sanding the repair until it becomes smooth. Start with 220-grit sandpaper and work up to 440- and600-grit. Spread on a coat of marine polish to complete the repair.
How to Buy Boat Gel Coat on eBay
Once boaters read up on the many do-it-yourself techniques that can buff out scratches and scrapes on their boat gel coats, they can find the tools and supplies they need on offer from eBay's Top Sellers. Begin a search by visiting any eBay web page and locating the search bar; type in a keyword phrase such as, "boat gel coat" or "sandpaper," to bring up a list of results. Entering specific products weeds out unwanted search results. To save money, consider buying used products provided they include all the pieces and parts. Buyers can also save by picking up products from local sellers.
With the right supplies, boaters can restore their boat gel coats to a pristine condition that rivals any new boat.