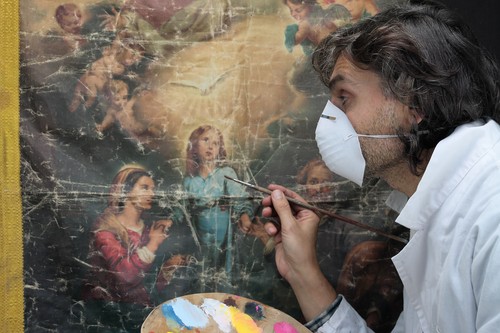 While canvas is a very durable material, it is fabric and is susceptible to damage. While the most common problems with canvas are rips and tears, canvas is also susceptible to mould, water damage, and stains. Anyone who owns a canvas item can take steps to repair it, although it is important to keep in mind that repairing anything old or valuable might require professional help to ensure optimal results. It is also important to consider what is on the canvas as this affects the repair. For the most part, fixing canvas is relatively easy, as long as the owner uses the correct repair method for canvas damage and has the right supplies for the repair.
Assessing Canvas Damage
The method for repairing canvas damage depends on the canvas. For example, a canvas sail on a boat is easy to patch and sew but a canvas painting requires more care. Owners should check the material, decide whether the canvas has either oil or wax treatment on it, and then choose a repair method that works for the canvas. Owners can consider how old and delicate the canvas is, as well as how a patch or fixing method might affect the appearance of the canvas.
Repairing Canvas Rips and Tears
Rips and tears are the most common problem with canvas, but fortunately, there are a number of ways to repair them. Common ways to fix rips and tears include sewing, patching, gluing, and taping, and each of these methods has its own pros and cons. For the most part, choosing the method of patching should depend on the type of canvas and how much the appearance matters, as well as required durability.
Sewing Canvas Rips and Tears
Sewing is a simple matter of sewing the rip or tear shut. Owners should, however, consider that heavy-use canvas, such as a boat sail, requires heavy-duty sewing thread with the strength to hold up to the stress put on the material. If the canvas is waterproof, then it is also important to waterproof the new seam with a sealant spray after sewing.
Patching Canvas Rips and Tears
Patches and patch kits are available with glue-on and sew-on options, and buyers should choose one based on the type of canvas. Glue-on patches work best for areas that cannot have a seam on the front. However, they are not as durable as sew-on patches and are not suitable for any sort of canvas that might have to support weight or stress, such as a tent. Sew-on patches are more durable, but less aesthetic because the seam usually shows through on the front.
Taping Canvas Rips and Tears
Tape patch kits are similar to patching kits except they do nothing more than tape the back of the canvas together. These kits are a good choice for fixing rips and tears in paintings because they are not very durable. However, they are strong enough to hold canvas together, and offer the best cosmetic results for the front of the canvas.
Some people choose to use glue or superglue to make quick fixes to canvas, but this type of fix is mostly only temporary. The majority of glues are not suitable for holding fabric for a long time, and many glues soak through the back to the front of the canvas, which also affects its appearance. Anyone who wants to use glue to patch or fix a rip should consider purchasing fabric glue for the purpose.
Cleaning Canvas Stains
Mould, water, and food or grease canvas stains are all common, but cleaning methods are mostly the same. Buyers should look for a canvas cleaner that suits their type of canvas. For example, a marine canvas cleaner works on sails and tarpaulins exposed to salt water. Painting cleaners work on canvas paintings, although it is also important to choose an option suitable for either acrylic or oil paint.
How to Buy Canvas Repair Supplies on eBay
Canvas repair and cleaning supplies including patches, sewing supplies, and tape kits are available on eBay. Buyers looking for deals on repair kits can also check on eBay for great prices, deals, and sales on a number of different items including canvas cleaners, repair kits, and fabric glue. It is important for buyers to read the full description and listing information before making a purchase to ensure the product suits their needs. For the most part, repairing canvas requires buyers to decide on the repair method, purchase canvas repair supplies, and then do the repairs.