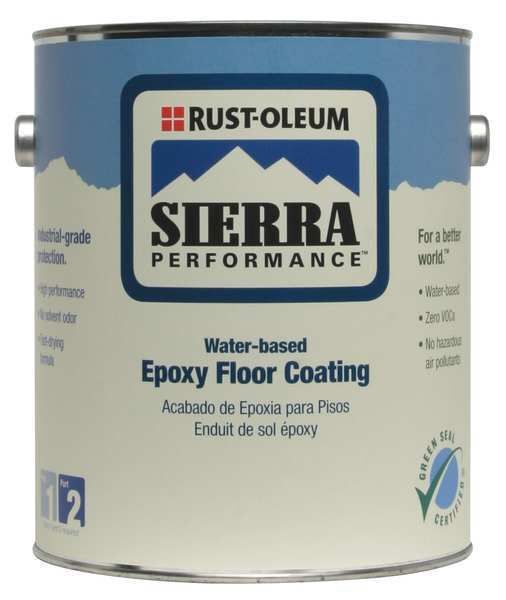 Many people choose epoxy floor coating for their garage or work space due to its durability. It protects the concrete underneath it, while also resisting damage due to heavy objects and automotive vehicles. Most epoxy floor coating is also water and stain resistant, which makes it ideal for a messy work area. Though epoxy floor coating is durable, it is not impervious to damage. Chemicals such as battery acid can corrode the coating, and it may also fade or begin to crack with age. Fortunately, you can repair damaged epoxy floor coating and make it look as good as new.
Materials Needed to Repair Epoxy Floor Coating
Depending on the type of problem with the epoxy coating, there are a number of different materials needed to fix it. For repairing large cracks in epoxy, many people use an electric sander and rough, strong sandpaper, such as diamond sandpaper. You can also use a heat gun or a blow dryer, along with a razor blade and a paint scraper, to remove damaged epoxy. One very important thing to have when repairing epoxy floor coating is new epoxy floor paint. There are a few different types of epoxy coating available.
Type of Epoxy

Notable Features

Provides a coating up to 2 mm thick

Extremely durable

Smells very toxic until it dries

Water-based Epoxy Floor Coating

Provides a thin coating

Easy to apply

Stain and scratch resistant

Not very toxic

Solvent-based Epoxy Floor Coating

Provides a thin coating

Stain and scratch resistant

Highly toxic until it dries
Find out what kind of existing epoxy coating is on the floor, and choose the same type. All types of epoxy coating are available in a variety of colours, so it is usually not too difficult to find one that matches the existing floor coating.
Repairing Faded or Discoloured Epoxy Floor Coating
The easiest way to repair discoloured or faded epoxy coating is to paint another coat of epoxy on the existing layer. Choose a colour that either matches the existing epoxy, or a colour that is darker. Use a paint roller to roll the epoxy evenly over the floor. For a thicker coating, allow the first coat to dry completely and then paint on another.
While painting with epoxy, make sure to ventilate the room. Open all doors and windows before opening the paint, and leave them open until the epoxy is completely dry. In order to preserve the colour and prevent discolouration in the future, it is a good idea to apply a clear sealer over the dry epoxy.
Repairing Epoxy Floor Coating with an Electric Sander
One way to repair cracked epoxy floor coating is by removing the cracked epoxy with an electric sander. Because epoxy is very durable, you need a very rough, strong sandpaper. Diamond sandpaper is ideal. Clean and dry the damaged epoxy, and then begin sanding it on a low setting. If the epoxy is not coming off, put the sander on a higher setting. Be sure to wear a dust mask while sanding epoxy to avoid inhaling any epoxy dust. Once you remove the damaged epoxy, cover the area in a new layer of epoxy and let it dry. Then apply a clear sealer to the entire floor.
Repairing Epoxy Floor Coating with a Heat Gun
Another way to repair epoxy floor coating is to remove the damaged or cracked epoxy with a heat gun, arazor blade, and a paint scraper. Start by cutting slits into the damaged part of the epoxy using the razor blade. Cut slits that are roughly 2 cm long about every 5 cm. After that, use the heat gun to heat a small area of the damaged epoxy. A blow dryer also works, but it takes longer to heat the epoxy. Once it is hot, scrape it off the floor with the paint scraper. Allow any remaining epoxy to cool before painting on a new layer of epoxy. Once the epoxy dries, cover the floor in a clear sealer.
How to Buy Materials to Repair Epoxy Floor Coating on eBay
When it comes to buying materials to repair epoxy floor coating, eBay is an excellent resource. To find what you are looking for, start by typing in keywords that describe the product you need. You can start with something like "epoxy coating", and narrow down your search by selecting a category. Epoxy floor coatings are very durable, but they can still suffer damage. Professional epoxy floor repairs are often very expensive. Fortunately, most people can repair their own epoxy floor coating with just a few materials. With a little work, you can restore your floor to excellent condition.