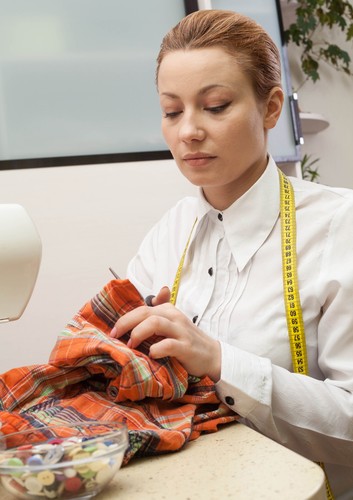 Lycra , also known as spandex and elastane, is a stretchy synthetic fibre used in a wide range of clothing, including sportswear, swimwear, and fashion brands. It is a strong, flexible material that fits closely and makes it easy for the wearer to move with little restriction. Lycra items are durable, but they are prone to wear and tear, and may unravel if a sharp object hooks into them. Before attempting to repair lycra, wearers should consider the various types of thread available, such as polyester, elastic, and cotton. They should also know which type of stitch is most suitable for this type of stretchy fabric. Supplies to repair lycra are found at fabric stores and online marketplaces such as eBay.
Thread for Repairing Lycra
Many types of lycra garments are made by combining stretchy synthetic fibres with other materials, including nylon, polyester, and cotton. Buyers should purchase the thread that is appropriate for the type of lycra.
Type of Lycra Fabric

Thread Recommendation

Polyester

Elastic

Polyester

Polyester

Elastic

Cotton

Cotton

Polyester

Elastic
Polyester thread is useful when repairing any type of lycra and is easy to find. Elastic thread is the ideal option because it stretches with the fibres. However, it is not as widely available as polyester thread. Buyers should avoid cotton thread if repairing lycra items containing nylon. Nylon lycra is strong and cotton thread may become loose, unravel, or break as the fabric stretches. However, if the lycra item contains cotton, then using the same fibre for the thread works well.
Repairing Lycra
Lycra is a challenging fabric to repair because it stretches both horizontally and vertically. This means that wearers should take extra care when sewing items so that they do not stretch the fabric out of shape. Whether repairing lycra by hand or with a sewing machine, wearers should consider using zigzag stitches. They are not essential if using elastic thread, but they make the repair more durable by allowing the lycra fabric to stretch more when it is in use. If a wearer is sewing the hem of a garment, zigzag stitches minimise the risk of the repair unravelling. If using a sewing machine, ensure that it is set up for the correct stitch.
Setting up the Sewing Machine
Set the machine to perform a zigzag stitch with a medium width. If possible, also set the machine to perform a stretch stitch designed for stretchy fabrics. This consists of two stitches forwards and one backwards, which creates a stitch that stretches with the lycra.
Needle Selection
Wearers should use a ballpoint needle when repairing lycra. This blunt needle pushes the threads in the lycra fabric aside rather than piercing through them. The weight of the fabric determines the size of the needle.
| | |
| --- | --- |
| Lycra Fabric Weight | Machine Needle Size |
| | |
| Medium weight | |
| Heavyweight | |
Manufacturers of sportswear and swimwear typically use lightweight to medium weight lycra fabric. If repairing lycra by hand, ensure that an appropriate needle is selected for the weight of lycra. A sharp needle may tear the fibres, causing more damage, so always use a blunt needle.
Sewing Lycra
Before sewing lycra, wearers should turn the item the wrong side out or use the dull side of the fabric. If using a sewing machine, feed the item through slowly without pushing or pulling too firmly, which can result in the fabric bunching up or stretching out of shape. Adjust the feed dogs if necessary. These are the saw-shaped teeth that are responsible for moving the fabric through the machine. Use the sewing machine's instruction manual to make the adjustments based on the fabric's weight. In general, lightweight fabrics require more pressure.
How to Buy Products to Repair Lycra on eBay
To find products to repair lycra on eBay, start by performing a search using the box that appears on every page. Enter keywords, for example, " elastic thread" and browse the results. Narrow down the listings by adding more detailed keywords, such as a colour, or by using the category filters. Check the eBay deals page for offers on sewing products. Read the item description carefully to ensure that you select the right product to repair the particular weight and fabric construction of the lycra. Polyester is a good general-purpose thread to use for any type of lycra. The ideal thread is elastic, which stretches with the fabric. Select the right needle and use zigzag and stretch stitches to repair the item.