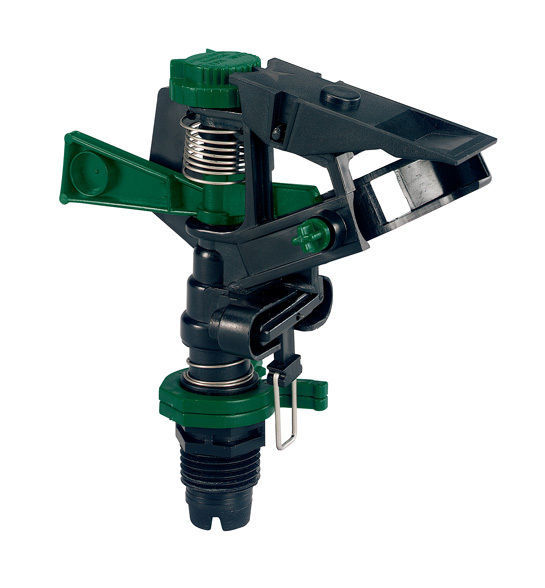 Repairing a sprinkler head or addressing other common sprinkler system-related problems is not very difficult as long as people have access to the right information and the right supplies. In doing so, the need for a professional repairman vanishes, which leads to savings. However, before proceeding with repair work, people should pay attention to certain aspects.
After identifying the problem people should find out how to go about the required work. If the sprinkler head requires replacement, identifying its type is crucial. When buying a replacement sprinkler head or supplies required for repairs, buyers can turn to regular home and garden shops or shop online at eBay.
Repairing Sprinkler Heads
Sprinkler heads can fail to function for different reasons. Common problems include clogged sprinkler heads, pop-up sprinkler heads not popping, and sprinkler head leaks.
Repairing Clogged Sprinkler Heads
With time, dirt and debris can collect in the nozzle or filter of a garden sprinkler head, which can lead to obstructions in the flow of water. When it comes to spraying heads, the top part of the head unscrews, exposing the filter and nozzle. The filter and nozzle are easy to remove and simply rinsing them well suffices. For sprinklers that contain rotors, the entire rotor needs removal because the filter is located at the very bottom. Again, a thorough rinse is sufficient to clean the filter.
Repairing Pop-Up Sprinkler Heads That Do Not Pop-Up Completely
There are different reasons that can lead to pop-up sprinkler heads not popping up completely. In some instances, this could be because of obstructions in the form of grass or foliage overgrowth. The problem can also be a partially closed valve. Sand or debris lodged between the sprinkler cap and the pop-up riser can also restrict the head from popping up, and pressing the riser up and down a few times can loosen it. In addition, while a little blow-by lubricates the head's seal and keeps the surface clean, excessive blow-by is not normal and indicates that the head requires replacement. A leak between the cap and the riser also indicates that it is time to get a new sprinkler head.
Repairing Sprinkler Head Leaks
Wear and tear leads to leaks in sprinkler systems. Leaks can also arise owing to damage caused by lawn mowers or automobiles. While it is possible to replace seals inside certain rotor sprinkler heads, this is not the case with all. When it comes to addressing large leaks, replacing the entire head is a better option.
Replacing Sprinkler Heads
Not all damaged garden sprinkler heads are repairable, and when it comes to replacing a sprinkler head, identifying its type becomes important. The corresponding table differentiates between different types of sprinkler heads.
Type of Sprinkler Head

Characteristics

Typically used in residential and small commercial systems

Come with stationary sprays or rotating heads

Include different spray patterns

Cover larger areas

Provide single or multiple streams

Gear-driven rotors

Typically used in medium to large scale systems

Favoured over impact rotors because of versatility, silent operation, and low cost

Large turf rotors

Ideal for parks, golf courses, and other large areas

Older heads made of brass; newer heads made of plastic
Buyers should bear in mind that the quality of sprinkler heads from the same category can vary significantly. Older brass turf rotors, for instance, can last longer than 40 years, which is definitely not the case with newer plastic alternatives.
How to Replace a Sprinkler Head
With access to the correct replacement sprinkler head, the next step is to move forward with the replacement. People should start by digging around the damaged sprinkler head. This process requires caution so as not to damage any pipe in the vicinity. Removing dirt around the sprinkler head also requires careful hands, and people should have enough room to get both of their hands around the sprinkler head comfortably. Turning the head in a counter-clockwise direction unscrews it. In the event that dirt falls into the pipe, water is effective in flushing it out.
After ensuring that there is no dirt in the connection, it is time to screw in the new garden sprinkler head. Replace the sod and dirt, and ensure that the new head is high enough to prevent frequent clogging.
How to Buy Supplies to Repair Sprinkler Heads on eBay
Those who are looking to buy replacement garden sprinkler heads or supplies needed to move forward with repair work have many options when shopping on eBay. Many top-rated sellers deal in residential and commercial watering equipment, and as a result, it is easy to find different types of sprinkler heads. Some sellers offer garden tool deals with free delivery. Buyers can also find used sprinkler heads on eBay.
Knowing what the process of repairing or replacing a sprinkler head entails is important. Failing which, people can end up with even more damage and flooded front or back gardens. When in doubt, going the professional route ensures that the job is well done.