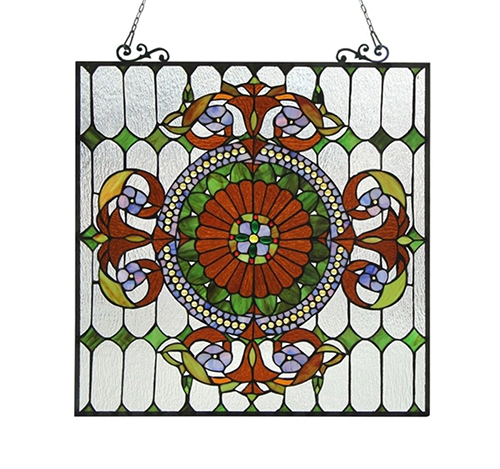 There is nothing more beautiful than sparkling stained glass, usually seen in churches or other holy places. There are also window decorations, sun catchers, and lamps made of stained glass. However, like all other types of glass, stained glass is susceptible to damage. To preserve the art of stained glass for many years, simply repair the broken portions to avoid injury and keep the stained glass aesthetically pleasing.
Consumers do not need to be glass experts to repair a piece of broken stained glass, but need the proper tools to get the job done right. Check eBay or hardware stores to find everything needed to repair stained glass and restore the glass to its former beauty.
Gather Stained Glass Repair Tools
Consumers need a variety of tools when repairing stained glass, depending upon the repair. For simple repairs in which one piece of glass has fallen out, consumers only need clear glass repair glue. For extensive repairs in which more than one piece is broken and glass needs more in-depth repairs, purchase a range of items to complete the repairs, including materials to solder the stained glass back into place.
To solder the lead portions back into stained glass, buy items used for soldering, such as flux, a soldering iron, replacement stained glass for any broken portions, a glass cutter, and pliers. Ensure there is a flat work surface available, and take the proper safety precautions by purchasing safety goggles or glasses while repairing glass.
Repair the Stained Glass
Repairing stained glass is a process which requires several steps. First, prepare the work area with a flat surface preferably made of wood or other sturdy material. Put on safety glasses and clothing protection if necessary.
Cleaning
Assess the stained glass before making repairs. If glass is dirty or dusty, use glass cleaner and paper towels to clean the stained glass. Wash stained glass with mild soap and water as well. Check the entire piece of glass to make sure the glass is sturdy and tight with no loose parts before continuing repairs on the broken portion or portions.
Repairing
There are two ways to repair stained glass. The first method is useful if a small part has come loose from its glue, such as a piece of a stained glass wall hanging or lamp. The second method uses soldering to attach broken stained glass back to its frame. Stained glass windows typically require the soldering method for repairs.
Gluing Stained Glass
Do this easily with clear glass glue. Use a small amount of glue around the edges of the piece and place the stained glass portion back into the frame. This method works well for unsoldered stained glass items. Wipe unnecessary glue away with a damp cloth before it dries. Allow the piece to dry completely before rehanging or reusing the stained glass item.
Soldering Stained Glass
Stained glass window repairs typically require soldering to complete repairs. First, use pliers to remove the broken or cracked stained glass from the frame. Next, use a glass cutter to cut pieces of replacement glass to fit the area. Use sandpaper to create smooth edges on each piece of glass. Add foil to the glass pieces before using flux on the piece to ensure a permanent seal. Use the soldering iron to solder around the stained glass, letting it drip into the creases in a thick line. Solder the opposite sides as well, working fast before the solder dries.
Finishing Up
Allow the stained glass to dry thoroughly. Once it is dry, it is wise to clean the entire piece again, using a damp cloth to remove any debris, dust, or small glass particles. Once the stained glass is clean and dry, rehang the piece or reinsert the window into its frame. To protect stained glass from future damage, consider using protective glass in front of stained glass windows. Keep stained glass clean and dust-free with regular cleaning, and use a mild soap or cleanser over coloured stained glass pieces. Special solution that is PH neutral is available and perfect for cleaning delicate stained glass.
How to Buy Stained Glass Repair Materials on eBay
Get great deals on everything you need to repair, maintain, and clean your beautiful stained glass windows and decor when you shop eBay. Do a keyword search for specific items, such as "stained glass cleaner" or " soldering iron", and compare products from various sellers to determine who has the best prices and the most successful completed transactions.
Stained glass looks amazing for years, but you need to take good care of it. Part of the care requires you to replace any broken or missing pieces as you notice them before further damage occurs that results in higher expenses and professional repairs. Make small repairs yourself and assess your windows from time to time to ensure the putty is tight and the glass is crack-free.