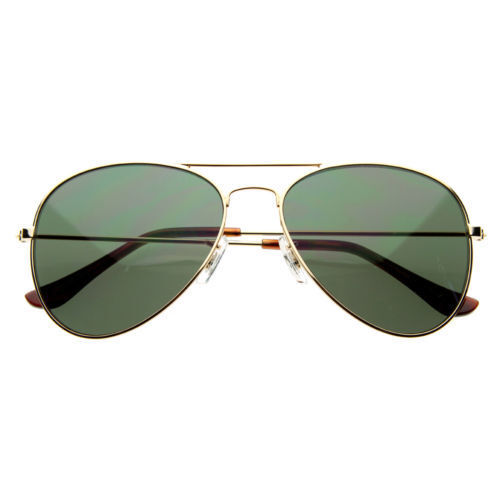 Sunglasses are a necessity of life. They protect the eyes from the blazing sun, reduce squinting and eye pain, and serve as a fashion accessory. No matter how much sunglasses cost, they are prone to bent arms, loose screws, and random scratches. If replacing sunglasses is not an option, try a few simple options to repair the sunglasses and extend their lifespan. Sunglasses typically take all types of abuse, and though they are durable, they are not immune to damage. Follow some easy steps to return any pair of shades to a like-new status and avoid the hassle of purchasing a new pair.
Fix Scratched Lenses
It is difficult to see through lenses covered in scratches, big or small. Reduce the appearance of sunglass scratches with a few various options. Try buffing the scratches away with a soft, microfibre cleaning cloth and some furniture polish. This is a temporary solution to scratches. For a more permanent solution, mix a paste of baking soda and water and spread it on the scratches. Rinse the solution off and wipe the glasses clean. Other options to try include non-abrasive toothpaste or silver jewellery polish.
Tighten Loose Screws
With everyday wear and use, screws on sunglasses come loose and in turn, create a broken pair of sunglasses. If sunglass arms seem loose, tighten up the screws that hold the arms to the rest of the frames to avoid this issue. Not many people keep a miniature screwdriver on hand, so purchase a special sunglass repair kit or an eyeglasses screwdriver to get the job done. Get a firm grip on the sunglasses and insert the screwdriver into the screws. Turn the screws as tightly as possible.
Repair Bent Frames
Sometimes, a well-worn pair of shades becomes a misshapen pair over time and no longer fits properly on the face. This causes sunglasses to slip or fall off the ears. Tighten the bent frames and create a snug fit with a few easy steps. For metal sunglasses, simply use pliers to bend the frames to the desired shape.
Plastic shades need heat to become pliable enough to bend back to their original form. To do this, place the sunglasses in hot water and gently bend the frames as desired. Another way to heat them up is to hold them under a hairdryer at the exact spot that needs adjusting, and then bend them into place carefully. Make sure to use the lowest heat setting so the plastic does not melt or warp and damage the glasses.
Replace Worn Nose Pad
A thinning nose pad creates slippage on the nose bridge, and makes it hard to make the sunglasses stay put. There is not much to do to revive an old nose pad, but replace it with a new one. Assess the existing nose pad. There are three types of nose pads: those that snap on, those that slide on, and those that screw on to the frames. For a screwed-in nose pad, use a miniature screwdriver to remove the nose pad, then replace it with a fresh one and gently screw it into place.
Pry an old snap-on pad away with a flat, dull knife. Snap a new one in its place. A slide-in nose pad removes the same way it goes in: simply slide it out of its spot and slide a replacement pad in its place. Check that the nose pad is stable before wearing the sunglasses.
Caring for Sunglasses
Take pains to maintain sunglasses to avoid damage or replacement. Many people leave sunglasses out in the open, in their cars, or other spots where damage occurs. Take care of glasses to keep them scratch-free and in great shape.
| | | |
| --- | --- | --- |
| Storage | Cleaning | Care |
| Store sunglasses in a hard shell glasses case | Use special lens cleaning spray | Avoid wearing sunglasses on top of the head or a hat |
| Store shades out of extreme temperatures | Buff lenses with a microfibre cloth | Tighten the frame screws regularly |
| Have a centralised, safe location to store glasses | Clean sunglasses daily to remove dirt that eventually builds up | Never wipe sunglasses with a paper towel or on clothing |
| Avoid leaving sunglasses in the bottom of a purse or bag | Use mild soap and water if lens cleaner is not available | Always wipe glasses with a microfibre cloth or chamois |
Caring for sunglasses extends their life and prevents damage. Leaving glasses in the vehicle warps plastic glasses and creates misshapen eyewear, while wearing them around a hat or on the head sometimes bends the frames.
How to Buy Sunglasses and Repair Items on eBay
Check eBay for everything you need to keep your sunglasses in great shape, or get great deals on a new pair of sunglasses to replace a pair that is beyond help. Search for "sunglasses" and filter by brand or type, such as Armani, or only purchase sunglasses and repair items from Top-rated sellers.
Sunglasses serve two purposes: they look chic and they protect sensitive eyes from damage. Wearing sunglasses prevents squinting, which in turn reduces wrinkles, so sunglasses are a necessary item for both men and women. Repairing shades saves money on replacing them, so you should undertake simple repairs to avoid replacing glasses.