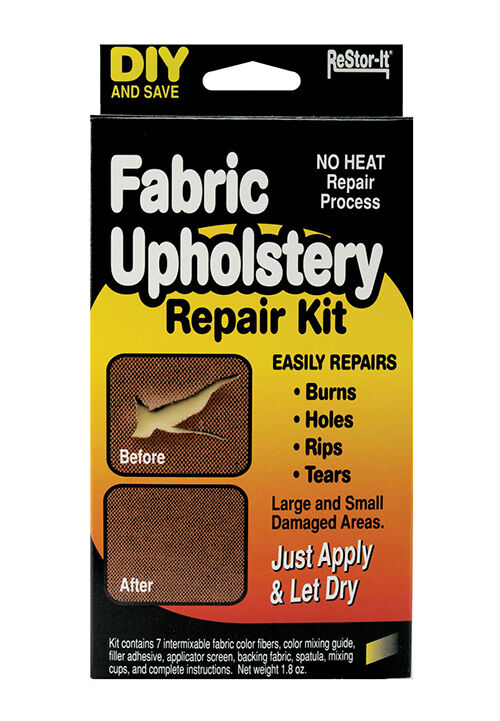 Made of fabric, polyester, and leather, sofas, chairs, and other types of furniture are apt to tear or fray over time. When money is tight, replacing the entire piece of furniture is not a viable option, so repair is the best avenue. Depending upon the type of damage, repairing upholstery is generally simple and requires only a few materials, a bit of time, and patience.
In many cases, repairs are not visible afterward, and blend effortlessly into the existing upholstery. Repairing upholstery saves money and creates an aesthetically pleasing piece of furniture. Repairing damaged furniture extends the life of old pieces, and makes it easier to sell items when necessary.
Assess the Damage
First, take note of what the upholstery looks like. Check to see if seams are loose, if upholstery has holes, or if fabric is ripped or frayed. Different types of damage require various methods of repair, so check the entire piece and see what repairs are necessary, so gathering materials is efficient.
Select a Repair Method
Since different upholstery repairs require different methods, select a method based on the type of damage. Patch the area of a large hole with a matching piece of fabric, and do it in one of several ways. Use needle and thread, an adhesive patch, or hem tape. For frays and rips, seam sealant is a viable option.
Needle and Thread
Using a needle and thread works well for tightening seams as well as repairing frays. Sew frayed fabric back together and repair ragged edges with seam sealant. If frays are wide, cut a matching piece of fabric from the back of the furniture with scissors and place the new portion underneath the frayed section to camouflage it. For holes, patch the area with a new piece of fabric and use small stitches made with matching thread to attach the fabric over the hole.
Adhesive Patch
An adhesive patch is a quick and simple way to repair a hole in upholstery. Slide the patch underneath the hole and use a dull knife or spoon to insert the patch underneath the hole. The patch must be slightly larger than the hole. Use fabric glue or adhesive to attach the patch to the underside of the hole. Press the adhesive to the fabric firmly. Allow the area to dry overnight before using the furniture.
Hem Tape or Furniture Tacks
Use hem tape or furniture tacks for a quick upholstery fix. Cut a large piece of matching fabric from the back of the furniture, and place it over the hole or tear. Heat up an iron and set it on hem tape to secure the fabric to the furniture. Use fabric glue to completely secure the area before using the furniture. Hem tape is not a permanent solution, but glue is a long-lasting option. Furniture tacks, also called upholstery tacks, work well for sofa or chair arms. Stretch a new piece of fabric over the hole and tack it to the underside of the arm or back of the furniture to hide it.
Repairing Leather Upholstery
Holes and tears in leather upholstery are a bit trickier to take care of, but there are repair options available. Use a leather patch to camouflage a tear or hole by slipping the patch underneath the torn area. Secure the patch with leather adhesive glue, and then buff the area with leather conditioning cream, so it blends seamlessly into the rest of the piece. Other options for light scratches and tears include leather repair kits which match specific coloured pieces, or wax crayons or leather repair putty.
Caring for Upholstery
Avoid damaged, worn out, or torn upholstery by caring for sofas and chairs properly. Furniture needs care just like tables and cabinets do, so follow certain steps to ensure that upholstered furniture lives a long life.
| | | |
| --- | --- | --- |
| Fabric Tips | Fabric Care | Leather Care |
| Keep fabric furniture out of direct sunlight to avoid fading | Clean up spills immediately | Wipe clean with a damp cloth |
| Purchase furniture made with synthetic fabric for easy care | Vacuum furniture frequently to remove allergens and dust | Buff frequently with leather conditioner to maintain shine |
| Turn over couch cushions frequently to wear them out evenly on each side | Avoid spraying chemical cleaners near upholstery | Dust leather with a dry microfibre cloth |
| Deep clean fabric upholstery once a year | Remove pet hair with a lint roller | Avoid chemical cleaners not intended for leather |
Sometimes caring for upholstery is the easiest way to avoid problems and make furniture last longer. The most important thing to remember about upholstery is not to let spills soak in, because every second counts when a stain is about to set.
How to Buy Upholstery Repair Needs on eBay
Go to eBay for great deals on all your upholstery repair needs. Find fabric and thread to match your couch, or nab some liquid seam sealant for frayed couch seams. Buy upholstery repair items from sellers who have excellent feedback from prior buyers, and leave your own feedback once you receive your items and completed your transaction successfully.
It is easy to want to throw in the towel and give up on a ripped couch, but most rips are easy and inexpensive to repair. Fixing a ripped piece of furniture allows you to put off buying a new one until you can afford it, and in many cases, repaired rips camouflage easily.