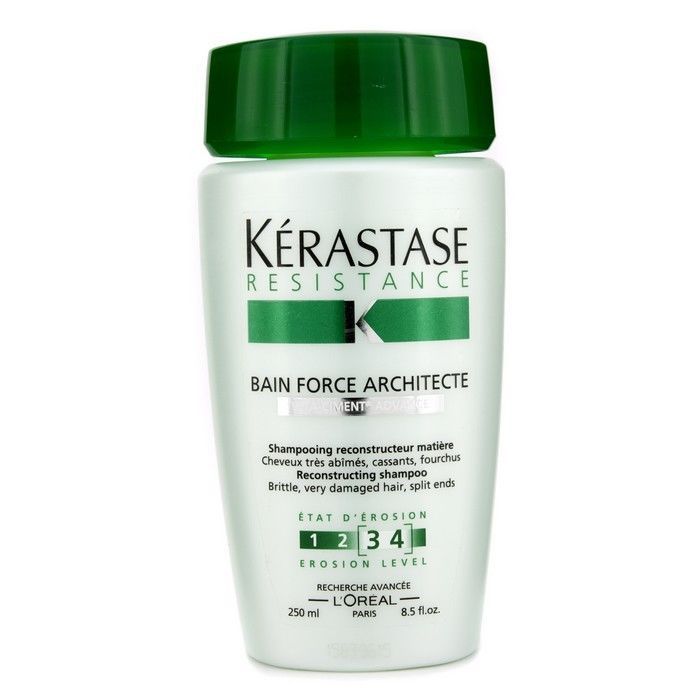 Hair stands up to quite a bit of abuse on a daily basis. Everything from blow-drying to highlighting to shampooing can damage hair and ultimately make it appear less attractive. There are ways to repair damaged hair that is dull, brittle, or frizzy but they do require a bit of effort and some hair care products. In order to repair very damaged hair, first determine the cause of the damage and consider the type of hair, whether it is curly, heavily dyed, or even very thick. From there, choose the best hair treatment for the intersection of the specific type of damage as well as the specific type of hair.
Repair Heat Damaged Hair
For many people, it is impossible to avoid using heat to style their hair. While curling and straightening irons mean prolonged exposure to heat, even blow-drying damages the hair's cuticle. To minimise this type of damage, avoid heat styling every day and, when it is necessary, use a lower heat setting. Keeping hair dryers further away from the hair and moving flat irons and curling irons through the hair quickly can also help to protect hair from extensive heat damage.
Use Heat Protectant
To avoid heat damage in the first place, always use a heat protectant spray before applying any heat to the hair. These products create a protective barrier between the hair strands and the heat. A good heat protectant should also include proteins that actually serve to strengthen the hair while also protecting it. Heat protectants can assist in smoothing the hair and preventing frizz while heat styling as well.
Hot Oil Treatment
A hot oil treatment is a great way to repair hair that has heat damage already. Rather than making hair oily, it actually strengthens and moisturises hair. There are many hot oil treatments available commercially, but it is also possible to make homemade hot oil treatments. Some oils that are useful for hot oil hair treatments include olive oil, coconut oil, and jojoba oil. Simply apply the warm oil to dry hair and cover hair in a shower cap. In order to get the most out of the treatment, wrap a warm towel over the shower cap to keep the hair follicles open and allow the moisture into the hair. Let the oil sit for at least 30 minutes, then rinse and shampoo.
Repair Dyed Hair
Using hair colouring, particularly bleach, is another very common way of causing hair damage. Bleach strips out hair's natural pigmentation and can leave strands very dry and brittle. Of course, avoiding hair dye altogether is one way to avoid this type of damage, but that is not possible or desirable for many people. For those who do choose to colour their hair, extra conditioning treatments can restore some of the hair's natural shine and strength.
Use Conditioning Treatment
The main symptom of hair damage is dryness, which makes moisturising the key to repairing hair. Using a conditioning treatment is a great way to repair hair damaged from bleaching or other colouring products.
| | | |
| --- | --- | --- |
| Type of Conditioner | Description | Best For |
| | Gentle, thin conditioner that is rinsed out | Everyday use |
| Leave-In | Moisturising conditioner that stays on hair after washing | Everyday use on damaged hair, occasional use on oily hair |
| Deep | Moisturising treatment left on hair for an extended period | Up to once per week use on dry hair |
For particularly damaged hair, using multiple types of conditioner throughout the week is the best way to restore the hair's natural moisture. However, very fine hair may not respond as well to multiple conditioning treatments since heavy conditioners can weigh down strands.
Consider Keratin Treatment
For hair that has signs of damage but not extensive bleach damage, a keratin treatment can restore moisture and shine. Keratin treatments actually replace the hair keratin that heat styling and colour damages. Keratin treatments are available at salons, but that option can be quite costly. Home keratin treatments can be effective and affordable, as long as the user carefully follows package instructions.
Repair Split Ends
Although those devoted to their long hair may not find this solution ideal, the best treatment for split ends is regular trimming. Going to a professional hair stylist is not always necessary since simple trims with sharp hair scissors are fairly easy to accomplish. Some conditioning treatments claim to repair split ends, but the fix is generally superficial and temporary. Regular trims can rid hair of current split ends and help to avoid them in the first place.
How to Buy Hair Care Products on eBay
It is easy to find deals on beauty products, including conditioners and other hair care supplies, on eBay. You can use the search box found on every page of the site to search for the type of treatment that best suits your damaged hair. Using terms, such as "deep conditioner" or " hair masque", yields many results, which you can then narrow down using the eBay filters.
Damaged hair can be stressful, particularly for women who invest so much time and energy into their appearance. Luckily, by giving hair some much needed attention and moisture, it is possible to repair very damaged hair and return it to its natural lustre.