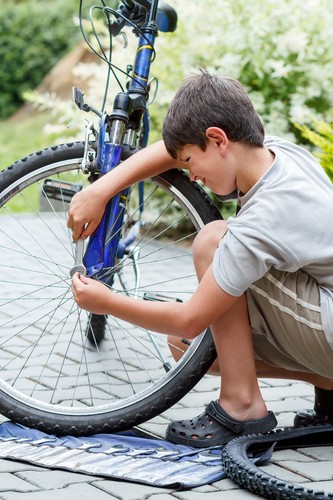 Bicycling is a great activity, but in order to fully enjoy it, cyclists need to have a bike in working order. Although bikes have a variety of basic parts, different styles and brands of bicycle have different variations of these parts. In order to keep a bike in good condition, some tools are necessary, including a bike pump and wrenches. If a bike requires serious repairs, it might be better to have a professional do it. However, cyclists can learn to do easy repairs themselves, such as patching a tyre, cleaning achain, repairing a spoke, and tuning brakes. If an owner does regular maintenance, it is likely that the bike is going to stay in top shape a lot longer.
Parts of a Bike
In order to repair a bike, the owner should be familiar with the different parts of the machine. These are some of the basic parts, although they come in a number of different styles.
| | |
| --- | --- |
| Part | Description |
| | Different kinds, include rim brakes, disc brakes, and internal hub brakes |
| | Come in a variety of styles, including flat platforms, clipless pedals, and toe cages |
| | Can come with extra padding or gender specific models |
These are just some of the common parts of a bike a cyclist should understand in order to make appropriate repairs.
Tools for Bike Repair
In order to make a number of basic repairs, it is a good idea to have some tools on hand. This includes a bike pump and hex keys.
| | |
| --- | --- |
| Tool | Use |
| | A floor pump is useful whenever a tyre needs air |
| Wrenches | Perfect for adjusting the nuts and bolts on a bike and its accessories |
| Hex keys | This tool allows one to adjust the hex bolts on a bike |
These are just a handful of tools necessary for bike repairs. It is not necessary for cyclists to get all available tools, but they can start with a few basics.
How to Repair a Flat Tyre
In order to patch a flat tyre, cyclists need to remove the bike tyre from the wheel with a tyre iron. It is important not to use a screwdriver or other tool because it can damage the tyre. Cyclists should then put it in a bucket of water to tell where the leak is. After marking the location of the leak, the cyclist can put adhesive over the area and put a patch of the appropriate size on the area and use a pump to inflate the tyre.
How to Repair a Bike Chain
Bike chains need cleaning regularly due to wear and tear. The first step when caring for a bike chain is removing the chain from the bike. Single-speed and 3-speed bikes have chains with master links while 5-speed and 10-speed bikes have a continuous chain. Next, cyclists should soak the chain in a pan of kerosene and scrub it with a small brush to remove the dirt and oil. After immersing the chain for about an hour, the owner should dry it off and put it back on the bike.
How to Repair a Spoke
If a spoke is broken or bent, it can cause further problems. Fortunately, spokes are fairly easy to replace. First, the owner needs to remove the wheel and let the air out of the tyre. Then he or she needs to take the tyre off the rim and cut off the old spoke with wire cutters. One should insert the new spoke into the hole and tighten the spoke nipple.
Tune Brakes
To adjust side-pull brakes, cyclists should loosen the cable clamp nut with a wrench. For center-pull brakes, loosen the cable anchor brake. Pull the cables through the clamp with pliers until it is tight. While holding the cable tight, cyclists should tighten the bolt. It is necessary to test the brake to determine it is tight enough. It is properly tightened if the brake grips when one squeezes the lever about half an inch.
How to Buy Bike Parts on eBay
Sometimes, you need to buy new bike parts to replace ones that have worn out. Try a keyword search to find new parts. Type phrases, such as "bike chain" or " tyre patch" into the search box and then narrow down the results. When you are looking for a seller, check out what Top Sellers have to offer. In addition to having excellent ratings, some of these also offer free shipping. If you want to make sure that you are making a good purchase, you can check the feedback ratings for a seller and his or her products. Cyclists can save a lot of money and be better prepared to handle common problems that may occur on a ride with the proper knowledge and tools.