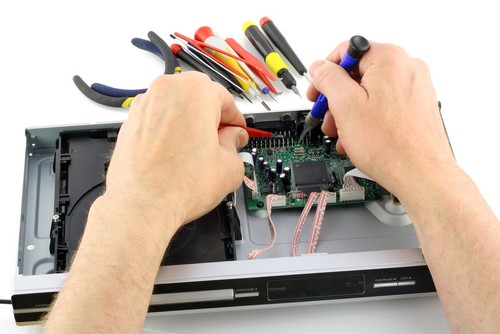 Technology has come a long way since grainy videotapes, but DVDs can have problems too. If a DVD is skipping around then it ruins the whole movie and needs repair. DVD owners should start by checking that the DVD is the problem, and not the DVD player itself. If a DVD has scratches, owners have many options about how to repair a DVD. They can find many of the necessary repair supplies around the house, such as a banana, peanut butter, window cleaner, furniture polish, metal polish, and eye glass cleaner. Depending on how damaged a DVD is, users may want to try several methods or stick with a favourite remedy.
Checking a DVD for Scratches
If a DVD is having a problem playing then it may have scratches. Start by holding a DVD in the light to check the surface. Minor scratches should not prevent the DVD from playing, but deep scratches are a problem. These are what very well could be making the DVD skip.
Remedies for a Scratched DVD
Some options for fixing a scratched DVD include a banana, peanut butter,window cleaner,furniture polish,metal polish,eyeglass cleaner, and toothpaste. If a DVD is still not working after trying these remedies, then the DVD might be unrepairable or it needs a surface cleaner, which consumers can find at technology stores.
Banana
In order to use a banana to fix scratches, start by wiping toothpaste over the DVD. After wiping off the toothpaste, then rub a chunk of banana on the disc. Rub the inside of the peel onto the DVD and thoroughly clean it afterward. Owners may then want to use window cleaner to get any traces of banana off the disc.
Peanut Butter
Owners can also clean a DVD with peanut butter. First, wipe the DVD straight across using a cotton cloth. After removing the dirt and debris with the cloth, apply peanut butter to the DVD. It is a good idea to let the peanut butter sit on the DVD overnight because this provides enough time for the oil to sink into the scratches of the disc. Afterwards, owners should wash the DVD with water to get the peanut butter off, but avoid using a cloth because it may wipe off the oils.
Furniture Polish
For this method it is best to first wipe the DVD down with a cotton cloth. Instead of rubbing in circles, try to use straight strokes. Then use a dry cloth to wipe off the polish.
Metal Polish
Another alternative is metal polish, which works by removing some of the plastic to make the scratches shallower. After wiping down the DVD with a cotton cloth, apply the polish. Owners should also wipe off any excess polish and let the rest dry. After the polish dries, remove it with a clean cloth.
Window Cleaner
This is a good option because it is likely owners already have it on hand. A DVD owner can also use it in conjunction with some other cleaners. It is best to spray the cleaner onto a cloth and then wipe the DVD with it instead of spraying the cleaner directly onto the DVD. One can then wipe the cleaner off with a dry cloth.
Eye Glass Cleaner
This kind of cleaner can remove smaller scratches. Owners should apply the cleaner to a cloth and then wipe down the DVD gently. Then wipe the cleaner off with a dry rag.
Baking Soda Toothpaste
It is important to use a toothpaste with baking soda instead of a gel one. The DVD owner should apply the toothpaste using a soft cloth and then leave it to sit for a while. Then clean off the toothpaste with warm water and leave the disc to dry before using.
How to Buy DVDs on eBay
It is not difficult to find DVDs or DVD cleaning products on eBay. The best place to start is with a keyword search because it is so quick and easy. You can type phrases, such as "DVD cleaner" or " DVDs." You can use the categories to narrow down your options and make your search easier. If you are looking for a cleaner and are not sure about the right option, you should check out the feedback. This lets you see what other buyers have said about certain cleaners, and you can leave your own feedback after you have made a purchase. With the many DVD cleaning methods available, DVD owners should be able to get their favourite DVDs back in working order in no time.