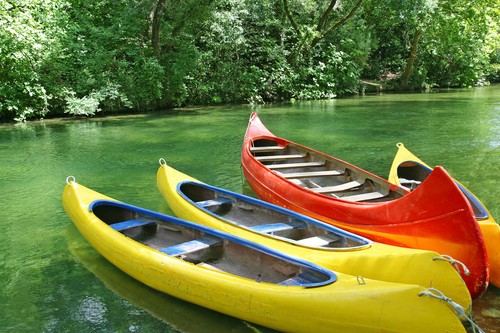 A lightweight and easy mode of transportation across lakes, down rivers, and around ponds, fibreglass canoes stay afloat effortlessly and glide across the water smoothly. Sometimes, with frequent use or after an accident or run-in with a rock, animal, or improper storage, canoes experience problems like holes or wear and require attention to restore them to safe operating condition. Whether the body and repair materials come from a local sporting goods outlet, hardware store, or online at eBay, owners can do a bit of research into the proper repair methods for a fibreglass canoe so they can complete the job correctly in the span of a free afternoon or weekend.
Fibreglass Canoe Repair Materials
While temporary repairs work until owners can return to home base with their canoes, permanent fixes require specialised materials for results that last and withstand frequent use and water exposure.
| | |
| --- | --- |
| Materials | Use |
| | Bridges gaps caused by holes or cracks |
| | Smooths edges of holes or cracks |
| | Attaches fibreglass cloth to canoe body |
| | Combines repair materials into one kit |
| | Removes surface scratches |
| Rotary tool with buffing attachment | Works buffing compound into scratches |
| | Fills in large or small holes in canoe body |
| | Smooths dried resin and compounds |
| | Flattens wet compounds before finishing |
| | Gives boat body a shine |
Gathering the materials before starting a repair ensures owners can complete the work quickly and thoroughly.
Repairing a Fibreglass Canoe
Before commencing any canoe repair, seek out a spacious and flat work area and cover the surface with an old sheet or tarp to prevent damage and stains. It also proves helpful to arrange all necessary repair materials adjacent to the work area to have everything nearby for uninterrupted work.
Remedying Scratches
Everyday activities like storage, loading, and mounting atop a vehicle can cause scratches and chips that not only cause dullness, but also prevent the canoe from gliding properly in the water. To begin this repair, brush debris away using a dry cloth or stiff brush and apply a layer of buffing compound. Using a rotary tool with a soft buffing attachment, owners can lightly buff over the area in a circular motion until the compound looks well distributed and smooth.
Repairing Cracks
Owners should wear safety goggles and gloves for this repair. They can start by clearing away any particles, rough pieces, or paint flakes to create a smooth and clean surface. Prepare the auto body putty or liquid resin and apply just enough to fill in the body of the cracks, taking care not to over-apply. Allow this material to dry for two to four hours and then sand until the material is level with the canoe surface. Follow this with several passes with wet sandpaper to create a smooth surface. Then apply paint and canoe wax for a fresh look and water-ready finish.
Patching Small Holes
After running up on jagged rocks or encountering another sharp surface, the resulting holes can allow water to seep in to the canoe and potentially cause sinking in extreme instances. To repair holes, put on safety gear and file the edges of the holes with the file to ensure a smooth working surface. Fill the depth of the hole with auto body filler and, using the materials in the fibreglass repair kit or separate fibreglass cloth and resin, place a diagonally cut piece of cloth over the hole and then bond it to the canoe with the liquid resin. Allow several hours for drying and then sand to a smooth finish with 100 grit dry sandpaper and then again with 400 grit wet sandpaper. After drying, prime and paint the area or extend the painting to the entire canoe and top with a layer of canoe wax, if desired.
How to Buy Fibreglass Canoe Repair Materials on eBay
Whether your fibreglass canoe repairs prove simple or more involved, you can find all the body repair compounds and tools as well as a new canoe body for irreparable damage on eBay. To save time and find the items you need quickly and simply, make full use of the eBay Search bar found on any page of the site and type in search phrases like "marine fibreglass repair kit" or "canoe wax." You can also look for Deals on Water Sports.
Repairing scratches, holes, and other damage to a fibreglass canoe ensures you can continue to use it to enjoy exploring the outdoors. You can make the repairs using a prepackaged kit or using individually purchased tools and materials.