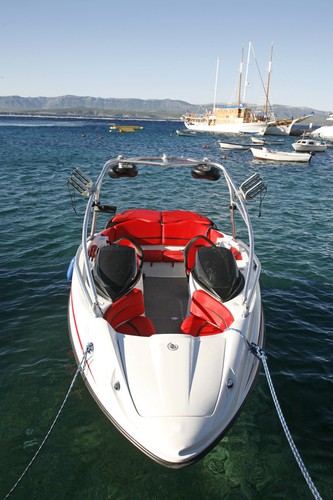 Owning a boat offers countless hours of on-the-water enjoyment and serenity. Like any outdoor vessel, though, fibreglass boats also require regular upkeep and occasional repair. Able do-it-yourselfers can save themselves time, money, and frustration by learning how to make some of these repairs at home. Although the repair process varies depending on the type of damage, including whether it is cosmetic or structural, obtaining a general knowledge of this procedure arms the owner with the knowledge and tools necessary not only to assess the damage, but also to fix it. When it is time for mending, eBay has all the materials necessary to repair fibreglass boats.
Fiberglass Boat Cosmetic Repairs
Most fibreglass boat fixes fall under the umbrella of cosmetic repairs. These arise for various reasons, including normal wear and tear and low water levels. A cosmetic repair is one that is not essential for the operation of the boat, but for its appearance. Fibreglass boat owners may perform cosmetic repair to spider blisters, oxidation, scratches, and spider cracks.
Cosmetic repairs are significantly easier to perform than structural repairs; sometimes, all that is needed is a coat of paint. As with any painting project, it is first necessary clean the area with acetone, sand to a smooth surface, and again remove dust and dirt. A minimum of four applications are required that consists of two each of primer and top coat with sanding and cleaning in between. Should the DIY-er instead prefer gel-coat application, he should obtain additional instruction for this more complicated process.
Fiberglass Boat Structural Repairs
Structural damage poses a danger to the fibreglass boat's performance and longevity. Four common types of structural damage are cracks, gouges, impacts, and abrasions.
Cracks
The primary areas of the boat that are most susceptible to cracks are those subject to abnormally high flexing. Reasons for such adverse activity range in severity from an overloaded hull to core structure deterioration, as well as accessories that distribute too much weight in the wrong areas. More detrimental cracks may result from core structure corrosion such as wooden core rot. If this occurs, it places unnecessary stress on the boat's fibreglass deck, which leads to unwanted flexing.
Gouges
Anybody with a boat knows the sound and feel of hitting something in the water. Whether rock or detritus, foreign objects are frequently the cause of dents and gouges. If gouges delve deep into the fibreglass cloth strands or adversely impact an essential load-bearing section of the boat, they need addressing. Cracking around the point of damage also warrant immediate repair.
Impacts
Sometimes, rather than merely scraping a foreign object, the boat hits the object at a significant impact. Repair is warranted for impacts that penetrate the boat's laminate, exposing more than five centimetres of the core, or if the fibreglass is cracked.
Abrasions
Sandy beaches, shallow rocks, sloppy docking can all lead to the common abrasion. Unfortunately, abrasions can lead to significant further damage, as they often expose the fibreglass, making it vulnerable to damage from water and sunlight, if not outright core impairment.
How to Repair a Fibreglass Boat
Although there are a number of steps to making structural repairs, the process is very DIY-friendly. After cleaning the area with acetone solvent, smooth out the damage with a sander and coarse sandpaper, and then wipe again with acetone. Next, expand the area with the sander until achieving a 12-to-1 slope down to the deepest point, taking care to remove any sharp edges. Once again, remove dust with acetone. Cover the surrounding area with masking tape and paper.
Measure the repair site, and then cut six pieces of fibreglass cloth to size. Liberally apply a mixture of resin and catalyst to the site and, after a minute, adhere the smaller pieces of fibreglass cloth to the deeper points of the excavation, adding a coat of resin mixture on top. Roll out any air bubbles with a fibreglass roller. Continue applying the remaining layers of cloth in this manner. Once the final coat begins to gel, apply one additional layer of resin mixture, and let cure overnight.
The next day, wipe the repair area with acetone, lightly sand, and then wipe again. The process for finishing depends on the type desired. Most people choose one-part paint due to its relatively simple application; althoughgel-coat is more complicated, proper sanding and buffing can disguise application errors more than one-part paint. The final process, two-part paint, is expensive, difficult, and often unsafe for undertaking at home.
How to Buy Fibreglass Repair Tools and Materials on eBay
With all the warm weather enjoyment and relaxation it provides, your fibreglass boats has paid for itself many times over. You know, of course, that repairs are a part of boat ownership. eBay makes it simple, with a vast inventory of materials such as fibreglass cloth, sanders and sandpaper, acetone, paint and primer. In addition, when it is time to buy a new boat or boating accessories, you can find those on eBay, and eBay Deals as well. Like any well-loved purchase, your fibreglass boat it requires love, care, and the occasional repair. Thankfully, with eBay's help, you can perform many of these fixes yourself making you a savvy boat owner indeed.