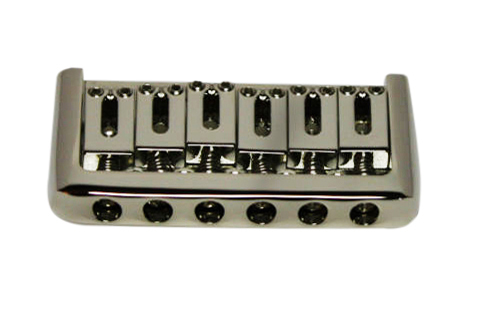 A guitar is a popular instrument that is very enjoyable to play. Whether a musician keeps the instrument as a collectible or plays it every day, it is important to keep the guitar in good shape. This may require making repairs to the piece. If there is damage to the bridge, owners should figure out whether it is repairable or if it needs to be replaced. With minor scratches, owners likely do not need to replace the bridge. However, it is necessary with larger problems, and it is important to do so correctly in order to not damage the instrument. Additionally, an owner may need to reglue a bridge if it is loose. After learning how to repair a bridge, one can fix all these problems.
Types of Guitar Bridges
Owners should start the repair process by figuring out what type of bridge his or her guitar has. Some of the different types of bridges include a fixed bridge and a tremolo bridge.
| | |
| --- | --- |
| Bridge | Description |
| | Lower maintenance and easier to play with |
| Non-floating tremolo bridge | Medium difficulty but it does not have the flexibility of floating bridges |
| Floating tremolo bridge | Difficult to set up, but has an excellent range of motion |
These are a few of the different bridge styles available. Owners should check what style they have before trying to get a new one in order to get an identical style.
Fixing a Cracked Bridge
The first step in fixing a cracked bridge is removing the guitar strings. It is better to lay the guitar on a padded surface when doing the work to prevent any damage to the instrument. Owners can repair small cracks, but large cracks require replacement. For a small crack, mix together some epoxy glue according to the manufacturer's instructions. Then take a little bit of the glue and rub it along the crack to fill it in.
Replacing a Bridge
If there is a deep crack or other damage to a bridge, it may be necessary to replace it instead of just fixing it. One should follow all of these steps in order to prevent any damage to the instrument. A guitar is a delicate instrument, so it is necessary to use the proper equipment when making repairs.
Preparing the Surface
Owners have to remove a damaged bridge in order to work on it, and the most common method is using heat to loosen the glue. In some cases, it is possible to remove a bridge by inserting a thin blade and separating the bridge from the guitar. It is important for the owner to prepare the surface first, which requires removing any remnants of dried glue that may be left on the wood.
Replacing the Bridge
If owners need to replace the bridge, they should look for one that is identical to the old one. Measure the string distance on the old bridge to determine how to position the new bridge. Make sure to use either animal hide or cabinetmaker's glue, because other glues do not have enough tensile strength. In order to protect the guitar, the repairer should use masking tape on the outside of the soundboard and apply the glue with a brush. After applying the glue, clamp the bridge down while theglue dries. Use at least three wood clamps on the bridge. It is important to wipe away any excess glue off the guitar, so it does not dry on the instrument.
Re-gluing a Loose Bridge
Another possible problem is when the bridge becomes loose. If this is an issue, owners need to re-glue it. It is possible to slip glue in under the bridge, but this is not the best way to do it. A better way to repair the bridge is to actually take off the bridge and remove the old glue and then re-glue it. After gluing the bridge, clamp it down and let it sit for a full 24 hours so the glue can fully dry.
How to Buy Guitar Bridges on eBay
If you are looking to purchase a new guitar bridge, start your search on eBay. You can try a keyword search, which is an easy way to start. You need to type a phrase such as "guitar bridge" into the search box. If you are trying to decide on a purchase, take advantage of the feedback tool. You can see what other buyers have said about a certain guitar bridge or a seller. A guitar is a beautiful instrument, and every owner should learn how to make simple repairs. By learning how to fix a guitar bridge or even replace it, one can keep an instrument in excellent condition without having to pay for expensive repairs.