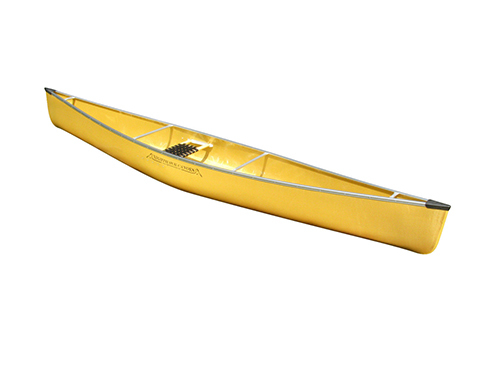 Kevlar fibre , the material of military body armour and industrial safety gear, also provides lightweight strength to canoes and kayaks. Kevlar canoes and kayaks weigh less than their counterparts of polyethylene or fibreglass, yet are generally more durable. Many contend that they are also faster, making them better boats for top-end competitors.
Kevlar canoes are subject to surface shattering on a direct hit, however, which encourages those who use these boats in the surf or other white waters to learn basic repair skills. To repair a ding in a Kevlar canoe requires some patience, a few tools, the right woven fibre fabric and some resin.
Assemble Tools and Materials
A person should repair quality Kevlarcanoes and kayaks, like those made byRosco or Wenonah, with quality materials. Inexpensive polyester resins can leave the boat hull covered with scaly pockets where the resin has not properly bonded. Assemble these materials to repair a Kevlar canoe.
| | |
| --- | --- |
| Required Tools and Materials | Use |
| | Cut away damaged portions of canoe |
| | 'Rough up' surfaces before patching |
| Plastic food wrap and tape | Holds repair in place |
| | Repair material for holes |
| Kevlar 'felt' | Repair material for large gashes |
| Scissors | Cut repair fabrics neatly |
| | 'Glue' for repairs |
| | Prevent hands from adhering to repairs |
| | Spread resin |
| Sawhorse or other support | Support boat during work |
Many of the essentials are included in a boat fibreglass repair kit. Organise tools and materials for easy access. Keep in mind that the resin, once mixed, sets fairly quickly. Being able to grab hold of items as needed makes the process of canoe repair go smoothly.
Prepare for Repair
A 'Kevlar' canoe may be made of various combinations of Kevlar fibre, fibreglass, polyester fibre, and a resin that bonds them. Some also include a core of foam on the inner hull. Typically, Kevlar canoes have outer surfaces made of fibreglass and resin, so the damage is actually to the fibreglass, not the Kevlar. This makes the repair easier.
Set the Canoe Level
To prevent the resin from running, use sawhorses, wood blocks, or any other convenient item to set the canoe so the hole itself is level to the ground.
Repairing the Damage
The basic process of repairing damage is the same in any case: remove the damage, prepare the surfaces, add Kevlar and resin to fill, and ensure the patched area is as smooth as possible.
Remove Damaged Sections
Start by sanding the surrounding area to remove loose bits and then use a sharp knife to cut or pry out damaged sections. Leave clean edges, with nothing jutting outward or inward that could make the final patch bumpy. If the damaged material is a fibreglass and resin outer coating, then an unbroken layer of Kevlar may remain below. If the damaged area includes a foam core hull, make sure to cut far enough into the core that no loose bits of Kevlar or foam prevent full adhesion of the patch.
Prepare the Canoe Surface
Clean any dirt or algae off the canoe surface, then rough up the canoe surface so the patch bonds. Most people sand the original coating off with 60- to 80-grit sandpaper. A few prefer to peel the original coating off with a knife then sand 1-5 cm beyond where the patch is placed.
Prepare the Repair Cloth
Cut the fibreglass or Kevlar fabric to cover the damaged area, plus at least 2.5 cm on every side. Mix the epoxy resin according to instructions. Be sure to choose marine epoxy. Lay the cut patch on a sheet of aluminium foil on top of a piece of plywood or board. Spread the resin onto the patch and work it in until a fibreglass patch appears clear or a Kevlar patch appears gold. For a heavier patch, layer on a second section of fabric and work in more resin until the colour of both layers is consistent.
Paint marine epoxy resin onto the Kevlar layer of the canoe so that the Kevlar itself appears clear and free of any bumps or bubbling. Peel the patch off the foil and smooth it onto the Kevlar. Place plastic food wrap over the patch and smooth any bubbles or bumps with a finger. This saves sanding time later.
When the Hole Goes All the Way Through
If the hole goes all the way through the canoe, cut the the inside edges clean and rough the inside surface as well. Tape plastic food wrap over the hole on the outside. This contains dripping resin where it belongs as patching begins from the inside. It functions as a 'mould' for the outside of the patch.
How to Buy Kevlar Canoe Repair Essentials on eBay
Canoe repair fabrics and resins, as well asboat fibreglass repair kits, may be found on eBay and eBay Deals. Selecting materials designed for marine repair is essential to long-lasting canoe repairs. If uncertain about a particular item, feel free to "Ask a question" of the Seller. Many eBay Sellers are very experienced with their products. Many also operate eBay stores with many related products. This makes it easy to obtain the full selection of items needed to repair a Kevlar canoe in one place, saving on shipping costs.Premium Service designates Top Rated Sellers. These and other Sellers with high Feedback ratings provide essential materials quickly so you can get your canoe repair done in time for your next run.