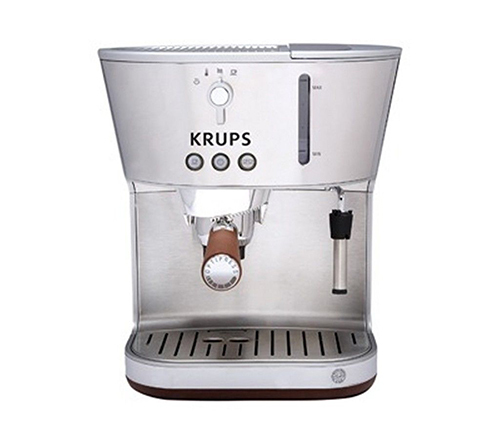 Krups is a very well known name when it comes to kitchen appliances, such as coffee makers. In addition to coffee makers, the company also produces excellent espresso machines. Some of the options include the Krups XP100050 and the Krups XP160050. Espresso machines can have a number of problems, so an owner should be aware of some of the common ones and how to repair them. Some of these problems include espresso that does not have enough froth, or water that does not run through, leaks, or runs through too quickly. By learning some simple fixes for these problems, the owner can take care of these problems instead of waiting for a professional to fix the machine.
Krups Espresso Machines
Krups has an impressive lineup of espresso machines. Some of them include the Krups XP100050 Steam Espresso Machine and the Krups XP160050 Coffee Maker and Espresso Machine.
| | |
| --- | --- |
| Machine | Description |
| | Can brew up to four cups at a time |
| Krups XP160050 Coffee maker and Espresso Machine | Has an espresso machine and a coffee maker in one machine |
These are just a few of the excellent espresso machines from Krups. It is important for consumers to know what model he or she has if it is necessary to repair the device.
Cleaning the Espresso Machine
Owners should take care to clean the machine regularly to prevent damage to the machine and keep it functioning. In order to clean it, first toss out any coffee grounds. Next, run the machine without any coffee in it to get it ready for cleaning. Then run a mixture of vinegar and water through the machine to clean it out. Follow this up by running water through the machine one last time.
Common Problems
There are a number of common problems that people run into with their espresso machines. Because these can happen a lot and may have simple fixes, it is a good idea to try out some of these solutions before contacting an expert for repairs.
Leaking
If coffee is leaking around the filter, start by making sure the filter is in the proper position. The holder should lock in place on a Krups machine. One should also wipe down the gasket and edges of the filter in case there are any coffee grounds in the way. If there is any excess paper around the edges of the pod, tear it off.
Water Does Not Run Through
If the water does not run through the machine, then first fill the tank with water and push it down to make sure it is in the right position. If it is still not working, clean the tank in case there is a clog.
Water Runs Through Too Quickly
Sometimes, instead of no water getting through, the water may pass through the machine too quickly. This creates a weak espresso that does not taste good. If this happens, try grinding the coffee beans more finely. Another cause might be that the user did not put enough coffee into the machine. A simple solution is to add more coffee grounds when making an espresso.
No Froth
An espresso is not right if there is no froth. If that is the case, one should press the grounds down firmly before using the machine. It is also important that the coffee is finely ground.
Non Frothy Milk
If the milk is not frothy, the machine may need a good cleaning. In order to get the best froth on an espresso, be sure to use cold milk. It is also a good idea to check if there is enough water in the tank.
Wet Coffee Grounds
If the coffee grounds are wet, make sure to pack the grounds down better. One may also need to use morecoffee beans or a coarser grinder for the beans.
How to Buy a Krups Espresso Machine on eBay
If you are looking to purchase an espresso machine, you can find what you want on eBay. The site offers a variety of ways to search. One of the easiest is with a keyword search. You can just type in keywords, such as "espresso machine" or " Krups parts" into the search box. You can also see what espresso machines the eBay's Top Sellers have to offer. With a Krups espresso machine, one can make delicious coffees at home. An owner of one of these machines should learn how to fix some of the common problems in order to avoid calling in a repair expert every time the machine is not working right.