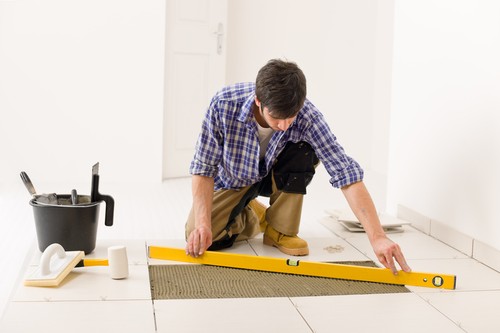 Tiles are made of hardwearing materials, such as ceramic, metal, glass, and natural stone. They can cover floors, walls, showers, and even tabletops. Tiled surfaces are durable, as well as easy to clean and maintain. However, tiles often become loose either because they are not installed correctly or they separate from the adhesive designed to hold them in place. Loose tiles can crack and damage the areas around them. Homeowners can repair loose tiles by replacing them or injecting an adhesive. Supplies to repair loose tiles are found at hardware stores and online on eBay.
Types of Tiles
There are two common categories of tiles: ceramic and natural stone. Natural stone tiles include granite, marble, limestone, and slate. Ceramic tiles are more affordable than natural stone products. Before purchasing replacements, buyers should check the characteristics of their existing tiles to find the perfect match.
Type of Tile

Characteristic

Ceramic ( porcelain )

Made from clay and minerals

Contains 50 per cent feldspar, a type of crystal found in rock

Glazed or unglazed

Harder to work with compared to non-porcelain tiles

Ceramic ( non-porcelain )

Made from clay and minerals

Glazed or unglazed

Economical

Type of igneous rock

Dense and hard

Polished granite is resistant to scratching

Ideal for kitchens and floors in high-traffic areas

Type of metamorphic rock

Distinct rich veining

Available in different colours

Porous material not recommended for kitchens

Type of sedimentary rock

Available in both light and dark shades

Textured or polished surface

Easily stained or scratched

Type of metamorphic rock

Dense and durable

Available in dark tones

Naturally textured

Ideal for kitchens and floors in high-traffic areas
The process for repairing tiles depends on the material. The two main methods involve replacing loose tiles or injecting an adhesive.
Replace Loose Tiles
The most common method used to repair loose tiles is to remove, clean, and replace them. This works for both ceramic and natural stone tiles. However, there are some details that differ based on the type of material.
Remove the Tile
Use a preheated iron to warm the ceramic tile to loosen any adhesive that is still holding it in place. Lift the tile gently with a putty knife; excessive force could break it. If removing a stone tile, use suction cups to lift it. If the tile is already cracked or broken, break it into smaller pieces to remove it and replace the damaged tile with a new one.
Clean the Floor and Tile
For ceramic tiles that were attached with adhesive, use a rag dampened with mineral spirits to dissolve any adhesive remaining on the floor and scrape it away with a putty knife. Clean the back of the tile. For stone tiles, scrape away the grout. Vacuum the mortar bed so that it is free of dirt and pieces of grout.
Reinstate the Tile
For ceramic tiles, apply a layer of tile adhesive to the floor. Align the tile and put it into place. Use a rolling pin to press the tile down and remove any air pockets. Place a weight on the tile and leave it for a few days to ensure the bond is true. For stone tiles, prepare the mortar bed with construction adhesive. Apply stone epoxy at the corners to keep the tile from moving. Align and reinstate the tile.
Inject Adhesive to Repair Loose Tiles
Use an epoxy injection with stone tiles to avoid removing them completely. Drill holes carefully in the hollow or loose areas and then inject epoxy into one of the holes. Hold a vacuum cleaner over another hole to cause the epoxy to flow under the tile, filling hollow spaces as it moves along. Leave it to dry then fill the holes with epoxy in a colour that matches the tile.
How to Buy Supplies to Repair a Loose Tile on eBay
It is easy to find supplies to repair tiles on eBay. Simply use the search tool that is found on every page to locate an item using keywords, for example, "tile adhesive". Look for bargains on the eBay deals pages. Before completing a purchase, check that the products are appropriate for the tile materials. Tiles are typically made of ceramic or natural stone and can cover floors, walls, and tabletops. Homeowners should repair loose floor tiles quickly before they break or result in damage to surrounding tiles. The two methods for repairing loose tiles is replacing them or injecting an adhesive.