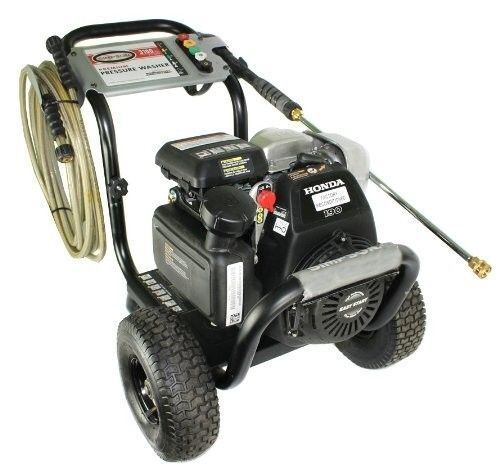 Designed to emit a high-pressure stream of water and cleaner to remove dirt and debris from the exterior of buildings and walkways, pressure washers make quick work of grimy surfaces when kept in peak operating condition. Over time, improper storage or lack of seasonal maintenance can cause issues that owners need to repair in order to return the electric or petrol-powered tool to operable condition and allow it to perform its dirt removing duties as intended. A bit of research into the proper repair methods and helpful tools allows owners to complete the work successfully in the span of a few hours, whether they buy the tools and replacement components at a local home improvement centre or online at eBay.
Diagnosing Pressure Washer Problems
With frequent use, pressure washer operators may notice small problems that magnify in a hurry without proper care. Two of the main problems that cause these machines to function incorrectly are blocked inlet filters with lack of soap spray and leaking oil or accumulating pools of oil.
Pressure Washer Repair Materials
To make repairs that last, owners should gather a few simple materials together, including hand tools and replacement parts. They should also find a suitable surface on which to work.
| | |
| --- | --- |
| Tool | Use |
| Non-detergent 30 weight oil | Fill pressure washer oil reservoir |
| Vacuum suction pump for small engines | Remove excess oil from reservoir |
| Wooden or cement blocks | Elevate the pressure washer to drain oil |
| Replacement pressure washer inlet screen filter | Replace old or damaged filter |
| Toothpick | Remove debris from inlet screen filter |
| Small toothbrush | Scrub soap scum from inlet screen filter |
| Absorbent towel or paper towelling | Dry parts before installation |
| Latex or plastic gloves | Protect hands from oil and water |
| Plastic sheeting or tarp | Prevent staining of work area |
After purchasing all materials and tools, gather them together in one central location to make repairs easier.
Repairing a Pressure Washer
Before commencing repairs, spread a large sheet of plastic material or a tarp over a hard, flat work surface to prevent water from pooling everywhere and reduce scratches or oil spills.
Cleaning a Clogged Inlet Screen Filter
Located inside the coupler that pipes the water into the reserve tank, through the pump, and out to the hose, the inlet screen filter protects the pump from contaminants in the water. When water spray pressure decreases, cleaning this clog takes only minutes. To begin, remove the coupler from the pressure washer by unscrewing it with a few twists and visually examine the mesh screen for large debris such as dirt, soap film, or paper. If present, remove the debris with a toothpick or scrub the screen with a toothbrush under a flow of hot water from the tap, and then wipe it with a clean cloth or a few sheets of paper towelling before reattaching it.
Remedying Overflowing Oil
During the course of operation, the level of oil and air mix in the motor area of the pressure washer rises and falls during the spray cycles to keep everything lubricated and running smoothly. From time to time, operators may notice a pool of oil underneath the washer or a slight leak. The main cause is usually too much oil in the reservoir. To take care of this problem quickly, insert the nozzle end of the vacuum suction pump and follow the manufacturer's directions to operate it.
Drain as much oil as possible, set the pump aside for later cleanup, and check the level of oil remaining in the washer using the pressure washer dipstick. The ideal oil level hovers at half a tank, so add or remove non-detergent 30-weight oil to achieve the proper level. This allows the machine to operate at peak reservoir capacity and prevents overflowing and splashing while the unit operates in work mode.
How to Buy Pressure Washer Parts on eBay
Whether you require hand tools or replacement components, you can find all the items necessary to make repairs to any brand and model of pressure washer on eBay. Each day, individual sellers, eBay Store owners, and the Daily Deals portion of the site list parts and tools for sale. To find the precise items you need for your particular repair, use targeted keywords like "non-detergent 30 weight oil" or "pressure washer inlet filter" to locate them quickly and easily. Once the items arrive, you can use them to repair your pressure washer follow a few simple steps. Remember to perform regular maintenance to ensure your washer lasts and works when you need it.