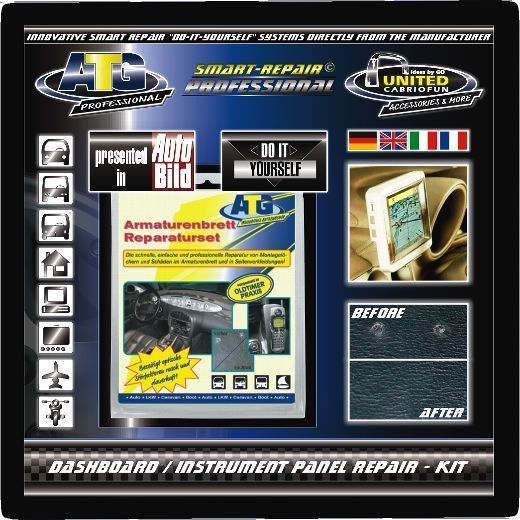 Any cracks that in one's vinyl dashboard are instantly noticeable and mar the clean, perfect look of a car. Whether the culprit is sunlight, excessive cleaning or harsh cleansers, accidents, or general abuse, cracks are bound to occur on one's dashboard sooner or later. One crack does not have to permanently ruin the look of the user's car, however; small, medium, and even large cracks can be fixed with a simple repair kit or just a few tools. After learning about the different ways the user can repair his or her own dashboard, the consumer can turn to eBay to find the right tools.
Necessary Tools
While purchasing a repair kit it has more than the minimum needed to repair cracks in a vinyl dashboard, the user can also purchase these tools separately, which may be more or less expensive, depending on what brand of tools the consumer chooses and where they are bought. There are two essential pieces of equipment needed for crack-filling: sandpaper, to get rid of any vinyl burrs, and a type of filler, whether liquid metal filler , epoxy, or cement mixture. The consumer may also purchase paint that matches the colour of the vinyl dash, to bring the dashboard back to its smooth, pristine glory.
Vinyl Repair Kits
A vinyl repair kit may be simple and hold just a few supplies, or it may be larger and hold extra supplies, such as paint, adhesive, and the like. An example of the contents of a vinyl repair kit might include several different paint colours, a mixing bottle, clear dry adhesive, powdered hardener, a mixing spatula, a sheet of graining paper, a sheet of reinforcement cloth, a sheet of practice vinyl, and a heating iron. A vinyl repair kit may be ideal for those who have not repaired dashboards before, and need a more extensive array of supplies, including the practice vinyl, which helps boosts confidence in the job and lets the user do a better job repairing the viny). Additionally, those who are less skilled in home repair or who want a professional look to their newly repaired dash, may want a heating iron, an easy to use tool that strengthens an area of vinyl against further cracking.
Fixing Cracks
The first step to fixing a crack in a vinyl dashboard is to sand down the damaged area with sandpaper to level the area. If there is excess foam under the vinyl, the sandpaper gets rid of that as well. The next step, filling the hole or crack, can vary depending on what tools one is utilising The user can either plug the hole with a filler such as epoxy or cement mixture, or the consumer can melt a portion of a polyurethane welding rod into the damaged area. When using a polyurethane rod it is important to overfill the hole or crack slightly to ensure the area is completely filled. If the user has a dashboard that does not include layers of foam under the vinyl, the polyurethane rod method should be avoided; a filler is a better option.
The consumer should put several layers of filler atop one another to insure all the damaged area is filled. The next step is to sand down the excess urethane or filler to the same level as the dashboard. Finally, for both types of vinyl dashboard repair the user can paint the damaged area the same colour as the dashboard for a clean, smooth look. Multiple layers of paint may be necessary.
Alternative Fixes
While repairing one's dashboard is a quick and effective fix, over time, or depending on the severity of the damage, more than cement filler is necessary to return a vinyl dashboard's look to its former state. An alternative fix to a damaged dashboard is to have the entire thing replaced by a professional. This is costly, but a brand-new dashboard takes a while to form cracks, and it is an easy and nice-looking fix. Another option is to cover the dashboard in a layer of fabric or a dashboard cover . This not only hides any damage in an inexpensive way but can also add a splash of colour and a personal touch to one's car.
How to Buy Vinyl Repair Products on eBay
Not only does a vinyl dashboard need to be repaired when cracks and holes appear, it also needs to be cleaned on a regular basis, so it is important to take care of one's dashboard with the same care one would care for a windshield, seat, and car floor. On eBay, vinyl repair products, general car cleaning supplies, and thousands of other products are available. To start shopping, go to the eBay site and type the name of the product you are looking for into the search engine, such as " vinyl repair kit". From there, you can narrow down the results that appear by selecting to search by certain categories, such as price, brand, condition, and more.