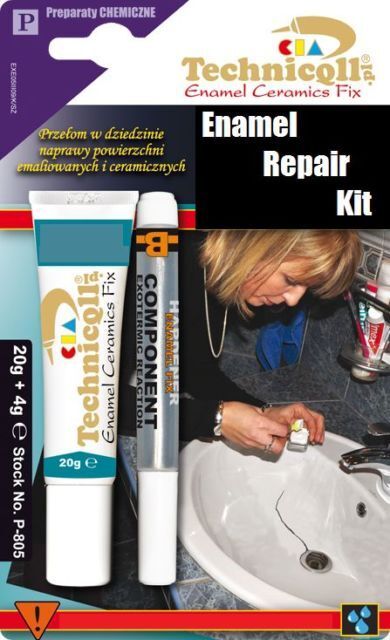 Having a beautiful and shining enamel sink makes a kitchen or bathroom look clean and well cared for. However, dropping a heavy pot or pan on the sink can cause nicks, chips, or scratches. In addition, hard water stains, rust, and other chemical residue can damage the sink. Harsh abrasives can cause scratches, which mar the surface. While some very large spots may need the help of a professional, owners can do most minor sink repairs at home with their DIY skills and a few simple tools and materials. Purchasing tools and materials to repair an enamel sinks, either online at a site like eBay or at a traditional store, is easy once consumers know how to repair an enamel sink.
How to Remove Enamel Sink Stains
Rust, hard water residue, stains, and tough dirt can alter the look of an enamel sink. There are several ways owners can clean their sinks using a variety of materials.
| | |
| --- | --- |
| Tools and Materials | Use |
| | Works to clean stains |
| Bleach | Removes difficult stains |
| Trisodium phosphate substitute | Cleans deeply |
| Lemon juice | A chemical-free cleaner |
| Pumice stone | Removes stubborn stains and hard water deposits |
Owners should be sure to ventilate the work area to avoid breathing chemical fumes.
How to Remove Dirt and Debris
Owners can mix baking soda with hot water to form a paste, and then scrub the surface of the sink with the paste on an old sponge and rinse it with warm water.
How to Remove Stains
To remove stains, owners can mix trisodium phosphate with two litres of hot water. While wearing rubber gloves, they can apply the resulting mixture to paper towels and gently rub the surface of the sink and rinse it well.
Owners can also try adding bleach to two litres of hot water. Wearing rubber gloves, they can rinse the surface of the sink with the mixture and let it stand for 5 to 10 minutes and then rinse thoroughly.
How to Remove Rust and Hard Water Stains
Owners with hard water often see gritty residue and rust around drains and faucets. Owners can rub a pumice stone slowly and gently over the area to remove the grit and rust to avoid scratching the sink. They should then rinse it thoroughly and allow the sink to dry completely.
How to Remove Stains on a White Enamel Sink
Owners can also use lemon juice to eliminate stains on a white sink and leave drains smelling fresh. They just squeeze a lemon onto a cloth, cover the stain with the cloth, and let it sit for an hour.
How to Repair Enamel Sink Chips and Scratches
Repairing nicks, scratches, and chips takes time and patience. Owners often need to apply the epoxy filler several times to achieve the right look. To repair chips in an enamel sink, owners need:
* Safety goggles and dust mask
* A small paint brush, wooden matchstick, and a sponge
* Wet and dry sandpaper of 400 or 600 grit
* Vinegar
* Two component epoxy adhesive
When working with any kind of glue or adhesive, be sure to work in a well-ventilated area.
Clean the Enamel
Be sure to wear eye and hand protection when working with resins or adhesives. Clean the sink with a mild solution of dishwashing soap and water. Then, spray the sink with a solution of vinegar and water.
Smooth the Chipped Area
Gently rub sandpaper over the damaged area to remove dirt, rust, debris, and soap or oil residue. This also abrades the chipped area so the epoxy adheres.
Fill the Chip
Carefully mix the two-component epoxy together according to the manufacturer's directions. Use a wooden matchstick or small paintbrush to fill the chip. If the chip is deep, it may take several applications with drying time in between. Once complete, wait 24 hours or the time specified on the epoxy manufacturer's instructions before using the sink. Avoid scrubbing the repaired area for 7 days.
How to Buy Tools and Materials to Repair an Enamel Sink on eBay
To purchase the tools and material needed to repair an enamel sink on eBay, go to any eBay web page. In the Search box, type in the tool or material needed, such as " epoxy". If the results page gives too many selections, shoppers can narrow them down by clicking on a category, or you can try the deals in Home and Lifestyle for more options.
The average consumer with some DIY skills can restore the lustre, shine, and clean surface of an
enamel sink
. Repairing an enamel sink starts with a clean surface, which may require several different application of cleaners and methods. Once the sink is clean, owners can repair nicks, scratches, and chips using an epoxy adhesive.