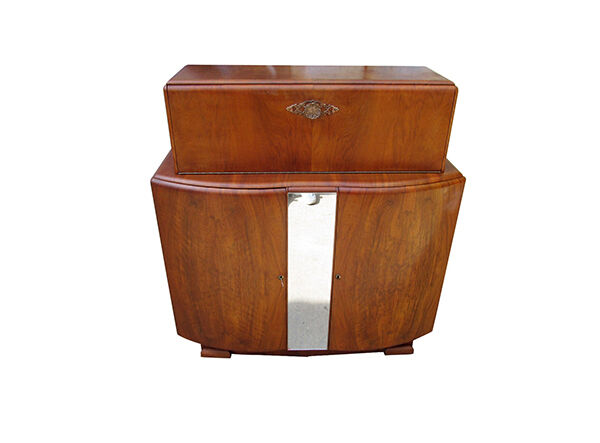 Decorative and chic, Art Deco furniture experienced popularity in the early portion of the 20th century. Furniture from this era has a distinct look comprised of interesting shapes, shiny finishes, patterns, and geometric curves and designs. Finding antique Art Deco furniture is a real score for vintage furniture collectors, but sometimes pieces are not in the best shape. Polish up pieces to restore them to their beauty and continue to enjoy the unique look of furniture from this fashionable era. To restore and reinvigorate Art Deco furniture, there are a few steps to take including cleaning and repair.
Cleaning Art Deco Furniture
Art Deco furniture is made of luxury materials like leather and aluminium. Cleaning the furniture requires special care and handling to avoid damaging the furniture, scratching it, or denting it. Cleaning the furniture allows easier assessment of damages for consumers to check for cracks and tears.
Leather
Gently clean Art Deco leather pieces with mild soap on a damp lint-free cloth. Avoid putting too much water on leather furniture. Keep leather supple and shiny by applying leather conditioner often, which also serves to remove any scuff marks or small scratches.
Chrome
Many pieces of Art Deco furniture include chrome. Give the lustre back to chrome and aluminium furniture with mild soap and a lint-free cloth. Avoid using abrasive scrub brushes or harsh chemicals. Purchase chrome polish used to shine cars to buff away scratches from the chrome, and always rub the chrome softly to avoid incurring damage.
Wood
Glossy black or brown wood makes up many Art Deco pieces, from dressing tables and dining sets to nightstands. Cleaning wood is challenging, mainly because many pieces are oddly shaped. Use mineral spirits to add shine to the lacquered finish, and use mild liquid soap and a microfibre cloth to wipe away dirt.
Repairing and Restoring Art Deco Furniture
Once Art Deco furniture is clean, make repairs and finish restoring pieces. The number one rule of thumb when it comes to restoring Art Deco furniture is to be gentle. Since these well-made pieces are antique and vintage, using abrasive materials or heavy tools damages glossy wood veneer, rips fragile fabric, or scratches old glass.
Sofas
To repair torn or ripped vintage upholstery, snip away hanging threads with scissors. For rips or loose seams, use a needle and thread to sew them back together and tighten up loose threads. Use upholstery tacks, which were stylish during the Art Deco era, to tighten loose fabric or replace portions of the furniture. Scrub stains gently with mild liquid soap. For irreparable damage, consider recovering the sofa with a bold, graphic material that is reminiscent of the Art Deco era.
Wood Furniture
Wood pieces, such as dressers, lose their finish and lustre over time. To restore a wood piece, sand away any rough bits of wood with sandpaper. Use wood glue to repair loose pieces of wood. Repair cracks by applying a hairdryer to the area and heating it up. Press the cracked wood into place and use a small amount of wood glue to secure it.
Use an iron on top of a towel to iron away bumps in the surface of the piece, and restore the veneer by using chemical stripper to remove the existing veneer, and then sand it smooth. Apply one to two coats of a polyurethane finish and allow the piece to dry overnight.
How to Determine Art Deco Furniture
Shopping for vintage furniture is fun, but for consumers who have an eye out for specific Art Deco pieces, they are not always easy to spot. There are a few characteristics common to Art Deco pieces that make the pieces stand out among other types of antique furniture.
| | | | |
| --- | --- | --- | --- |
| Design | Shape | Finish | Materials |
| | Geometric shapes like circles and triangles | Glossy and shiny | Bold and bright upholstery fabrics |
| Rounded, sleek styles | Long lines | Chrome, aluminium, and glass accents | Sophisticated details add flair like gold edges |
| Modular pieces that look similar to 1960s pieces | Pieces that fit into each other | Wood polished to a shiny veneer | Animal, geometric, and floral prints |
For collectors looking to add to their Art Deco furniture pieces, it is sometimes hard to distinguish today's furniture from the furniture of the 1920s and 1940s. That is because the Art Deco period had such a large influence on home design that it is not uncommon to see its retro styles show up in today's furniture pieces.
How to Buy Art Deco Furniture Restoration Needs on eBay
Browse for everything you need to clean, repair, and restore Art Deco furniture on eBay. Look forgreat deals on everything from Art Deco dressers to polyurethane finish for wood. Pick up plenty of microfibre cloths and chrome polish. Buy necessary items from a single seller to create a bundle and lower shipping prices, and do not forget to add feedback after you receive your items.
Art Deco furniture is fun, whimsical, stylish, and fashionable; even alongside today's styles. For casual or serious antique furniture collectors, even one piece of this bold furniture adds an eye-catching and dramatic look to any home. With a few steps, you are on your way to restoring your Art Deco furniture.