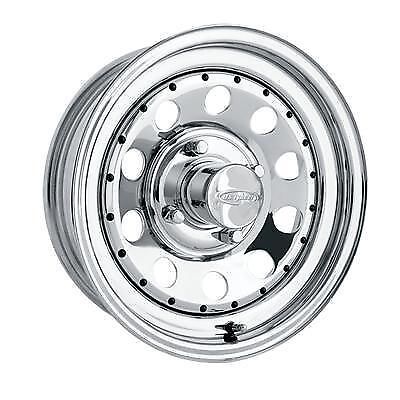 Chrome wheels are steel or aluminium alloy bases electroplated with a coating of chromium. This makes them durable and highly resistant to corrosion. Chrome wheels also withstand extreme temperatures. Many drivers like chrome wheels because of their mirror-like finish. However, even with normal use, they become damaged by dirt from roads, brake dust, and salt. If left untreated, this results in small holes in the surface of the chrome, rust, and the chrome finish pulling away from the base metal. To keep them in good condition, drivers should clean chrome wheels at least once a month. Restoring chrome wheels is easy to do at home with a few simple supplies found in car parts and accessories stores and online on eBay.
Precautions when Restoring Chrome Wheels
Before starting to restore chrome wheels, drivers should wear rubber gloves to keep any cleaning products away from the skin. They should also avoid cleaning wheels that are hot because this causes the chrome finish to crack, flake, or bubble. Drivers should only use mild cleaners because harsh household products harm the chrome finish and scrubbing chrome wheels with abrasives results in scratches. Finally, owners should read and follow any instructions specific to the cleaning products.
Wash Chrome Wheels
Washing chrome wheels with a mild cleaning agent designed for chrome removes the most of the dirt and brake dust. Drivers should wash the wheels before cleaning the rest of the vehicle to prevent dirty water from soiling the clean car or van. Using a strong stream of water, rinse the wheels to remove loose dirt and brake dust. Spray one wheel with a chrome wheel cleaner, which is a non-acidic product that is safe for chrome. Agitate the surface with a soft-bristled wheel brush and scrub using small circular motions; only use the wheel brush when the wheel is wet to prevent scratching. Pay extra attention to the dirtiest spots and hard to reach areas. Clean the lug nuts with a lug nut brush. Also clean the wheel wells. Rinse the wheel and wheel well with cool running water. Dry the wheel completely using a lint-free cleaning cloth. If the wheels are not dried quickly, spots can appear on the chrome finish.
Clay Chrome Wheels
Clay bars are products for removing embedded contamination from car bodies and wheels. Drivers can find both wheel clay and traditional clay for detailing vehicles. Both products work well on chrome wheels. First, spray the wheel generously with a clay lubricant. Flatten a quarter of the clay bar and rub it over the wheel. Ensure that the areas between the spokes and any pitting or black spots are covered. If the clay becomes dirty, fold it to reveal a clean side to avoid any debris scratching the chrome. Finally, use the clay lubricant to remove any residue and wipe the wheel clean.
Polish Chrome Wheels
Drivers can use metal polishes designed for steel or aluminium on chrome wheels after checking the details on the product's label. A polishing tool helps to apply metal polishes with consistent speed and power. First, rub chrome polish onto the wheel and spread it with a polishing tool or using a soft cloth. Gradually increase the speed until the polish begins to dry. Wipe the wheel with a clean microfibre towel.
Wax Chrome Wheels for Extra Protection
Waxing is the final step to restore chrome wheels. Drivers should apply a layer ofwheel wax with an applicator pad to seal the surface. Wheel wax helps to prevent brake dust from adhering to the surface. Finally, buff to a shine. Applying wax every week avoids the need for regular wheel restoration.
How to Buy Supplies to Restore Chrome Wheels on eBay
Buyers can find all the supplies they need to restore chrome wheels on eBay. The handy search bar makes it easy to find items from any page. For example, entering the keywords, " chrome wheel polish", lists all matching items currently available on the site. Shoppers can also browse the excellent deals on other automotive products. Buyers should read the product details carefully before purchasing an item to ensure that it is appropriate for chrome. Chrome wheels are steel or aluminium alloy bases with a chromium finish. They are durable and attractive. However, drivers should clean them regularly to ensure the finish lasts for a long time. The process of restoring chrome wheels consists of four steps: washing, claying, polishing, and waxing.