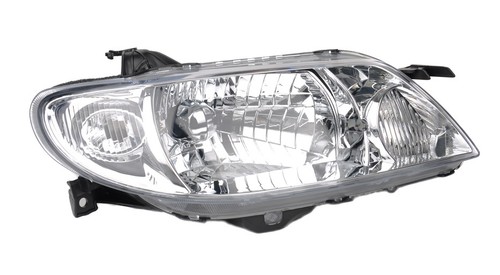 As a vehicle ages, the headlights start to show signs of oxidation and wear. Many headlight covers are made of polyacrylic materials that become dull. This restricts the amount of light that passes through them and decreases visibility. There are a number of headlight restoration kits available and drivers can also use simple DIY products to restore cloudy headlight covers. Restoring headlights returns them to their original brightness and increases visibility, which improves road safety. Buyers can find kits and supplies to restore headlights at auto stores or online on eBay.
Types of Headlight Damage
Plastic headlight covers consist of a soft polyacrylic material protected by a clear, hard coating. Road debris, UV rays from the sun, and heat cause headlight covers to degrade over time. The table below outlines some of the most common issues that affect headlights.
Headlight Damage

Description

Cannot repair deep cracks

Cracks do not affect the integrity of the headlight

Hazing

Headlights are susceptible to scratches as the hard coating wears

Headlights eventually develop a thick yellow crust

Peeling

Hard coating deteriorates and begins to peel and flake

Hard coating often turns yellow

Yellowing

Hard coating thins and UV exposure causes a yellow discolouration in the polyacrylic
Some headlight issues are irreparable. However, most headlight damage shows at least some level of improvement with common restoration methods. Drivers should replace the headlights if the covers severely restrict the amount of light passing through.
Headlight Deoxidiser
Headlight covers that show signs of oxidation are easy to restore using a deoxidation solution. This is a nonabrasive liquid solution designed for acrylic, polycarbonate, plexiglass, and thermoplastic covers. It restores cloudy, discoloured headlights to a like-new condition. Many deoxidisers have a one-step application process and drivers should follow the manufacturer's instructions. Most solutions simply require drivers to place a few drops on a paper towel and wipe it on the headlight. There is no need to rinse, buff, or rub away the solution.
Headlight Restoration Kit
Deoxidisers do not remove scratches or surface damage. Therefore, if the cloudiness persists on the headlights after using a deoxidiser, drivers should try a headlight restoration kit to improve the appearance of the covers. Although the process for cleaning headlights is specific to the restoration kit, products typically follow these general steps.
Prepare the Headlight Cover
Most headlight restoration kits include cleaning compounds, cloths, protective tape, clear sealant, sandpaper, and vinyl gloves to protect the hands from chemicals. Drivers should wash, rinse, and dry the headlights thoroughly and tape off the painted area surrounding them to protect it during the process.
Sand the Surface and Apply the Cleaning Compound
Drivers should apply the lubricant or surface activator compound with a soft cloth and then use the lowest grit sandpaper over the entire headlight cover. Sand again with the next grade of sandpaper and finish with the highest grit before applying the cleaning compound. Let it dry and then buff. Repeat the process if results are not satisfactory. Drivers should note that some kits do not require sanding, but instead contain a rubbing compound to remove the layers of oxidation.
Seal the Headlight
Finish the process by applying a coat of clear sealant. Use smooth, even strokes to cover the entire surface for the best protection.
DIY Headlight Restoration
There are a number of DIY methods to restore headlights. Toothpaste has slightly abrasive qualities that make it a great substitute for the rubbing compounds found in many headlight restoration kits. Simply use it to clean the headlight and buff away any cloudiness with a soft cloth. Drivers can make a DIY restoration kit using an aluminium polishing compound, commercial UV blocking clear coat, tape, sandpaper, and polishing cloths. DIY kits are beneficial because drivers can select specific products based on their own requirements.
How to Buy Supplies to Restore Headlights on eBay
Headlight restoration kits are available on eBay. Buyers can find ready-made kits or create their own from automotive products found in the deals section of the site. Buyers can use eBay's user-friendly search features available on every page to enter keywords describing the products they need. Using the category filters narrows down the results. Before making a purchase, buyers should read the item description carefully to ensure that the product is appropriate for the type of headlight damage. Removing the cloudy haze and discolouration from headlights improves the appearance of a vehicle and increases the amount of light emitted.