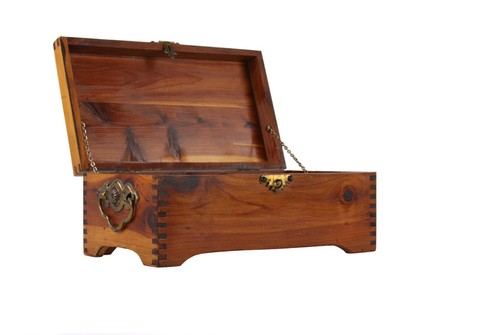 Cedar chests are vintage or even antique items that remain popular today. These practical and beautiful items are readily available, but the more inexpensive models often require considerable restoration. Professional restoration is costly, but consumers with some basic practical skills can successfully restore a cedar chest themselves. Some of the most simple restoration processes take a short time to complete. More extensive restorations, like refinishing or replacing the veneer take considerably longer, making it a fantastic project for consumers who enjoy working with their hands. Restoring a cedar chest to its former glory and displaying it proudly in any indoor living space, creates an interesting focal point, additional seating, and extra storage space.
How to Restore the Natural Odour in a Cedar Chest
Cedar has a distinctive natural odour many people find appealing. The odour comes from a series of related chemical substances naturally occurring in the wood. This odour keeps fabric items safe from moths and other destructive insects as well as emitting a natural, fresh scent. However, over time, the scent is lost. To restore this natural odour, begin by emptying the chest and vacuuming the inside, removing all dust and debris. Take a damp cloth and wipe out the interior to remove any foreign matter. Allow the chest to dry. Use fine grain sandpaper, working with the grain of the wood, and sand the interior of the chest just enough to restore the natural red colouring of the wood. This removes the old wood from the surface that has lost its scent and releases the odour from the wood beneath.
How to Clean a Cedar Chest
Cedar chests require cleaning and, for older models, simple cleaning is a valuable and effective restoration process. Users can clean the exterior of their cedar chest using warm water and a mild detergent on a soft cloth. For chests with intricate detail and tight corners, use a cotton bud with the soapy water to remove grime. For chests with heavy grime build up that hot soapy water cannot remove, use mineral spirits on a soft cloth, as this provides a more powerful cleaning action. After using mineral spirits, or white spirit, wash the surface of the chest with distilled water and a damp cloth to remove any residue, as it is strong enough to strip the finish off the chest. For a lustrous, burnished wood sheen, finish the chest by applying a hard paste wax and polishing it using circular motions. When dry, buff the surface with a clean, dry cloth. To clean brass hardware, such as handles and clasps, remove them when possible to avoid getting harsh chemicals on the cedar. Clean the hardware with a brass polish, buff the pieces to a shine, then replace them back onto the chest.
Restoring the Finish on a Cedar Chest
Cedar chests in need of care and attention often have damage to the finish in the form of stains, scratches, and discoloured finishing. Many at some point during their life have had contact paper stuck to them, which is messy and unsightly, and damages the finish beneath. However, even those that look really bad are not a lost cause. Nor do they have to simply be painted over. It is possible to restore the finish of even an old battered, and neglected cedar chest effectively and inexpensively, restoring the beauty of the natural grains in the wood.
Apply furniture stripping gel to the entire exterior of the chest using a high quality paint brush. The layer should be around 0.5 cm thick. Leave the gel for a minimum of an hour. Use a palette knife to scrape along the grain of the wood. This removes the layers of varnish, paint, or contact paper and strips the chest back to bare wood.
Remember to wipe the knife clean after each scrape to avoid getting the gel and the removed debris onto the bare wood. Once the chest is complete, wipe it down with a soft cloth and hot water, removing any remaining debris or gel. If any varnish or other surface contaminants remain, sand them away with fine grain sandpaper. Leave the chest for 12 to 24 hours to dry out, then apply a penetrating wood stain to the surface of the chest. Penetrating wood stain brings out the natural colours and patterns in the wood while simultaneously providing protection for an attractive, long lasting finish.
Summary
Different restoration processes require different supplies. For the best results, consumers should have all the supplies they need to hand before they begin.
Process

Items Required

Damp cloth

Fine grain sandpaper

Soft cloth

Mild detergent

White spirit

Distilled water

Hard wax paste

Brass polish

Furniture stripping gel

Palette knife

Paint Brush

Soft cloth

Sandpaper

Wood stain
When restoring a cedar chest, it is crucial shoppers have everything they need. Additionally, users must make sure to complete each step fully and to allow ample time for liquids to dry to achieve the best possible finish.
How to Buy Cedar Chests and Restoration Products on eBay
Buy cedar chests and all the items you need to clean, maintain, and restore them from eBay. Reputable sellers offer very competitive prices and some even offer free delivery. Remember to look for bargains on eBay Deals and maximise your saving potential. When shopping on a budget or looking for a rewarding, engaging project to work on, consider buying a cedar chest in need of restoration, and take the time to return a little piece of history to its original condition. A cedar chest makes a great addition to any indoor living space, giving you extra storage, extra seating, and an interesting conversation piece.