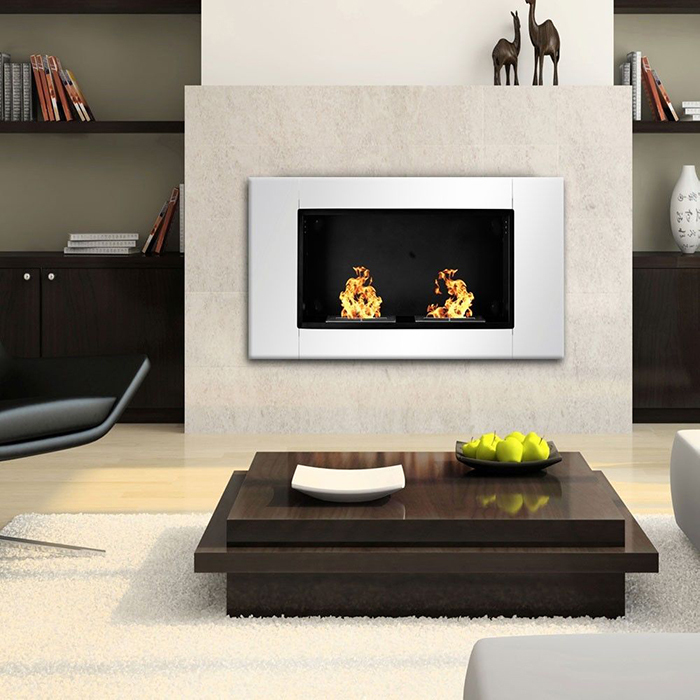 Since their installation, many fireplaces made of cast iron have been subjected to multiple coats of paint as fashions and the tastes of homeowners changed. The original beauty of the fireplace, including the surround, gets lost beneath multiple layers of paint. To restore a fireplace to its original beauty takes time and hard work, but it is well worth the effort and, performing the restoration at home without a professional is affordable. Consumers can restore period fireplaces by stripping back the old paint from the iron and tile, removing rust, and using grate polish on the exposed iron. Once restoration is complete, it is essential to use the appropriate cleaning products on a regular basis to keep the fireplace in good condition.
How to Strip Back a Fireplace
Stripping back a fireplace is the first and most important step in the restoration process. Apply a thick coat of chemical stripper, or stripping paste, to a small area, such as the end of the mantel, and cover with the paper that comes with the stripping paste. Ensure there are no air bubbles between the paste and paper for the best results. Leave it in place for 24 hours. The paper turns darker as it absorbs the paint. After 24 hours, peel back the paper and the residue from the stripper. Clean the area with white spirit. Doing a test area allows consumers to establish just how many layers of paint they have to get through to reach the iron beneath. For fireplaces with very thick paint, use a thicker layer of paste. Now repeat the process over the entire surface of the fireplace. Use a smaller paint brush to get into tight areas and to fully coat intricately worked areas. Remember to apply the paste to the hearth as well as to the fireplace, mantel, and fire surround.
Removing Rust
Some fireplaces have rusty areas where they have not been properly maintained and, at some point, have been exposed to cold, damp air. To remove rust, take wire wool and scrub away the rusted area. Work slowly and methodically and, when all trace of rust is gone, wipe the area down with a soft dry cloth to remove any debris.
Refinishing the Fireplace
Take a clean paint brush and apply black grate polish to all of the exposed iron work. Apply an even coat, being sure to get the polish into all the nooks and crannies. Leave it for an hour then take a soft, clean cloth and polish or buff it using firm, circular motions. For tiled areas, after stripping away all the paint, use tile cleaner. For stubborn stains, use diluted household bleach, but remember to wash away any bleach residue after cleaning to avoid discolouring the tiles.
Important Factors to Consider When Restoring a Fireplace
If consumers want to repaint their fireplace, they must purchase the correct paint. Fireplace paint can withstand high temperatures and rapidly changing temperatures, whereas standard paint cannot. Standard household paint discolours and flakes when exposed to rapidly changing temperatures and some paints are flammable so are not suited for use in a fireplace surround. Purchasing the appropriate tiles is also a crucial factor of successful fireplace restoration when original tiles need replacing. Standard tiles are unable to withstand fluctuating temperatures and crack. Therefore it is necessary to purchase heat-resistant tiles. For safety always wear heavy duty rubber gloves when working with stripping paste and ensure that the work area is well ventilated. Cover the other furniture in the room to prevent contamination from dust and debris.
Cleaning and Maintaining a Fireplace
Cleaning a fireplace is reasonably simple. The key factor to remember is to never put water on cast iron for cleaning. The water strips the polish and promotes oxidation and rusting. Therefore, avoid this at all costs. Instead, use WD-40 or a similar product to clean the cast iron portions of the fireplace and wipe away with a soft cloth. Clean tiles with tile cleaner or hot soapy water. Wipe them dry with a soft cloth to avoid streaking.
How to Buy Fireplaces and Fireplace Restoration Products on eBay
Whether you want to add a new or period fireplace to your home, or restore an existing one, you can find everything you need from reputable eBay sellers. Visit eBay Deals to maximise your saving potential, or consider buying cleaning supplies in bulk. Once you identify the items you require, make sure your seller has a high percentage of positive feedback, then confirm your purchase and complete the transaction. The user friendly website makes buying fireplaces and fireplace restoration products quick and easy, even for novice online shoppers. A period fireplace is a beautiful feature in any period home, hearkening back to an earlier time. However, the original beauty is often lost beneath years of neglect, grime, and copious amounts of paint. You can, however, rescue and restore a fireplace. Although the process is time consuming, it makes a great home project and is comparatively inexpensive.