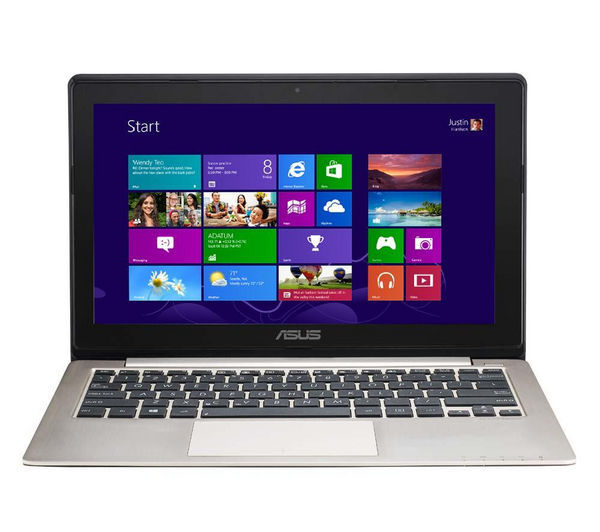 The Asus Ultrabook stands as one of the manufacturer's most impressive conglomerates of PC hardware. Models such as the Zenbook UX301 boast a scratch-resistant screen, lightweight build, and a full HD display capable of displaying videos, images, and computer-game graphics up to 2560x1440 resolution. Even so, there always comes a time when users need to restore their Asus Ultrabooks. Maybe a virus wormed its way into Windows 7 or 8, or maybe users want to start fresh with a clean install of Windows, or return to the factory installation that Asus put in place when the shipped the then-new laptop.
Asus offers a few methods to restore Ultrabooks to just-like-new settings, as well as tips on how to optimize fresh installs of the Windows OS.
Backing Up Files
Whether users choose to perform a clean install of Windows or restore their Asus Ultrabook to factory settings, all of their local data gets wiped out, lost forever. Unless, of course, they back it up using one of several methods available on Windows OSes.
Type of Data

Backup Methods

Pros and Cons

Personal files: picture, videos, music, documents

USB drives, blank CDs and DVDs, hard drives

"Backup and Restore" program included with Windows

Save to network drive

Pros: Saves files that users could lose forever

Cons: Users still need to back up OS and software necessary to view personal data

"Snapshot" of entire hard drive: operating system, current settings, personal data

External media

"Backup and Restore" program

Save to network drive

Pros: Users resume using their notebook right where they left off

Cons: Requires more storage space, carries over any viruses and errors that plagued users before restore
Make sure to check, double check, and triple check a hard drive before wiping it clean. As a rule of thumb, users should back up their files one to two times a month.
Recover to Factory Settings
Recovering to factory settings flips the reset switch on an Asus Ultrabook, returning it to the state in which the user received it. Some Ultrabooks include recovery discs that allow users to boot their computer from the disc and follow steps to reformat their hard drives, erasing all data, and reinstalling the factory image of their Windows OS. Users who did not receive a recovery disc can create one at any time by inserting a blank DVD into their laptop drive and using the Asus AI Recovery Burner. To boot from a recovery disc, keep the disc in the drive, restart the computer, press Escape when the Asus logo appears, and choose to boot from CD/DVD.
Users can also restore to factory settings from their notebook's recovery partition. All Asus computers include a partition that holds files needed to recover from critical errors. To run the recovery partition, press the F9 key during bootup and select Windows Setup from the menu. From there, users can select a Windows recovery option that meets their needs.
Windows Clean Install
Factory-installed operating systems come with pre-installed programs that users may not want to use. Performing a clean install of Windows erases the hard drive and copies over only the bare essentials Windows needs to operate, allowing users to install their own program rather than rely on pre-installed ones. The process unfolds over several steps and usually takes 30 minutes or less.
Preparation
Remember: performing a clean install of any Windows OS erases hard drives. Back up any personal data to external drives or media before performing the installation. After backing up files, shut down the computer and remove all external drives. Power on the computer and insert a Windows disc into the DVD tray. Users must insert a retail Windows disc; inserting an Asus recovery disc restores the Ultrabook to factory settings, which differs from a clean install.
Phase One
When prompted, choose to boot from a CD or DVD. Windows takes over, copying over essential installation files. At the next step, users set their preferred language, the date and time, and a few other basics such as the Windows product key.
Phase Two
Windows then prompts users to choose an installation type. Selected Advanced and choose the hard drive partition for installation. The largest partition is a safe bet, as Windows requires a good deal of space. Users then confirm that they wish to reformat the hard drive, erasing all data.
Final Steps
After the installation wizard completes formatting, Windows should install. Users set a username and password and sit back and wait while the installation wraps up. When Windows appears, users can begin copying over their backup data, downloading drivers for their hardware, and installing software.
How to Buy an Asus Ultrabook on eBay
eBay's Top Sellers provide all the tools users need to restore their Asus Ultrabook computers, including versions of the Windows OS. In fact, users can find new and used Asus Ultrabooks on offer. To search for software or hardware, go to any eBay web page and enter a keyword phrase into the search bar. Try specific phrases, such as "Zenbook UX301," to bring up a list of specific results. Buyers can save on shipping by looking for local sellers that allow them to pick up items. Users can also find peripherals such as the Asus BX701 wireless mouse, as well as wireless keyboards.
Learning the methods and tools needed to restore an Asus Ultrabook helps ensure the health of the computer for years to come.