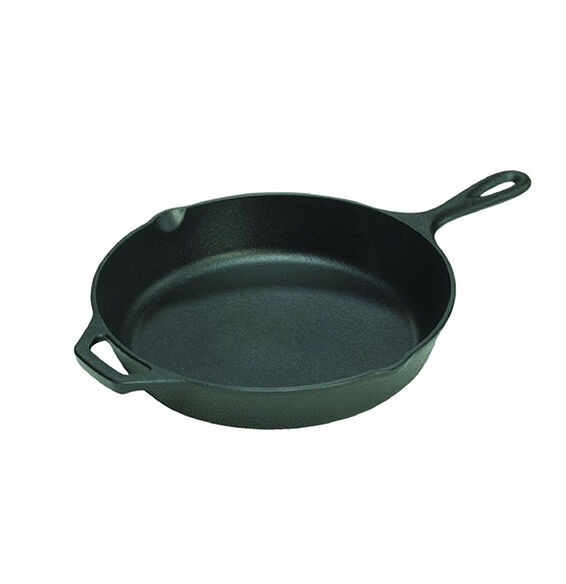 Built to last, cast iron skillets which are years old still turn out amazing cornbread, bacon, and pancakes. Antique iron skillets are functional and useful for many types of food and a kitchen necessity for chefs of all skill levels.
Though collecting vintage iron skillets is a fun hobby, using the skillets may be intimidating due to dried-on rust or debris. Even the grungiest iron skillet is easy to restore and use to whip up many excellent foods. Consumers who enjoy using old iron skillets but need to revive them first should take steps to restore and care for skillets properly, to ensure years of use in the future.
Clean the Iron Skillet
The first step in restoring the iron skillet is to clean it. This requires time and patience, but a spotless skillet is not impossible. An easy and convenient way to clean a dirty iron skillet is to simply run it through the self-cleaning cycle inside the oven. Alternately, clean the skillet with hot water and mild soap to remove dried on food. Another option for buyers who do not want to use soap on their iron skillet is to rub the skillet with coarse salt.
A third cleaning option is placing the skillet into the oven for 10 minutes to heat it up, then pouring olive oil and salt into the skillet. Scrub the rust away from the warm skillet using a soft cloth or paper towels, then rinse the oil and salt away.
Removing Rust
Rust is the biggest problem when it comes to cleaning and restoring a cast iron skillet. There are several methods for removing rust, based on how excessive the problem is. For a skillet which is extremely rusty, lye is the chemical that works best. However, lye is corrosive and consumers must take special precautions when using it. Wear protective gloves and safety goggles while handling cleaners made with lye. To remove rust with lye, spray an oven-cleaning spray onto the skillet and place the skillet in a trash bag. Leave it for a few days until the rust is soft and easy to rub away.
For an iron skillet that does not have a large amount of rust, a nonmetallic scrub brush along with soap and warm water does the trick. Never use steel wool or any abrasive metal scrubbers on cast iron; this damages the skillet.
Season the Iron Skillet
The secret to delicious foods cooked in an iron skillet lies in the seasoning. Seasoning a skillet is the last step in restoration, and this means that the skillet retains a non-stick surface, and seasoning protects the skillet from rust and damage. There are a variety of ways to season a skillet, but the most common way is to use vegetable shortening to coat the inside of the skillet. Put the skillet inside a 176-degree Celsius oven for one to three hours, and allow the skillet to cool before using.
Vegetable shortening is not the only item used for seasoning a cast iron skillet. Use vegetable oil instead, or bacon grease, which is an older method of seasoning iron skillets. Lard is another option that works for skillet seasoning.
Iron Skillet Care and Maintenance
To keep an iron skillet looking new and cooking properly, it needs different care and maintenance than other types of cookware. Using soap is optional when it comes to cleaning an iron skillet, as long as buyers remove food particles with a nonmetallic scrub brush or coarse salt. Since soap also breaks down the seasoning, re-season the skillet before the next use. Simply rinse the skillet in hot water after each use and dry it off with a towel; do not let the iron skillet air-dry.
Avoid soaking the skillet in the sink for extended periods of time. A cast iron skillet is not dishwasher safe and needs hand washing after each use. Re-season after each use or when the seasoning begins rubbing off. To safely store an iron skillet, cover it with a cloth or paper towel to keep dust out of it.
How to Buy Iron Skillets on eBay
Search eBay for great deals on iron skillets and other cookware so you feel like a professional chef every time you step into the kitchen. Purchase an iron skillet from a Top-rated seller, and find either new or used, vintage iron skillets to add to your cookware collection. Check seller feedback from other buyers before purchasing a skillet, and leave your own feedback for the seller once you have completed your transaction.
If you remember watching your grandmother make biscuits or beans in her iron skillet, you may have sentimental memories attached to the cast iron classic cookware. Through the years, iron skillets have proven not only nostalgic and collectible, but also durable and dependable additions to any kitchen, so restoring them is an important task to keep them doing their job.