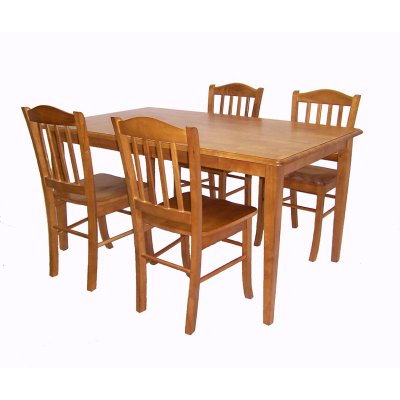 One of the best ways to save money while furnishing the home is to purchase a dining set instead of individual pieces for the dining room. Matching chairs and a table make an excellent addition to a dining room, but the costly investment may seem like a waste of money if the room is not used very often. Homeowners can decide to reuse old dining sets to cut their cost. There are several ways to reuse a dining set, whether one decides to update the look of the furniture or transform the pieces into entirely new pieces for the home.
Either way, a DIY buyer may need supplies to complete the project, including fabric, staple gun, paint, and wood stain. For those who want to make something 'new' out of an old dining set, the used furniture and all the supplies needed to complete the project can be purchased in resale, hobby, and hardware shops as well as online on eBay.
Components of a Dining Set
There are two main components in every dining set, the dining table and the dining chairs. Dining sets differ from each other in many ways, including the number of chairs, the overall style, the shape, the materials, and the size of the table. All these factors impact the use and transformation of an old dining set. For instance, a fairly small dining table might make an excellent coffee table or play table for kids if the table's legs are shortened.
Shape
Tables come in many shapes, but the most popular ones for dining tables are square, rectangular, circular, and oval. Square and circular tables make great coffee tables and children's play tables, while oval and rectangular tables are ideal for repurposing into items like headboards and mirror frames, among other ideas.
Size
The size of the table and chairs directly affects how reusable they can be. For the most part, dining sets can always be reused as new and improved dining sets with a little bit of work. Tall and large dining tables also offer materials for new DIY projects, such as decorative wood items and other wood-based projects. Shorter tables and chairs are fun to refurbish with fabrics and other materials to make differently styled tables and chairs that are not necessarily for the dining room. Even the once matching chairs and table can be mismatched to make completely separate and unique pieces of furniture.
Style
One of the most interesting parts of reusing old furniture is dependent on the style of the old dining set. For instance, if the old dining set is made primarily of wood with a lack of ornamentation, a new paint job with some interesting designs could make the dining set look completely new. However, if the old dining set has cushioned seats, it could be fun to make new cushions with different fabrics for a new look. The style of the new furniture is not limited to the old style of the dining set, although it may impact the inspiration for the new style.
Ways to Reuse Old Dining Sets
There are many ways to reuse one's old dining set, whether that means changing the look and style of the furniture or altering its shape and purpose into different types of furniture or decorations. By adding a little fabric, a new coat of paint, or cutting a table in half, homeowners can save money and enjoy completely new furniture.
Add Slipcovers
One of the simplest and most affordable ways to update the look of an old dining set is to purchase slipcovers for the chairs and even the table. Slipcovers come in all sorts of fabrics, patterns, and designs to change the look and feel of one's dining set. They are also great for use as protection of the set from food stains and daily wear and tear. Slipcovers can be thrown into the wash as frequently as one likes.
Upholster with New Fabric
For those who enjoy DIY projects that are a little more challenging, old dining sets can be brought back to life by adding new fabric to the chairs to make them look completely different and new. The sky truly is the limit when it comes to picking a style and design for the fabric. The fabric can then be attached by using a heavy duty staple gun. A upholstering project is generally affordable and easy, and it can be done numerous times throughout the life of a dining set.
Shorten the Legs
Since many dining tables are large and tall, another simple way to change the look of the furniture to repurpose it for another use is to shorten the legs on the table. Many dining tables make excellent coffee tables and outside tables for patios and decks. Shortened tables are also ideal for children, who might need tables they can use for activities, homework, and eating.
Cut the Table in Half
Besides shortening a table vertically, tables can also be cut in half with a saw to create two smaller tables. As a result, a former dining table could be used to make nightstands, day tables in the kitchen, or patio furniture. Extra pairs of table legs may not even be needed if the new tables are installed on walls as convenient side tables.
Refinish the Furniture
A wood dining set can be stripped and refinished for a more polished and updated look, and this may be all it needs to look new again. Another way to update the look of a dining set is to add a fresh coat of paint in white, black, or even a bright colour. Paint can be used to add a clean, polished look or create a rustic, aged feel. Either way, paint is one of the quickest ways to rejuvenate an old dining set. Hardware can also be added to the dining set to make a once simplistic set appear more ornate and interesting.
Repurpose as Decorations or Other Furniture
For those who do not want to use old dining sets for eating anymore, dining furniture can always be repurposed as other furniture for the home. For instance, a small to medium dining table could make an excellent desk. The refinished chairs can be used in various rooms as additional seating. As already noted, a shortened table makes a great coffee table or play table for children. If nothing else, wooden tables and chairs can be used as materials for a headboard for the master bedroom, a chalkboard for the kitchen, an ornate frame for a full-length mirror, and numerous other things.
Buying Old Dining Sets and Other Accessories on eBay
Not everyone has an old dining set to play around with for refurbishment or a new DIY project. Fortunately, old dining sets and other necessary materials can be bought online on eBay and delivered to your doorstep. The website features a large database and an easy-to-use search box. By inserting keywords like 'old dining set' or 'staple gun' into the search box that is located on every page, you can find the most affordable items.
When using eBay, it is important that every user thoroughly research the reputation of the seller before making a purchase. This can be done by reviewing feedback left by past customers. Previous buyers leave detailed information about their shopping experiences, the quality of the items purchased, and the reliability of the seller.
Conclusion
When it comes to repurposing old dining sets, there is no shortage of ideas. Painting the wood, updating the fabric, and changing the entire function of the pieces are just a few ideas for what homeowners can do with old sets. Reusing old dining sets is an affordable, green, and fun alternative to buying new products. By updating the look of one's old dining set, individuals can save a lot of money.
All the materials needed for various DIY projects are affordable and easy to find on sites like eBay, or buyers can shop locally in hardware, hobby, and resale shops. By updating an old dining set or turning pieces into entirely new, fabulous pieces of furniture, everyone can be satisfied and make new memories without spending a fortune.
old dining set|used dining set|refurbish furniture|upholstery|used table