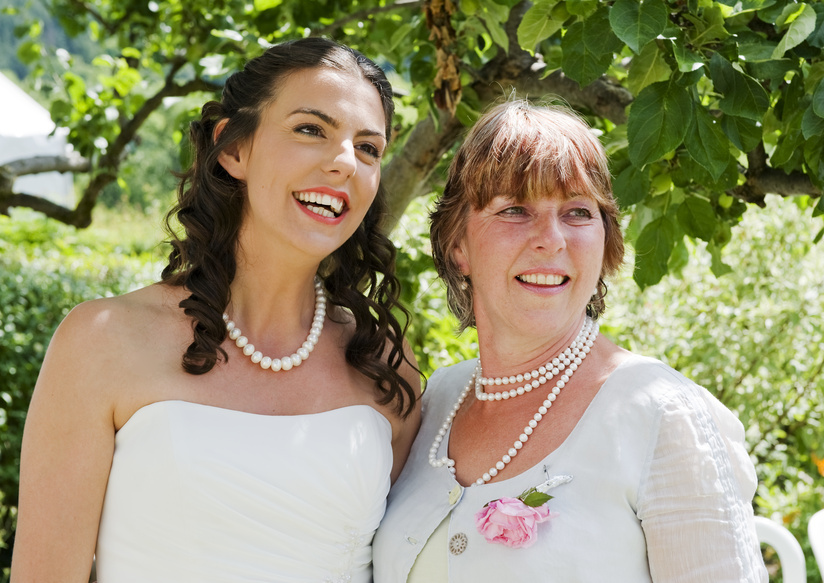 It sounds like such a wonderful idea: a new bride cleans and carefully preserves her wedding dress so that her own daughter can wear it someday. Unfortunately, real life seldom lives up to this noble fantasy. Perhaps the next generation is all male or the daughter does not want to marry. Maybe the old gown looks too obviously dated or the daughter just has her heart set on a different style. Even women who might want to wear their mothers' dresses might find themselves wearing a very different dress size. For whatever reason, many people find themselves with an old wedding dress they cannot wear but do not wish to part with, either. Fortunately, there are a lot of ways to reuse your mother's wedding dress, either in a new wedding, or for other occasions.
How to Use an Old Dress in a New Wedding
Obviously, an old wedding dress can simply be worn by a new bride. Some women feel very honoured to be able to wear their mother's, or future mother-in-law's, dress, even though a few alterations may be necessary to update the look or improve the fit. Other women might not want to wear the old dress themselves, but still want to incorporate parts of the gown into the wedding for luck, or as a tribute to their families. Note that these two options are not incompatible; sometimes altering a dress yields enough scrap fabric for some very nice do-it-yourself projects.
Make the Dress Look New with Accessories
Probably the simplest way to update an heirloom wedding dress is by adding accessories. A sash, ribbon, or belt can dramatically change the look of the dress without compromising its original structure at all. This is a good option for women who cherish the historical value of a vintage dress, but still want to look fresh and modern at their own weddings. The dress can then be passed on, intact, to the next generation in turn. And who knows? What looks like a dated monstrosity today might look stylish and new in another couple of years. Fashions have a way of coming around again.
Make a Few Alterations
A skilled tailor can resize an old dress, or even give it a completely new look. Hemlines can come up, necklines can go down, and sometimes even puffy shoulders can give way to a slinky strapless look. The structure of the old dress does impose some limits. A floor-length gown might not look very good cut into a mini-dress, for example, but this is why it is important to hire a skilled tailor for the job; part of a tailor's skill is knowing how to work with an existing garment to improve, not ruin, the look.
Some vintage dresses differ from modern wedding dresses mostly by having dramatically more fabric. If hiring a tailor to minimise the arms, raise the hemline, and remove the train, do not forget to save all that extra fabric. Many wedding dresses are made from very high-quality fabric that can be reused in a wide variety of other projects.
Make Something Totally New
Perhaps the old dress is just not what the new bride wants at all, or perhaps the dress was stored improperly and became damaged. Even if the new bride wants to wear the old gown, alterations might leave a lot of the wedding dress on the tailor's floor. No matter the circumstance, part or all of the old dress might become the raw material for new, wedding-related projects.
If there is enough material to work with, or if the flower girl is small enough, fabric from a vintage wedding dress can be made into a lovely flower girl's dress. Smaller pieces can be made into handkerchiefs or pocket squares for the bridal party, depending on the type of fabric in question; obviously, something that cannot be laundered makes a poor handkerchief. Garters, ring pillows, and wraps for the wedding bouquet are other possibilities. If the old gown has a lot of lace that is still in good condition, this can simply be harvested and worked into the new wedding gown.
How to Reuse a Wedding Dress after the Wedding
But perhaps nobody in the new generation wants a fancy wedding. Or, perhaps the new bride is happy to wear her mother's dress, but does not want to pass the dress on in turn. Either way, there are many ways to use a wedding dress outside of a wedding.
Make a New Dress from the Old Dress
Many wedding dresses can be used for other occasions with a couple of alterations. A skilled tailor can convert a wedding gown into a cocktail dress or a ball gown. One option may be to use the wedding dress to make a ceremonial gown for another occasion, such as a prom dress. All of these alterations are likely to yield scrap fabric that can be used for other projects.
Make Children's Gowns
A wedding dress can make a great source of raw materials for ceremonial gowns for babies and children, such as a baptismal gown or a First Communion dress. Some girls might also be happy to have a fancy party dress. Young performers might need quality costume dresses. Lace, gauze, or panels of beaded or embroidered fabric from a wedding gown can also be incorporated into a child's dress, even if most of the fabric for the dress is new.
Get Sentimental with Scissors
A great way to honour an earlier generation of brides without wearing a vintage dress is to use the fabric of the old dress to make sentimentally important objects. One of the best options is to use dress material, perhaps with quilt backing, to make a quilt, or perhaps to have a quilt made by a professional quilt maker. If possible, use fabric from more than one dress, both to ensure that there is enough material for the project and to give a more varied appearance and a richer emotional association to the finished quilt.
Perhaps the family has more than one heirloom wedding dress to work with, or perhaps some of mother's bridesmaids kept their gowns and are willing to donate them. A related option is to make a quilt that tells an entire story about a beloved woman's life, by using material from several dresses representing significant points in her life: her prom dress; her wedding gown; a favourite party dress; and the dress she wore to her retirement party, for example.
Other options besides quilts include making commemorative pillows or simply framing a panel of fabric for display. Like quilts, these objects can be used or displayed every day, by anybody who wishes to cherish and honour a female relative's life. A dress must be packed away, unless someone of the right size has a suitable occasion for wearing it.
How to Buy Sewing and Craft Supplies on eBay
eBay carries all the materials you need to update, alter, or creatively disassemble a wedding dress. From ribbon to extra fabric, to pillow stuffing, you can find it here. A few tips on finding supplies and negotiating the buying process may help, however.
Finding Sewing and Craft Supplies on eBay
If you want to browse around and see what is available, type a general keyword like 'sewing supplies' into the search box. If you have something specific in mind, use the Advanced Search feature. Or, try your luck at eBay Deals, where the best prices of the day are listed.
Buying Craft Supplies on eBay with Confidence
The main thing when buying through eBay is to communicate with the seller. The seller can answer any product questions and may also be able to offer special deals. Use the seller's profile page to look up his or her contact link, feedback score, and policies.
Conclusion
A bride wearing her mother's wedding dress is a great opportunity to honour and continue family history. Of course, not every new bride is the same size as her mother or mother-in-law, and not every new bride is interested in a wedding gown of the same style as was popular a generation earlier. Fortunately, a few alterations can change the size of a dress and update its style. Alternatively, a few new accessories can update the look of the dress while still leaving the dress fundamentally intact for posterity. A wedding dress can also be used as a source of material for other projects. Even if no new bride wants to wear the dress, there are ways to honour a female relative by putting her dress to good use.
Wedding Dress|Prom Dress|Ring Pillow|Vintage Wedding Dress|Wedding Bouquet