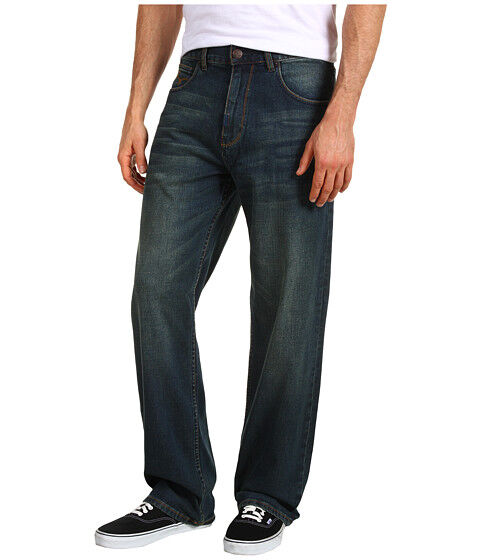 Jeans were originally worn primarily by factory workers and manual labourers, and were often referred to as 'waist overalls'. During the 1950s, they were popularised in film and television, and have since become among the most popular types of casual wear worn across the world. Jeans can be found which feature an enormous variety of different materials, colours and styles.
Different cuts and shapes of jeans will fit different body shapes more comfortably, and a huge variety is available. Correctly fitting jeans will be more comfortable to wear, as well as look better, and a huge range of jeans and other types of clothing can be found on eBay.
Measuring to Fit a Pair of Jeans
The first step to ensuring that a pair of jeans will fit correctly is to measure the wearer. These measurements can help greatly in finding the right size of jeans, particularly if an old pair of jeans is not available to compare against.
· An important measurement is the waist, and it is easy and simple to measure this area by simply wrapping a tape measure around the thinnest part of the waist. The waist size of a pair of jeans is generally expressed in inches.
· The second measurement that is needed for finding a pair of jeans is the inside leg. This measures the distance from the crotch to the hem of a pair of pants, and is often expressed with a size such as short, or long. The specific measurement of a size can vary between manufacturers.
By matching the waist and inside leg of a pair of jeans to the wearer, a comfortable pair of jeans can easily be found. Slightly too large jeans may be worn with use of a belt, though jeans that are too small will be uncomfortable and constricting.
Different Jean Fits
Jeans are available that feature a variety of different fits. Some of these include:
| | |
| --- | --- |
| Standard Fit | Standard fit jeans are among the most traditional and widely available fit of jeans. Most comfortable for an average build, these jeans fit snugly. Standard jeans are a popular choice. |
| Slim Fit | Slim fit jeans are best suited for those with a slimmer build, and with less body fat around the waist and midriff. These jeans fit closely to the body, and have little slackness around the torso. This makes them less comfortable to wear for anyone of a thicker build. |
| Skinny | Skinny jeans are similar to slim fit jeans in design, but are a much tighter fit, and hug the legs closely. These jeans will correctly fit those with a very thin build, as well as slender legs, and may be uncomfortable for other body types. |
| Tapered | Tapered jeans narrow out towards the ankles, making them a better choice for those with slim legs, but can be uncomfortable otherwise. |
| Boot Cut | Boot cut jeans are a popular choice for wear during colder weather, as they are designed to fit over a pair of boots, or other larger types of footwear. |
Waistline Types
Another element that should be considered is the waistline of a pair of jeans. Where on the body a pair of jeans is designed to sit can greatly influence how they will fit the wearer, and some types will fit different body types better than others.
· Many jeans feature a standard waist, which are designed to rest upon the waist of the wearer. These can suit a wide variety of different body types, and are available in a huge range of styles and fits.
· Low-rise jeans have become increasingly popular among jean wearers. Those who want to show off a toned stomach, or find low sitting jeans more comfortable to wear may prefer these.
· Ultra low-rise jeans sit even lower around the waist, and are often chosen by those who want a more exaggerated low-rise look.
· Alternatively, jeans featuring a high-rise waistline are also available. Those with a larger waistline or stomach often prefer these jeans. Covering up more of the waistline and midriff, these jeans are often considered to be more comfortable, particularly for those with a larger body type.
Jean Materials
Today, jeans can be made out of an enormous variety of different materials that can feel very different to wear.
· Denim is the most traditional material for jeans. Most typically available in shades of blue, many different colours of denim jeans are also available. A key benefit of denim is that these jeans can come to feel more comfortable the more they are worn, as well as being among the more affordable and widely available types of jeans.
· Jeans made out of corduroy are also available. Corduroy jeans are comfortable, soft to wear, durable, and are often warmer than those made of other materials.
· Many jeans may include polyester, an affordable synthetic material. Polyester jeans wrinkle less easily, and are also easy to wash. However, polyester needs to be ironed at a low temperature.
· Cotton is also often used in jeans, frequently in a blend with polyester or another material. Cotton is comfortable to wear during hotter weather, as this natural fibre is highly breathable, and also remains strong when wet.
· A less common choice for material, leather jeans are also available. Leather is a durable material, which many people choose due to its attractive appearance and texture. However, leather jeans can be hot and constricting to wear, particularly if the weather is warm.
How to Buy a Pair of Jeans on eBay
An enormous range of jeans to correctly fit a variety of body shapes can be found on eBay.
· The full listing of available Jeans can be found under the Men's Clothing section, through the Clothing, Shoes, Accessories portal.
· Jeans can be arranged by a number of different categories, such as price, materials and item location, which helps narrow down the selection of available items.
· Find a pair of jeans that fits with an outfit or matches personal preferences by picking a colour, such as blue, black, brown or red. It is also possible to sort through a number of different popular brands, which can be helpful if looking for a pair of designer jeans.
· Key information about a pair of jeans, such as the fit or style, will often be clearly displayed in the item listing, making it easy to quickly sort through the listings of available items.
· More detailed information can be found on the item page. This includes information on the seller, such as feedback ratings and item reviews, which can help to ensure that a purchase can be made with confidence.
· To find a specific pair of jeans, it may be easier to use the search function, which is available at the top of every page. Searches can be made to cover the whole site, or to return results from within a specific category.
· Don't forget to look out for any deals on jeans that may be available under the Men's Clothing category.
Conclusion
Jeans have become one of the most widely popular items of casual clothing across the world, and can be found in a wide array of different styles, colours, materials and fits. A correctly fitting pair of men's jeans will not only feel more comfortable to wear, but also compliment a man's body shape more effectively. Jeans can work well with all kinds of different outfits and footwear. An enormous selection of jeans, as well as t-shirts, shoes and other items of men's clothing can be found on eBay.