Please click "YES" at the bottom of this page. This helps us share our selling secrets with the Ebay community. Thank you kindly.
How to Sell Vintage and Pre-Owned Clothing...Clean out that closet!

Vintage is not a fashion statement, it's a lifestyle. Some of the coolest people you see everyday...on the train, on tv or in the movies, at the pub, in the park, on the street. These are people that put there pants on what leg at a time, just like you. What sets them apart is their uncanny ability to attract attention everytime they enter or leave a room; that and the pants they're putting on are probably distressed with a tricked out belt buckle and a chain attached to a wallet and a belt loop. Johnny Depp is the quintessential poster boy for this international subculture. Other honorable mentions: Lenny Kravitz, Colin Farrell and any band member living in Williamsburg, Brooklyn(think of Julian Casablancas formerly of The Strokes). With such power players rocking this look, there's no need to "sell it"...shabby chic sells itself. If you decide to embark on this profitable venture...you will soon learn how easy and addictive "thrifting" can be.
Baby Keanu Vintage is...
Who are we? and what gives us the right to write a bloody guide? Well, we're kind of a big deal<written in sarcastic font>. Baby Keanu Vintage is Ken(me), Alisa(wifey) and Keanu(the baby). We've been selling vintage in NYC for over five years. New York City and the 5 borroughs, including New Jersey, offer some of the best thrifting in the nation. We've taken full advantage of this great resource and Ebay has given us the opportunity to further expand our business to the farthest reaches of the world. We started selling vintage on ebay only a few short months ago and are already Power Sellers, a title we are very proud of. I'm a full time student and my wife works full time as well so this is our secondary form of income. This is a short synopsis of us and we will not bore you with our mundain lives so we can move on to more important matters. Let's continue...
Our Business Model
Offer a wide variety of products. The customer is always right(at least let them think so). Quick delivery/shipping. Accurate item descriptions. Reasonable, yet competative price point. A nice clean web page with your own personal style stamped on it. The title of your product, during the ebay search, should speak volumes about the item your selling...ex."VINTAGE 80's IZOD LACOSTE POLO SHIRT PUNK INDIE MOD SMALL S".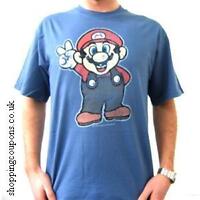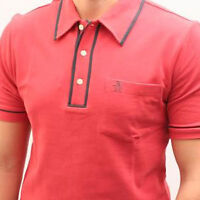 What to Sell?
Here we go! Keep it simple, when first starting out. T-shirts are always the best way to start. Any tee from popular era's of the past, especially the 80's. Look for catch phrases or fads from that time in history ex.pac man, where's the beef?, pabst blue ribbon, trifoil adidas, etc... A vintage tee is distinguished from modern day tees by a number of details. The label will be worn out, almost falling off in some cases. Screen Stars is a poplular maker of vintage era t-shirts. The material will be very thin and soft, due to the material of the shirt...50/50 cotton/polyester blend is a classic material for the 80's era. The shirt will feel likes it's been washed a million times. Modern shirts feel thicker and stiffer due to the 100% cotton composition. Concert shirts from any era sell! There's a fan base for every band that ever existed, trust me. Polo shirts...the best brands to look for are Izod Lacoste, Le Tigre, Penguin Munsingwear(vintage is the operative word here...no polos from the modern era!). Vintage Disney shirts with Mickey are good. Raglan shirts or baseball jerseys have been in demand but aren't as popular as they were 2 years ago. Always keep in mind, what's hot right now?...do a search on ebay and see what people are buying. Polyester "disco" shirts with huge collars are still selling...but befors you go off and buy 50 polyester shirts from the local Good Will or raid your dad's closet. Look for disco shirts with cool designs, that are funky and look like art work. Pearl snaps have been selling well. Look for western style pearl snaps with cool embroidery. Track Jackets are a great item that sell at higher prices than t-shirts...but are harder to find. Adidas track jackets are the holy grail of all t.j's! Hoard them! We had a personal record sale for a vintage national team track jacket at $250(we bought it for $2). Now for your higher priced items: Member's Only jackets, pinstriped vests, 3-piece banker suits, cafe racer jackets, 70's motorcycle jackets all sell! Think SEASONAL! What sells best during certain times of the year. For example, t-shirts sell best in the Summer. Sweaters sell best in the Fall and Winter. Some things sell all year round...there's really no rhyme or reason to it but the following items always sell: anything "BRAZIL"...it's a great country! Hot supermodels, great beaches, the best soccer team in the world and so on. People love Brazil and Brazilians. On that note: jerseys related to national soccer sells...it's all about fanbase! Germany, Italy, Argentina and so on. Club team's memorabilia sell too but are more difficult to find(Real Madrid, Chelsea, Manchester United, Arsenal,etc..). Remember: we're talking about jersey's not regular t-shirts when you want to sell soccer related items. And always be weary of "knock off" items. Nobody wants a fake! Plaid flannel lumberjack shirts are big right now. Plaid in various colors: red, yellow, green or blue plaid are selling big time. Now that's a brief tutorial of what's hot right now. You can always sell what's trendy in your locale, but this is what's padding our wallet right now. I also didn't get into women's fashion or footwear. Just keep in mind, this is what you will need to get started. You can add womens stuff and vintage cowboy boots or tennis shoes, etc... later as you become more savvy with that genre.
LAUNDRY LIST-UPDATED
Plaid Lumberjack Shirts
Western Pearl Snaps (long sleeve and short sleeve)
Transparent Thin 80's T-Shirts
Buffalo Plaid ANYTHING
Pinstripe Vests
Vintage Sports Memorabilia
Members Only Jackets
Adidas Track Jackets
Adidas Vintage ANYTHING

Vintage Levis Strauss
Vintage Hawaiian Shirts(Shaheen, etc...)
Vintage Leather Jackets(fitted, tight, fight club style)

Izod Lacoste ANYTHING(polos, sweaters, cardigans)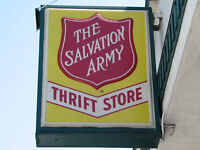 Where to find Quality Pre-Owned Clothing?

The three best places to find quality vintage...thrift stores, thrift stores, thrift stores! Where else can you buy a shirt for 99 cents and resell it for $50?!? I am totally serious here folks. Other thrifters will concur with me. Thrift strores are a black hole for people wanting to clean their closets out. As the cliche states..."One man's garbage is another man's ebay listing". You will want to recieve your mail at The Salvation Army, when you realize how much time you will spend there. Other places to look: your closet, your parents and grandparents attic, garage sales, wholesale lots on ebay, friends and family that don't want to go to the trouble of cleaning out their own closet...believe me...they will thank you for the time and effort you put into it...and 99% of the time they will let you keep 100% of the profits.
Your Inventory is Full...Now What?
I'm under the impression that you know how to use Ebay. So this section is restricted to maintaining a productive listing. There are a number of sites with great templates to use for Ebay(I use Vendio), but you can get by with using the standard ebay page, at least at first. Always improve your page, spruce it up and make it your own. Start off with a title for your listing. Be specific about your product. Tell the world what you're selling "VINTAGE IZOD LACOSTE POLO SHIRT". Add the size "VINTAGE IZOD LACOSTE POLO SHIRT SMALL". Add specific keywords related to the item "VINTAGE 80's IZOD LACOSTE POLO SHIRT punk mod retro SMALL". Abreviate certain words as you see fit "VTG 80's IZOD LACOSTE POLO SHIRT punk indie mod retro S". The rest of the listing is simple as pie! Create a description that makes your item bring feelings of buyer's remorse to the viewer if he/she doesn't buy it. And give an accurate size description!!! Use a size chart, if possible, and give "flat measurements"(pit to pit, neck to waist, shoulder to wrist and so on). Don't just put the size from the label...most vintage items are smaller than the size on the label! List the material(50/50, 100% Cotton, etc...). Give specific policies about your site. Payment info. Return/refund policy(the most successful sellers have a return/refund policy). ABOVE ALL...USE MANY PHOTOS! Most templates give you a dozen slots for your photos. Ebay offers a photo hosting service for a fee. It's up to you, but the more photos you have...the more successful you will be. And always take a photo of the label and any "imperfections" on the item. You are selling vintage, there will be imperfections. Some are more prominent than others, but always, always list the imperfection for your prospective buyer. I cannot stress this enough. Nothing kills a Power Seller status faster than a spew of negative feedbacks. Use a delivery service that's fast and efficient. The United States Postal Service is our best friend! Their priority service is second to none...quick and all supplies are free! We also buy our own plastic bags to protect the item. Get the product to the buyer AS SOON AS POSSIBLE! Less than a week is a good rule of thumb.
Some Important Points
Some important points that I'd like to address: I've used the words "vintage" and "pre-owned" interchangeably. Keep in mind that true vintage is at least 10 years old.
Ebay has recently added a new vintage category dedicated to 90's GRUNGE!
Exciting news for young thrifters, like ourselves. Everything else is considered "pre-owned". You don't have to put the words "pre-owned" in your title listing...just don't make the mistake and put "vintage" as a description unless you know for sure what era your item comes from. Choose the proper category when creating a listing...many buyers will search for clothing from the categories alone(vintage 80's, 70's, punk, disco, etc...). Categorize properly to increase you sales! Get to know the clothing styles...punk, mod, rockabilly, disco, boho, hippie, etc... This will assist you in choosing categories and creating a title.
Go Now! Be Excellent!
Well that's about it. We will update this review from time to time. We hope you got something out this. We started our business buying all the wrong things and through trial and error, we figured it out. This very brief tutorial should help you hit the ground running. Stop by our shop anytime! Get some ideas from us it you'd like. Spread the word...Vintage Rules!