The Inside Secrets of Selling On Ebay - A easy to learn Proven Step By Step System.

Have you ever wonder how to sell on eBay the right way? Here is my guide that can help you achieve a higher result than what you are already getting. (please note it does not guarantee that my tips will make you rich overnight as it is just a guide to help you move forward!!!)
1. Find a Hot Market on eBay - which is going to guarantee your success. Do Not sell what you want because it might not be in demand. Leave your emotions out of this business and find a product that everyone is looking for and you will succeed.
2. Start using eBay like a power seller from day one and soon you will be the Power Seller. Setting up your Auction Listing to look professional will help the bids come in thick and fast. Remember everyone had to start somewhere, so don't be scared of getting your first auction listed, become familiar with how eBay works and it will soon become second nature. What's the best way to get started? By shopping on eBay and buying small items will give you confidence and get your feedback started. More Feedback means more customers stopping and shopping!!
3. When you do find your Hot product on eBay, make sure it is the one that makes the most profit. Work out how much you want to be making each month and then do the figures back wards. This helps to get you on track, keep on track and make the most money so your business will be a success. Finding your product also means finding how you want to sell - do you want to drop ship or wholesale or liquidation. There are many other ways to sell out there so determine which way works for you and your product and go for it.
4. Make your listings attractive to keep the buyers coming. Please do not use too many different colour fonts as it takes away from the information you are trying to get across. Place your text on the left side of the page, unless it is a heading which can then be centered. Remember how a newspaper has there format on the page to make the writing look attractive. There is nothing worse than a listing that is so colourful it is hard on the eyes, and all over the page!!
5. Use as many rich keywords as possible in both your listing and your title. This will stand you out from your competitors and keep buyers coming back to buy from you again and again. Make sure your listing is a master listing, with good sales copy to keep the listing looking professional. This little hint alone can help your business either sink or swim!
6. Keep testing your strategies to make sure they are working for your product. Find what is working and stick with it, and change what is not. Set you all your Auctions so they will reach maximum sales so your business works for you, and not you working to hard in the business that you have no time for anything else.
7. Automate as much of your emails as possible. Once again this helps you to grow your business daily so you are not stuck doing the simple things like answering email, after email, or leaving feedback when it can all be done for you. It makes sense to have an eBay store that works the smart way, instead of you working the hard way.
8. Get more and more visitors to your eBay store on a daily basis and it will flow on through your business in a positive way. The more people that is exposed to your listings through your store, the more sales you will see at the end of the day. There are simple tricks that can be learnt for driving tons of traffic from the search engines back to your own store, which you can use every single time you have a new listing or use a listing from before.
9. Grow and Grow and Grow. That is the biggest secret of selling on eBay - that little tip alone can make your business the success it deserves to be. Once you have a customer visit your store, make sure the sale does not end when they have paid. Give them contact so they know when there product has been shipped out to them, give them a thank you note in there parcel to make them feel welcomed, once they have completed the sale then leave them feedback. Leaving them feedback straight away can re-assure them that the sale went smoothly, and also encourage them to leave positive feedback as soon as their new parcel arrives.
The above is just a little bit of information that I have gathered along the way with selling on eBay. I am in no way a expert on selling, but I do believe in good customer service. Top customer service, with a few of the above information can make you be a top seller that will bring customers back time after time, which is what as a seller we need to make our eBay a successful eBay business.
Please Vote for this guide so as many people out there can use the above information to help with their eBay business. Even if you already are a power seller and use all of the above information to make your eBay business work, I am hoping that at least one person can take on board what I have outlined as helpful - that will make my day - helping eBayers become better sellers!!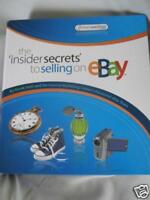 Here is a photo of my listing for Auction on eBay - The Inside Secrets of Selling on eBay!
PS:- Please head on over to my store lisasboutique4you as I do have one listing that has more about the above information for auction. If you don't want to know about The inside secret to selling on eBay then I apologize in advance and say thank you for reading my guide!! I love selling on eBay and look forward to hearing from you.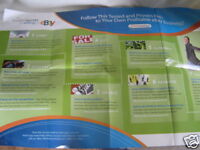 Here is the wall poster that goes with the binder and CD set that is up for Auction so head to
lisasboutique4you
to check out my Auction and grab your self a bargain or two.