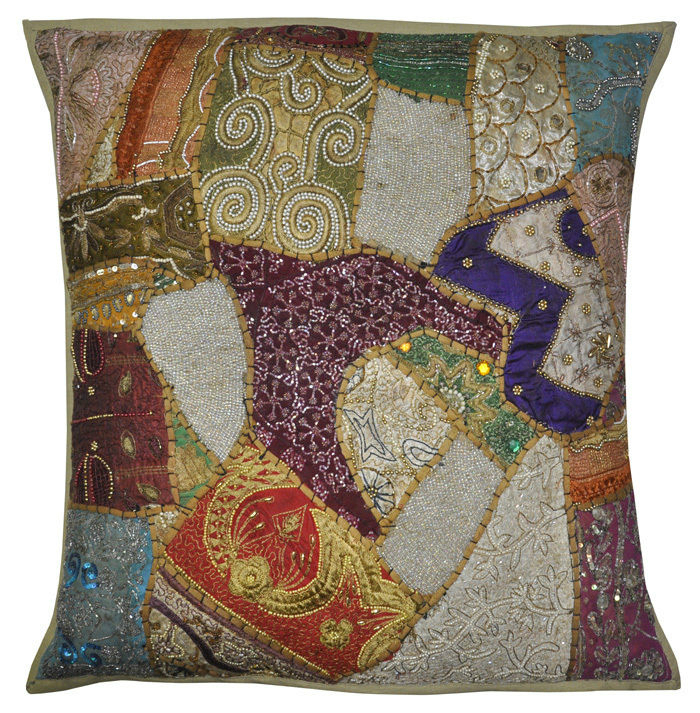 Cushions are a great way to liven up a bed, couch, or outdoor patio furniture. For buyers who want to give old cushions a fresh look, sewing new cushion covers by hand is a quick and easy option. Eye-catching cushion covers require only a few affordable supplies, and this project does not take long to sew. As an added bonus, the cushion covers are removable, making them easy to replace or wash.
Supplies for Making Cushion Covers
To make cushion covers, the first step is gathering the necessary supplies. Supplies needed are listed and purchasing tips are provided.
Supplies Required
Use a new, sharp sewing needle with an eye large enough for the chosen thread and pick a sturdy cotton, rayon, or polyester thread in a colour that complements the fabric. Almost any fabric works for this project, but stay away from sheer fabrics, such as chiffon, and thick fabrics, such as corduroy, as these are difficult to sew by hand. Ensure that scissors are sharp enough to cut fabric efficiently. Consider using a rotary blade as it may make it easier to cut in a straight line.
A measuring tape, pins, and a marking pencil are also necessary for sewing cushion covers. In addition, buttons, sequins, and beads sewn onto the covers add an extra decorative touch. This is up to the discretion of the buyer.
Making Cushion Covers
Begin by measuring the cushion. Most cushions come in standard sizes and are square, but be sure to measure both the length, width, and height just in case. Add extra length to the measurements to be safe. For example, if the cushion measures 60 centimetres in length, use a square of fabric that is at least 65 or 70 square centimetres.
After measurements are complete, prepare the fabric. Use different fabrics for the front and back piece, or use the same fabric for both if desired. When cutting the back piece of fabric, add 5 cm to the height. For example, if the front piece is 70 cm by 70 cm, the back piece should be 70 cm by 75 cm. Next, cut the back piece in half. Fold the long edge over by 1 cm and sew. Do this for the other half of the back piece as well. Position the front piece so that the right side (the front side that is to be the outside of the cushion) is facing up.
Place the first back piece on top of it, right side facing down so that the rough edge of the seam is visible. The seam should line up to the middle of the cushion. Place the second back piece down next; the sewn edge should overlap the seam of the first back piece. Pin the pieces in place and sew around the edges of the cushion. Because this is done by hand, it is essential that small, tight, even stitches are used and that a firm knot is tied to finish the stitching. If the stitches are too loose or uneven, they are bound to weaken and break. After the stitching is complete, use scissors to round the corners of the cushion. Turn right side out. Stitch beads, buttons, sequins, or other details to the cushion as desired.
How to Buy Cushion Cover Supplies on eBay
Search eBay directly to find a variety of fabrics, thread, and other accessories for sewing cushion covers. When looking for fabric, remember that thick fabric is likely to be too hard to sew by hand, and sheer fabric is too delicate for a cushion cover. In addition, pick a sturdy thread that is made of cotton, rayon, or polyester to ensure that stitching does not break. By selecting the right supplies and following these simple directions, you easily sew new cushion covers to brighten up your living room, bedroom, or patio.