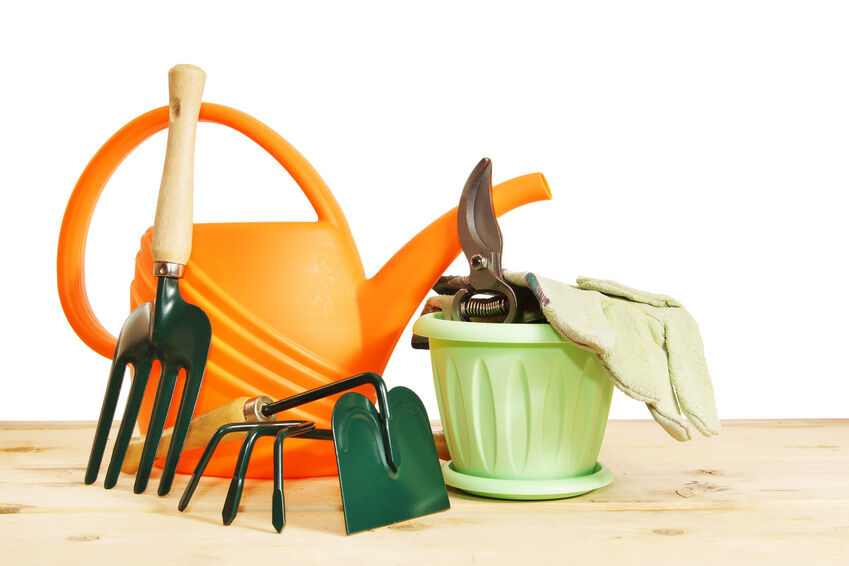 Digging, pruning, trimming, and cutting are much easier when using well-maintained tools with sharp blades. When stones in the soil make spade heads go blunt and thick branches and roots take the edge off shears and secateurs, gardeners need to take immediate action. Fortunately, keeping garden tools clean and sharp is easy. With just a few simple steps, gardeners can restore tools to their original glory, improving their working life and saving money on replacements.
Before sharpening
Sharpening most garden tools is quick and easy. Gardeners just need a few essential items and a steady hand.
Gather supplies
The exact tools required depends on the type of blades that need sharpening. Options include:
Sharpening stones for small-bladed tools
Bastard files for hedge shears and spades
Scissors sharpeners for grass clippers
Knife sharpeners for knives
Gardeners may also require a wire brush for removing rust as well as old rags and oil. A clamp is essential for holding tools securely at precise angles without risking injury.
Prepare the tools
In order to restore a blade to a high standard, some preparation is involved. First, it is necessary to remove any dirt or residue by washing the blades. When the blades are dry, the user should remove any rust with a wire brush and then wipe the blades with a rag and some oil.
Additionally, gardeners should check if the bolts on shears and cutting tools have started to come loose. Loose bolts prevent the blades from making clean contact, reducing the efficiency of the cutting action even if the blades are sharp. Tightening the bolt solves the issue and may eliminate the need for sharpening.
Tips for sharpening garden tools
Pruning shears and hedge shears require constant maintenance, as cutting through branches and twigs quickly dulls the blades. One of the easiest ways to sharpen them is to separate the blades and file them individually. Using a clamp secures the blade and allows for greater control of the file.
Filing bevels
The opposing surfaces of shears are bevelled at a precise angle for maximum efficiency, and it is important to sharpen along the factory-cut bevel. The process involves making smooth strokes with a large bastard file, starting at the blade's point, and applying only light pressure. Jerky strokes may cause uneven wear or small nicks in the metal that degrade performance. In most cases, a few strokes reveal clean metal.
Filing burs
Grinding the bevels causes sharp burs on the back of each blade. These burs are easy to remove by moving the blade in a circular motion on pieces of wet and dry sandpaper.
Grass clippers
Using scissors sharpeners is a quick way to improve the sharpness of grass clippers. The process involves removing the pivot nut and then running the sharpener along each blade several times. Users should not employ a knife sharpener for this job because it would ruin the fine bevel of the clippers.
General garden tool care
Through proper care, gardeners can extend the useful working life of their tools and prolong periods between sharpening. In most cases, simply removing dirt or giving the blade a quick scrub with a wire brush is all that it takes.
Cleaning
Gardeners should clean their tools immediately after use, removing any caked mud or dirt and wiping metal surfaces with an oily rag. Doing this every time prevents the build up of rust and other particles that reduce the overall effectiveness of the cutting edges. If blades start to rust, it is a good idea to scrub them with a wire brush, clean them with oil, and then store them to dry.
Replacing blades
In some cases, damage to garden tools is so severe that it is necessary to replace the blades. This is normally the case if blades buckle or twist as a result of impact with stones or tree roots. Replacing blades so they are safe and durable requires skill, so gardeners may wish to seek a local servicer to carry out the repairs, or simply purchase a new tool.
How to buy garden tools on eBay
Whether you are looking for new garden tools, or the equipment for making old tools as good as new, you can find a vast inventory of gardening supplies on eBay. Start by performing a keyword search for what you want using the main search box on any page. Specific keywords return fewer results that accurately match your requirements, while general searches return a larger quantity of results for browsing at leisure. Organise the results by price, brand, condition, and seller location to make it easier to find what you need.