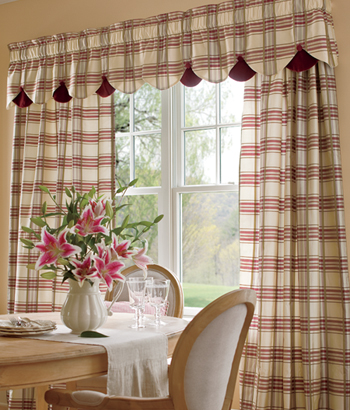 Kitchen curtains have a way of dressing up any space, and come in a variety of forms and styles. The real challenge is for homeowners to choose one that complement well with the kitchen's design and other existing decor.
Types of Kitchen Curtains
Depending on homeowner's preference and functionality, there's a wide array of curtain types to choose from.
| Curtain Types | Description |
| --- | --- |
| Full-length Curtains | Although full-length curtains are not good options if the window is near cooking equipment, there are instances when it makes perfect sense to opt for this type of curtain. For example, if the kitchen and dining space are combined, a full-length drape is one of the best ways to ensure privacy and make the combined space design come together. |
| | This type of curtain consists of a top and bottom drapes. Some features a gap in the middle to allow light to shine through while other styles overlap for complete covering. |
| Kitchen Valance | These are like small frills hanging on the quarter top portion of the window. |
Curtain Fabrics
The key in selecting curtain fabrics is to find one that suits the kitchen space and creates the preferred mood. Here are popular fabric choices when it comes to kitchen curtains.
| Fabric | Description |
| --- | --- |
| | Lace curtains are good options to create a country home feel to the kitchen. It's very feminine and this type of fabric is also breathable. |
| Cotton | One of the most popular fabric used for kitchen curtains, cotton curtains are very easy to wash and also inexpensive compared to other fabrics. |
| Linen | Made of flax spun fibres, linen is one of the most durable fabrics. |
| Micro fibre | For an exotic or tropical theme, this is the best option. This type of fabric is available in diverse prints and patterns. Rayon and polyester curtains are good examples. |
| Satin | With its noticeable sheen, satin curtains lend an elegant look to the kitchen space. |
What Makes a Good Kitchen Curtain?
When it comes to kitchen curtains, two things trump all other considerations: safety and functionality. In order to meet these factors, here are a few characteristics to look for in kitchen draperies.
| Characteristics | Description |
| --- | --- |
| Light and Breathable | Kitchen drapes should allow ample ventilation to exhaust strong odours and allow fresh air to come in. In addition, curtains should also let in natural light into the kitchen space. |
| Washable | It is expected that curtains absorb the odours and moisture of the kitchen so they have to be regularly cleaned for health and safety purposes. That's why it would help if the curtains are easily washable. |
| Flame Retardant | This is especially needed if the kitchen window is situated near the burner. Some curtain fabrics like polyester are inherently more flame retardant than other fabric and thus, they make excellent kitchen curtains. |
Curtain Accessories
In most instances, curtains are available with matching tiebacks. Tiebacks act in both aesthetic and functional ways, since sometimes curtains need to be held back so that they don't interfere with cooking or to allow fresh air and sunlight in the room. Shoppers can assert their personal style by buying decorative tiebacks to create a more personalized look.
Curtain Size
Having decided what type of curtain they want for their kitchen, shoppers can take on the task of determining the right size of the drapes. To do this, they need to measure the full length and width of the kitchen window.

Shopping for Kitchen Curtains on eBay
To view an extensive display of kitchen curtains, shoppers can head over to Home & Garden category on eBay's homepage, then click on Curtains and Blinds section. On the Curtains page, they need to click the refine result button to use the several filters. Shoppers can refine the search results as to the type, colour, material, patterns, etc. of the drapes.
If shoppers see a particular product they like, they can opt to make a bid, or offer the Buy It Now price for faster transaction. Bargain hunters should also check out eBay Deal for the latest kitchen curtains on sale.

Conclusion
Homeowners can incorporate their personal style in the kitchen space just with their choice of curtains. They can opt for curtains with colorful prints or patterns to liven things up. Or if the kitchen space is small, they can go for light colours to make it seem larger than it really is. Also, if privacy is an issue, shoppers can go for full-length or tier curtains. But if it isn't an issue at all, a simple valance or sheer and lacy curtains may do the job just fine.