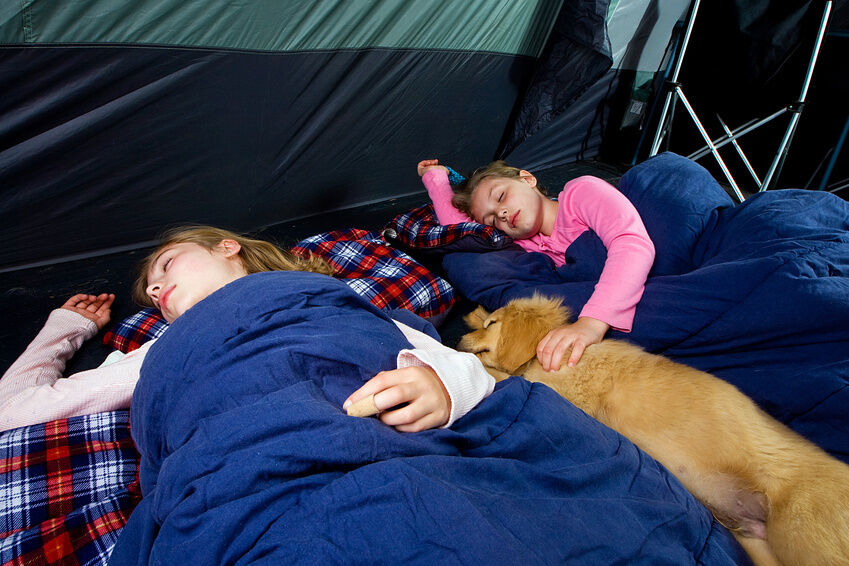 With days of hiking, fishing, swimming, and cooking over an open fire, there is nothing like camping to feel connected to the great outdoors. However, snoozing under the stars means that people must forego some of the comforts of home. Sleeping in a vehicle or tent usually does not always compare to a cosy bed, but a few preparations help campers get an optimal night's rest. A good shelter, appropriate placement, comfortable padding, warmth, and noise management all contribute to adequate sleep for an ultra-enjoyable camping trip.
Choosing a shelter
Some campers get better rest in a vehicle, while others prefer sleeping in a tent. While it is important to choose a tent that suits the number of campers, tents that are too large can limit options for placement at a campsite. Tents should be equipped with a rain fly, or campers should bring along a tarp in case of inclement weather.
Hammocks
When the weather is clear, solo campers sometimes opt for no shelter at all in favour of a cosy hammock. Many types of hammocks offer a quick setup, require limited space, and minimise an individual's footprint in the forest. While some hammocks require trees for set up, others do not.
Tent placement
Tent placement plays a big role in night-time comfort. A level patch of grass or soft ground ensures that gear stays put and campers stay comfortable. Pitching the tent away from the campfire prevents a smoky night's sleep.
The camping bed
Campers have a number of options when it comes to making a comfortable bed. The best products pack small but offer big benefits.
Pillow
For some people, a comfortable pillow makes the difference when it comes to a good night's sleep. Options include bringing a pillow from home, choosing a small backpacking pillow, or stuffing extra clothing or towels inside a T-shirt for a quick-and-easy makeshift pillow.
Padding
Whether sleeping in a vehicle or on the ground, padding offers more comfort at night. Padding options include egg crate or flat foam mattress pads, inflatable camping pads, or pads that integrate with sleeping bags. People who prefer being off the ground often choose cots. Although they take up more space, set up is quick and easy, and cots keep campers above the cold, hard ground.
Staying warm
A chilly night's sleep causes people to pack up and head for home. To stay warm and toasty at night, campers should do some research, choose appropriate clothing, and bring sleeping bags suited to the weather.
Research the area
Campers should always check the weather report for a particular area in advance to guarantee comfort and have adequate supplies on hand. Even on the warmest summer days, temperatures drop at night, particularly at higher elevations, so campers should choose appropriate clothing and sleeping bags.
Camping clothing
Campers who bring adequate layers of clothing help ensure comfort at night. A base layer on the top and bottom make a good foundation in addition to sweat-wicking socks, a hat, and light gloves. Other necessities include an insulating layer on the top and thin pants for rain and wind.
Sleeping bag
To ensure comfort, choose a sleeping bag rated to the appropriate temperature. A light sleeping bag does not offer enough warmth for cool weather, and one rated for temperatures below zero makes campers too hot in the summertime. Products that combine a light and heavy bag that zip together ensure plenty of warmth and offer potential for extra padding. A sleeping bag with a built-in pad sleeve makes for a cosy choice, and sleeping bags with liners also provide additional warmth.
Managing noise
While the sounds of nature lull some people to sleep, others need quiet conditions for a good night's rest. Soft, foam earplugs make a great solution, and because they are small and inexpensive, campers often bring a couple of sets. Certain battery-powered devices or smart phone apps offer white noise, the sound of a trickling stream, and other noise options that help people sleep.
How to buy camping gear on eBay
While outdoor camping promises adventure and relaxation in the open air, getting adequate sleep sometimes proves difficult. Making wise choices when it comes to choosing appropriate shelter, padding, bedding, shelter placement, and managing noise helps ensure an enjoyable trip. People looking for camping gear on eBay should begin by utilising the main search engine located on any page. Narrow search results according to size, style, price, and other preferences to find the perfect product. People who choose items from Top-rated sellers have a good chance for a satisfying shopping experience.