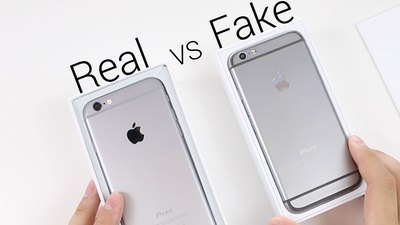 Add a caption
A real iPhone 6 (left) versus a fake one (taken from DarGadgetZ)
Comparison
If possible, always compare the photographs on a listing with an iPhone that you know to be authentic. Look out for any colour differences, such as if the lines or decals are darker or lighter than those on the real product. Check the size and shape of the power and volume buttons, as they may look cheaply made. The Apple logo on the back of an authentic iPhone is not raised or lowered in the aluminium, but is flatly embedded. In the photograph above, the fake iPhone's decal has a noticeable gap between it and the iPhone. This may also be evident when looking at the home button or camera and LED.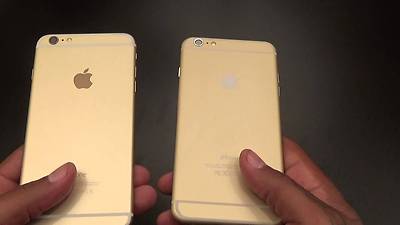 Add a caption
Can you tell which is the fake iPhone? (Taken from Flossy Carter)
Check the seller's rating
It is always important to determine whether a seller (or buyer) is trustworthy and reliable before purchasing an item, no matter how convincing the description or images may be. Generally, it is best to purchase from a seller who has a solid feedback reputation (of at least 20), with 100% positive reviews. This way, you can almost guarantee that you're getting the real deal, and that if you need to, you can safely get a refund. However, even if a seller does not have 100% positive reviews, this does not mean you should completely rule them out. First, check the feedback they have received, sometimes, if an item arrives later than expected (which is, a lot of the time, the post office's fault), a buyer will give them a neutral or negative review. Check to see if the seller has replied to any of the feedback received with a reasonable explanation for their mistake (eg. the post office was closed, family emergency, etc.), as this may have just been a genuine, one off thing. Also, the longer the seller has been on eBay, and with positive reviews, the more likely it is they are sending a genuine item.