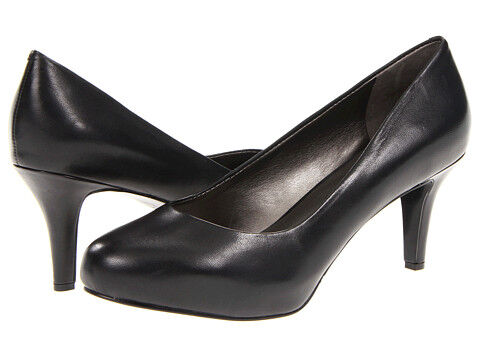 One of the most fun parts of being female is getting to wear high heels. However, most consumers pay a price for this perk: aching, sore, or blistered feet. When women wear heels all day long to the office or out running errands, it is easy to become frustrated when the shoes begin to hurt.
Consumers are able to minimise the pain of wearing heels when they take steps to create the most comfortable experience. Buyers should save their highest stilettos for nights out that require less standing, and pick the more functional styles for everyday wear and for the most comfort. To choose the right heels, combine style with function for the most comfortable, chic way to wear heels all day.
Choose the Right Heels
The first step toward wearing heels comfortably is to pick the right shoes. Some styles and designs of heels are more comfortable than others, and picking the right pump means the difference between blisters and a pleasurable experience. Comfortable heels do not have to compromise style; there are many high-end brands and designers that create lower heels that are more functional for all-day wear.
Curved Toes
Opt for heels with curved edges instead of pointed toes. Heels with pointed toes squeeze the toes into an unnatural position that may work fine for short-term wear, but for the long haul, it is just too painful. Pumps or heels with curvy toes are stylish and much more comfortable, allowing the toes to lie next to each other without becoming crowded. Round toe heels are always classic and stylish, and the difference in the two types of shoes is vast and means less painful toes, blisters, bunions, and twisted joints.
Kitten Heels or Platform Styles
A pair of 5-inch heels may look glamourous, but they are not ideal for long wear. Choose either low heels, such as kitten heels or heels that are less than 3 inches. Another option is to go for platform heels or stacked heels, which more evenly distribute the weight of the feet allowing for more comfort.
Anything that is over a few inches in height adds strain not only to the feet but the legs, back, and spine as well. Save tall heels for nights out, and keep the kitten heels around as daily shoes for added comfort when worn for long hours. There are many cute styles available, too, so wearers do not have to fear they are giving up glamour to opt for lower heels.
Select the Proper Size
Many women are simply wearing the wrong size shoes. When it comes to choosing heels, they fit differently than sneakers and sandals, so the right size is important and one of the biggest factors when it comes to comfort. Measuring the feet before buying heels provides the most accurate fit. Most women do not wear the same size their whole lives due to aging, pregnancy, and other factors that have a hand in feet becoming larger over time.
There should be enough room for the toes so that they do not feel crammed on top of each other, but the heels should not slip up and down on the back of the feet. Sometimes buying a bigger size helps the feet breathe a bit easier. Width is also important, and some heels are available in a wide fit for larger feet to have more space.
Add Shoe Cushions
Many women make their shoes more comfortable by adding inserts, sole cushions, support pads, and other items designed to make heels a bit more wearable for long periods of time. There are inserts designed for every part of the shoe, so for buyers who are having specific issues with a pair, sometimes all they need is the right set of cushions to create a more supported, more comfortable heel experience.
Toe Inserts
Toe inserts or toe cushions often slide easily inside heels to provide added support for the toes. These are generally small pouches or strips that adhere to the shoes either above or below the toes to provide comfort. Some brands are easily cut to customise them to fit particular styles of shoes to give the best support.
Heel Inserts
Heel inserts or pads fit into the backs of pumps to create support for the back of the shoes. This also alleviates blisters that occur when shoes slip up and down on the heels and cause a great deal of pain for heel wearers. These small pads are available in a variety of colours, shapes, and sizes and are generally affordable.
Arch Support
When women need support for their arches or the balls of their feet, special insoles are available which are placed inside the bottom of the heels and create less pressure on the feet to help alleviate pain. They are easy to place inside the shoes, and buyers are able to remove them at any time. They are also available in clear varieties so they cannot be seen once placed inside the shoes.
Break in Heels
A good rule of thumb to make any pair of shoes more comfortable, specifically heels, is to break them in properly. This means wearing them around the house for a day. Breaking in shoes means that they are not as stiff to wear for the first time, and are likely to be more comfortable than they are right out of the box.
Purchase Alternate Shoe Types
Most women who live in high heels do not want to wear other types of shoes, but it is a wise idea to alternate flats with heels or sandals on various days to allow the feet to relax a bit between wearings. Since heels place the feet in a position that is not natural, they place pressure on the balls of the feet and that is generally what creates pain. Adding other types of shoes to a shoe repertoire gives the feet a much needed break from day to day.
How to Buy Heels on eBay
There are many great deals on heels when you shop on eBay. Key in the phrase that best describes what you are looking for, such as "kitten heels", and filter the results by colour, brand, size, and price, such as Nine West or black heels.
Purchase heels from an authorised merchant who is a Top-rated seller and who has a high number of successful transactions to his or her name. Read the seller's listing carefully to ensure the shoes are the proper size and colour, and ask to see more images if you need to. If the seller is offering more than one pair of heels that you desire, see if he or she can combine them for one low shipping fee as a bundled purchase.
Conclusion
Heels are beautiful and add height and sophistication to a number of outfits. However, the shoes are not always the most comfortable available. There are ways to ensure the comfort of feet while wearing heels all day, and it is important that the fit and style of the shoes are correct and supportive.
There are many styles, colours, and designs of heels that work for every woman, and while stilettos are not the best option for everyday wear, there are plenty of other styles such as low heels, kitten heels, platforms, and wedges to pick from that spice up any outfit and are comfortable for women on their feet for hours at a time. From patent leather to suede, rhinestone encrusted heels, or neon pink, there are low heels that are comfortable and suit every woman's taste.
Heels|Heel Inserts|Kitten Heels|Platform Heels|Toe Cushions