Safety When Shearing on Farm with an Electric Handpiece
by
Farm Shearing World Store
Shearing safety is, we believe, one of the most important aspects of shearing. This review covers all electric handpieces including Heiniger, Supershear, Sunbeam, Lister, Oster, Beiyuan and GTS Clippers.
You
Whether you are a farmer, grazier, hobby farmer or are into agriculture living on a smallholding with livestock; before handling your animals, take 5 minutes to stretch and warm up.
You would not go for a run without warming up and you should not shear without warming up your body properly either. Injuries can be easily avoided this way.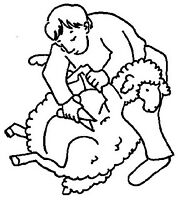 The Clipper
Always read your clipper manual before using your machine. Never use the factory setting for the comb and cutter. Make sure you have a properly fitted safety switch fitted to your power box prior to starting up your machine.
Shearing Your Animals
Control of the animal you are shearing is vital. Always work directly over your animal. Do not overstretch and avoid bending and twisting at the same time. Always be conscious of where your electric cable is. If possible shear on floorboards not concrete. It is easier on your body and it is easier to move the animal around. Try to always have an assistant around when working in case your animal strains or kicks during the job.
Also, if the animal can see a grazing paddock or it's flock, they will be much less agitated after being shorn. When you release your animal, remember to be aware of where your electric cable is and do not allow the animal or you to become entangled in it.
your clipper, when started, will rotate at about 2800 rpm depending on the load to which it is applied during shearing. You can run a working machine over your skin and it will not cut you. The only time the blades will cut you or your animal is if too much pressure is applied by the shearer and the moving cutter comes into contact with the skin. This can happen if the animal kicks or full control of the handpiece is lost.
Keeping Your Clipper in Safe Condition
After use, clean the vents with your brush and clean off the lanolin, grease and dirt. Apply grease or oil to any moving parts. Pack away your handpiece in it's hard-case box and store in a dry place. Keep out of reach of children.
If you can, avoid lending your machine to neighbours or friends unless you supervise the use of the clippers. You never know what safety issues may come back from an inexperienced operator.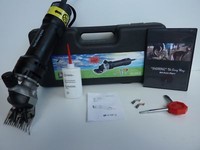 Remember to check our our amazing quality bargain shearing and fencing gear in our eBay store, Farmshearingworld.
Simply click on the link to take you there....
Farm Shearing World Store
We hope you found this a useful review. Please click the 'Yes' button below to help others know.
Kind regards, Farm Shearing World.