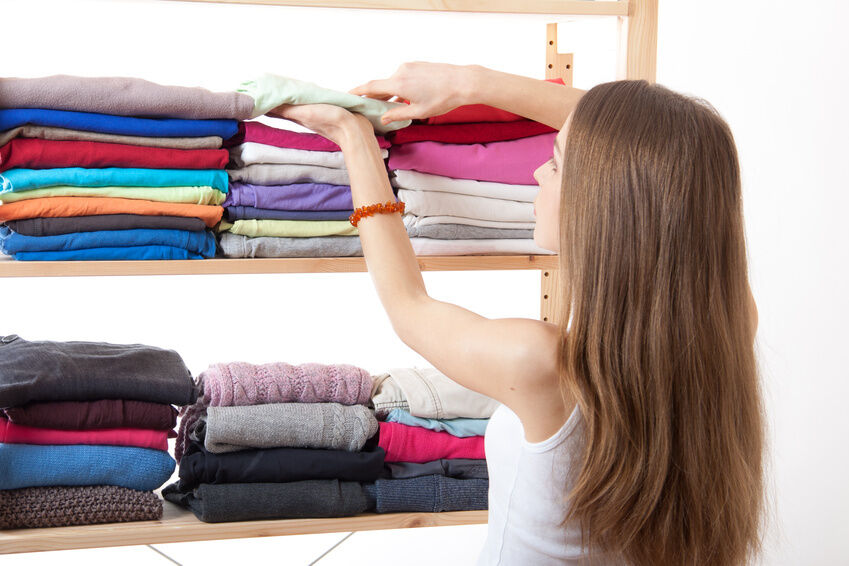 Every year when the crisp Autumn air rolls in and the leaves begin to change colour, people everywhere begin to think about pulling out their warmer clothing for the coming seasons. Often, due to limited closet space, many people prefer to put away their summer clothes allowing room for the cosier wardrobe. The main question that seems to arise quite frequently is how to store the summer clothing while still maintaining the freshness, shape and integrity of the fabric. Although this may seem like a gruelling task, it is really very simple when following a few basic guidelines.
Storing the Clothing
Before beginning the process of storing a summer wardrobe several tasks need to be completed, like taking inventory to determine how much clothing needs to be stored and choosing a good storage location. Only after getting a good idea of how much storage space is needed and successfully picking an adequate location can one begin the packing process. There are a few easy additional steps required to ensure that the clothing is kept in optimum condition.
Sorting, Washing, and Folding
Because fall is a season that tends to include chilly days as well as those occasional scorchers and everything in between, it is vital to keep the varying weather conditions in mind before choosing which items to pack away. Keeping a couple of pairs of shorts or skirts and a few short-sleeve shirts that are made of a cool, light material is always a good idea. After choosing which items to store, it is very important to wash all clothing before packing it away. The reason this is so crucial is because unwanted pests, like moths and cockroaches, tend to inhabit storage spaces if the items inside are not thoroughly cleaned. Another benefit to washing all the clothing is that when it is unpacked the following summer, the clothing will have maintained a clean appearance and fresh smell. The next step is simply to fold the clothing in the best way possible to prevent unnecessary wrinkles and creases in the fabric.
Selecting the Storage Container
Once all the summer clothing being stored is ready to box up, the next step is to choose what type of container will be best to use for storage. Fortunately, except for the use of cardboard boxes, most any storage container will work nicely for long-term storage. Avoiding cardboard is important because not only can this material attract unwanted pests, but it also tends to stain many fabrics, especially those that are lighter in colour. There is a huge variety of tote-like plastic containers available in pretty much any shape or size that one might need. Although there are several downsides, another choice for a storage container is the use of garment bags. This is not usually the best option because the shoulders on many garments can become misshapen or stretched out due to hanging for long periods. The hangers can also sag from the weight of the clothing, causing some clothing to fall off and become wrinkled. Garment bags will work, however, if there is no other viable option. A few more options are vacuum storage bags or even storing the clothing in unused suitcases.
Location, Location, Location
Storing summer clothing does not end with cleaning, and finding the right container. The next step in the process is to choose the right location for the stored items to stay until next summer rolls around. Because there may be times when the ability to gain access to the stored clothing becomes a necessity, choose a location that is out-of-the-way, but still fairly easy to access. Whether you have an attic, storage unit or simply an extra closet somewhere, be sure to keep the containers away from the elements like direct sunlight, or places that tend to attract moisture during the Spring and Winter months.
Additional Useful Items
There are some items that most people have readily available within their homes that can aid in the process of successfully storing summer clothing. Some of these items include moth balls, tissue paper for placing in between clothing to prevent creasing, and tape or label tags to label what items are in each storage container. A task that once may have seemed overwhelming is made simple through these useful tips and ideas for proper storage of summer clothing.