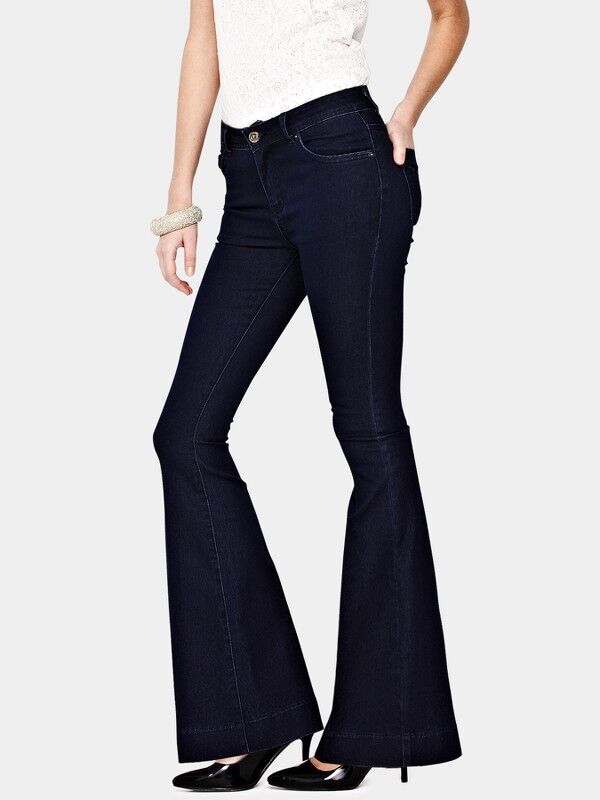 Traditionally, jeans are pants made of denim or dungaree material. Jeans were originally invented in the 1950s for cowboys, but hit the global fashion market based on their popularity with teenagers. While the term "jeans" used to imply a pair of blue pants, today women's jeans span every shade and pattern. Similarly, women's jeans come in a variety of different cuts, lengths, and waist fits. Year after year, designers reinvent different and new ways to style women's jeans. Although generally a more casual item of clothing, when styled the right way, jeans can also be worn for a night out.
Women's jeans are available for purchase at women's clothing stores, department stores, and online at helpful websites like eBay. Wearing jeans for a night out includes picking a type of jeans that is right for a consumer's body and then styling those jeans accordingly.
Different Types of Jeans for a Night Out
Women's jeans come in many variations. Most jeans are categorised by cut, rise, fit, and wash. Styling jeans for a night out depends on where a pair of jeans falls into each of the following categories.
Cut
The cut of a pair of jeans refers to the leg shape of the jeans. Cut includes how the bottom of the jeans fit. Traditionally jeans came in a straight cut. However, today there are many cuts to choose from. Bootcut and wide-leg jeans flare out at the bottom of the leg at varying degrees, typically wide-leg jeans having a larger width compared to bootcut jeans. Straight-leg and skinny jeans do not flare out at the bottom but hold a consistent straight shape either at the ankle or sitting on the shoe.
Fit
The fit of a pair of jeans refers to how the jeans sit at the seat and in the legs. Typically, the fit of the jeans varies from very loose to very tight. Wide-leg jeans are form-fitting and become looser once they hit the mid-calf or wide throughout. Loose and straight-leg jeans typically sit fairly loose from seat to the bottom of the jeans with some consistency. Regular-fit and slim-fit jeans tend to sit tighter on the seat and loose at the legs. As the name suggest, skinny jeans are very form-fitting from seat to the end of the jeans, typically gathering at the ankle.
Wash
The wash of a pair of jeans refers to both the colour, and finish of the jeans. While traditionally, jeans came in varying shades of blue, today jeans come in every colour imaginable. Further, women's jeans also come in a variety of patterns from floral to animal print. The wash of the jeans refers to the fade and wear of the jeans. Dirty jeans have a worn, khaki-colour appearance. Acid-wash jeans are lighter, concentrated in the middle of the jeans. Faded jeans also have a worn look but tend to span the shade range of a particular colour. Further, distressed jeans have purposeful holes, tears, and rips in various places throughout the jeans.
Rise
The rise of a pair of jeans refers to how the jeans sit at the waist and hips. Classic-rise jeans sit right below the belly button and right above the hips. High-waisted jeans tend to sit right above the belly button and often have very wide bands. Low-rise jeans fall considerably below the belly button. Further there are varying degrees of low-rises available.
Picking the Right Jeans According to Body Type
Picking the right type of jeans to style for a night out depends on a woman's specific body type. The following chart provides the best fit and rise for a number of different body types, as well as a description of each body type.
| | | | |
| --- | --- | --- | --- |
| Body Type | Description | Rise | Fit |
| Bell | Large behind paired with long legs | Low | Wide |
| Skittle | Small behind paired with curvy hips and short legs | Classic | Straight or regular |
| Pear | Small waist and curvy hips | High | Wide or straight |
| Brick | Narrow hips paired with muscular legs | High | Wide or skinny |
| Vase | Proportional hips, legs, and waist | Classic or low | Slim or skinny |
| Cello | Large and curvy frame | Classic or low | Wide |
| Cornet | Minimal curves, straight hips, and long legs | Low | Skinny |
Not all women fit perfectly into one body type. Therefore, consumers should mix and match based on the body types they most closely resemble to find the perfect type of jeans to style on a night out.
Different Ways to Style Jeans for a Night Out
There are several different ways to style jeans for a night out. Most styles depend on where a consumer's jeans sit in the different categories of fit, rise, wash, and cut. Additionally, some styles are permanent and some styles allow buyers to wear their jeans in different ways from night to night.
Embellishments
One way to style jeans up for a night out is by embellishing the jeans. This type of styling requires purchasing some fabric glue and any variation of gems, rhinestones, or other flashy small designs. One thing to keep in mind is that embellishing a pair of jeans is a permanent fix, so whereas these jeans are worn out night after night, they are returned to their original form.
Consumers have the option of gluing embellishments along the threadlines of the back or front pockets, or by making their own designs. Embellished jeans should be worn with tops that allow the consumer to show off their embellishments. Further, any type of jeans are able to be styled in this fashion.
Rolling Cuffs
Rolling the cuffs of a pair of jeans is another way to style jeans in a different way for a night out. Rolling the cuffs looks best on regular, loose, or skinny fit jeans. The skinnier the leg of the jeans, the tighter the cuff is. Further, consumers have the option of styling the cuffs to the length of their choice. Consumers should avoid rolling the cuffs on wide-leg and extremely loose fitting jeans.
Top Pairings
A great way to style jeans for a night out is to the leave the jeans the way they are, and pair them with a strategic top. For a great night-out dynamic, consumers should try pairing loose or regular fit jeans with a tighter top. On the other hand, buyers should pair skinny and slim-fit jeans with a looser fitting top. These dynamics create an effortless but fashionable look for a night out.
The Right Shoes
Finally, similar to styling jeans with the right top, styling jeans with the right shoes is a great way to style jeans for a night out. Skinny jeans and slim-fit jeans go great with stilettos and wedges. Looser fitting jeans or wide-leg jeans and ankle boots are a great combination. Further flashy sneakers can be paired with slim-fit or wide-leg jeans for a night out.
How to Buy Women's Jeans on eBay
Styling women's jeans depends on the type of jeans, as well as buyer's preference. eBay has a variety of women's jeans available in all different cuts, rises, fits, and washes that can be styled in multiple different ways for a night out on the town. For example, if you are looking for dark blue skinny jeans, eBay is here to help. To check out your options on this product selection, navigate to the eBay website portal and type dark blue skinny jeans into the search engine located on any eBay web page. After you click the search button, a list of options matching that description is populated for you.
eBay does not just provide a wide variety of choices, but rather eBay provides a wide variety of choices and at affordable prices. One way to focus in on great prices is to navigate over to the eBay Deals page. eBay has great deals on women's clothing, including women's jeans.
Conclusion
Women's jeans have evolved much over the past few decades. While jeans originally came in variations of blue in standard straight-leg fits and cuts, today women's jeans come in a variety of fits, cuts, washes, and rises to fit every body type, whether a woman finds herself a pear, a cornet, or anything in between. Further, women have the chance to really get creative with their jeans, whether by purchasing a loud pair of animal-print jeans or styling their jeans by embellishing the back pockets with rhinestones.
Regardless of preference, there are many ways to style jeans for a night out to match any individual's fashion personality. Further, women have the option of trying out styles that allow them to give the same pair of jeans multiple different looks depending on the circumstances.
Women's Jeans|Skinny Jeans|Low-rise Jeans|Wide-Leg Jeans|Animal-Print Jeans