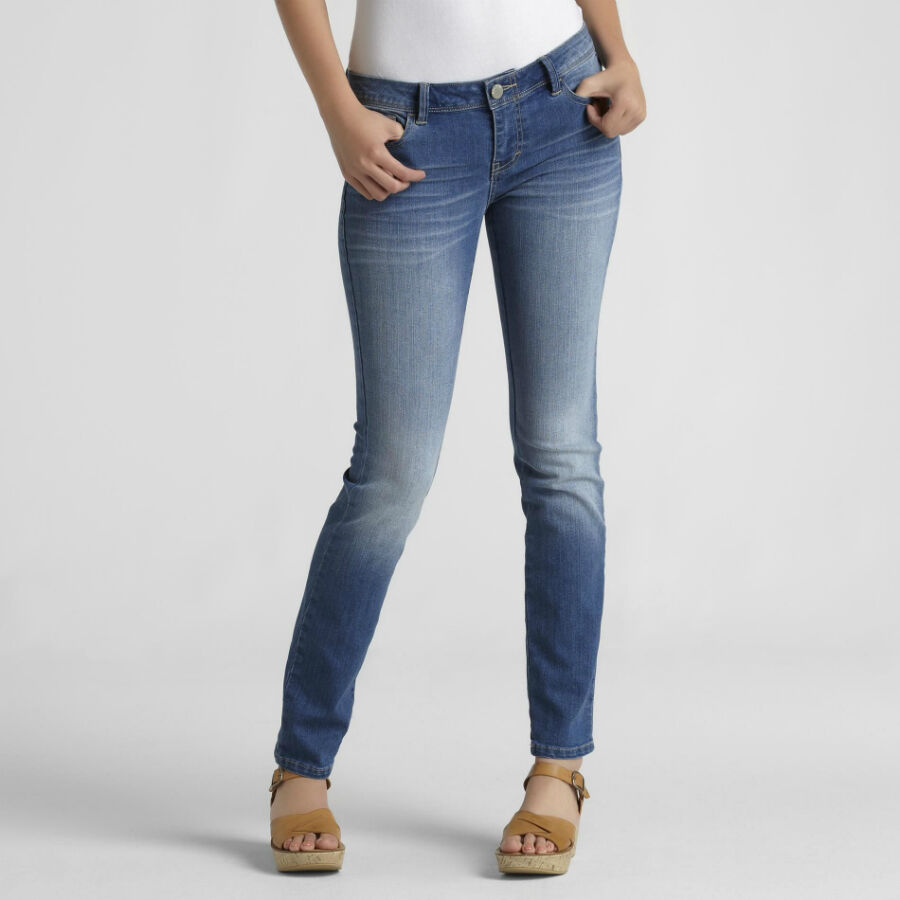 A lot of women feel like they cannot wear skinny jeans unless they have a slim, perfectly curvy figure. In other words, skinny jeans are most often considered a style that only the celebrities and models wear, while the rest of the world looks on wistfully. This is just a myth, though. Literally anyone can put on a pair of trendy skinny jeans so long as they know how to dress in them. For example, short ladies cannot wear the same clothing items with their jeans as tall women can.
Wearing skinny jeans involves following a few simple fashion rules that accentuate a woman's figure. It is much easier for tight jeans to be unflattering than it is for them to be attractive. However, when worn in the right ways, skinny jeans are trendy, stylish, and flirty.
Find the Right Fit
Skinny jeans have been popular in the fashion industry for several years, and it does not look like this style is going to become dated anytime soon. The big question that most women ask is how they can possibly get away with wearing tight jeans when they do not want any of their body blemishes showcased. Luckily, skinny jeans are one of the few clothing items that have the ability to flatter any body, but they are also one of the easiest styles to mess up. The truth is that very few ladies have a completely perfect body, and almost everyone has at least one problem area that they want hidden.
The Stomach Area
Keeping the stomach out of sight when wearing skinny jeans is much easier than ladies realise. Rather than getting a pair of jeans with a fitted waist, find some that have a stretchy top that expands as needed. A tight waistline only squeezes the tummy and makes it appear larger. Next, wear a top that is loose around the midsection. Empire style shirts are very good at showcasing the upper torso, fanning out and hiding the midsection, and then covering up most of the buttocks area.
The Buttocks
Since skinny jeans are so tight, ladies who feel like they have a larger rump tend to be scared to wear them. Rather than steering clear of skinny jeans altogether, ladies can just find jeans with a stretchy top and pockets that are located more towards the bottom of the buttocks. Lower pockets make the rear appear smaller. To flatter the region even more, choose a loose shirt that is longer. The top should at least reach the middle of the rump, but farther is even more ideal. Do not be afraid to cover the buttocks entirely up if it feels uncomfortable for it to be showing.
The Thighs
If thighs seem to be the issue, go with the less-tight style of skinny jeans. Contrary to popular opinion, not all skinny jeans are skin tight. Some of them are still wide enough that they do not show every imperfection. It may take longer to find a pair like this, but it is worth the search. A shirt that is loose at the bottom helps even out a figure with larger thighs even more.
A Boyish Figure
Women with few curves do not have as much trouble wearing skinny jeans as they think they would. When paired with knee-high boots and a tighter top, the jeans actually help create the illusion of curviness. The key is to make the calves look bigger with the boots, and the waist look smaller with the tight shirt.
Tall Figures
Taller women sometimes find it a challenge to get jeans that are long enough for them. However, even if the jeans end up being a little too short, ladies can simply put on a pair of boots to cover that up. Since high heels should be avoided anyway, this ends up not being much of a problem at all. It is also becoming somewhat popular to wear flats with skinny jeans that show a little bit of the ankle.
Short Figures
Short women have the opposite problem than taller women. Their jeans tend to bunch up around the ankles because they are too long. If getting them hemmed is not an option, consider getting a pair of boots to hide them. If the bunching is minimal, wear them with a pair of flats. However, do not wear skinny jeans that are too long with high heels unless they are too tight to go past the heel.
What to Wear Skinny Jeans With
It can be a little more challenging pairing up an outfit with skinny jeans than it is with regular jeans. There are fewer shirt options as well as shoe options. For example, skinny jeans rarely look good when worn with athletic shoes. Consider the following skinny jean looks.
What to Wear Skinny Jeans With

Description

Some women can get away with wearing a tighter shirt, but the majority of ladies find it more flattering and less uncomfortable to put on a loose shirt

A top that drapes around the trousers helps balance out the tightness of the jeans

On ladies who are not very tall, high heels look fabulous with skinny jeans; they make the legs look long, lean, and curvy

In addition, pairing up heels with tighter jeans gives women a way to look dressy and casual at the same time

Ladies who are shorter in stature should avoid wearing flats because it tends to make their legs look stocky

However, other women can enjoy the comfortable, summer look of flats with skinny jeans

Women of all body types can be flattered by wearing boots over their skinny jeans

Particularly flattering on those who have smaller calves and want their legs to look fuller

Shorter women can get high heel boots if they want to add some height as well as curves to their legs
If the idea of wearing skinny jeans is still too uncomfortable, consider getting an extra long top that reaches to the thighs. Even some shorter summer dresses look great with a pair of jeans underneath.
How to Shop for Skinny Jeans on eBay
Now that you are ready to try wearing skinny jeans, it is time to find a pair that fits. Local shops are likely to have them, but are usually limited to one or two brands or styles. Try shopping online so that you can get a better idea of what is available. On eBay, thousands of vendors sell their apparel, and it is even possible to find used skinny jeans from private sellers or on the deals page.
To use the eBay website, all you have to do is type a product name into the search bar. For example, you can pull up a list of items by searching for "skinny jeans". If you already have a specific brand in mind, include that in the search phrase.
The key to shopping for clothing items online is just making sure that things can be returned if they do not fit. Most sellers are accommodating about this, but double check to see how much you have to pay for return shipping.
Conclusion
Although it is quite possible for any woman to wear skinny jeans and be flattered by them, not all jeans are created equal. They have different degrees of stretchiness and come in various colours or fades. It is important to get a pair that fits well, has an attractive shape with well-placed pockets, and is in a flattering colour. For example, the darker the jeans are, the skinnier they make the woman appear, while lighter jeans that are faded down the centre can add the appearance of weight. Simply take everything into consideration when shopping for skinny jeans and then find other clothing items that go well with the trousers, and the end result can be more than satisfactory.