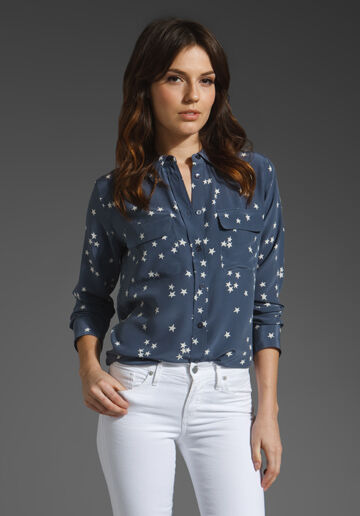 Blouses are a popular component of every woman's wardrobe as they are both comfortable and stylish. These shirts are tailored, yet loose fitting and come in several different types, each varying in their fabric, collar, and sleeves. Popular fabrics include cotton, linen, silk, and polyester. Blouses may also feature feminine details such as frills, ruffles, bows, or puffed sleeves.
Blouses are ideal for both casual and formal settings. When considering how to style a blouse to go from day to night, it is helpful for buyers to understand the history of the garment, familiarise themselves with the various types, and understand the different factors that go into making a well made purchasing decision. Then it is easy to transform a blouse from day to night. Blouses and accessories can be bought from clothing boutiques, department stores, and online at eBay.
A Brief History of the Blouse
Blouses were traditionally worn by both male and female peasants and did not become mainstream until the 1890s. During this period, blouses were reserved for workwear and often worn with loose skirts. During the early 1900s, the blouse became more popular, with elaborate lace and embroidery that had been reserved previously for undergarments. Women's blouses have buttons sewn on the opposite side of the opening when compared to men's shirts. This is thought to stem from the fact women were once dressed by their maids, so reversed buttons made it easier for them to be fastened.
Types of Blouse
There are several types of blouse, each varying significantly in design and style. Styles may range from pinstripe, paisley, and floral to more bright and colourful prints. When searching for the right fit, buyers should consider their body type as well as personal preference.
Peasant Blouse
The peasant blouse has fallen in and out of style over the years. It is characterised by long, flowing, bell shaped sleeves and an off the shoulder neckline. It is often associated with the 1970's hippie, flower child, or a bohemian style. Many peasant blouses feature embroidery or beading, pairing well with tighter fitting jeans, capri pants, shorts, and skirts.
Choli Blouse
The choli blouse, typically seen in India, Pakistan, Bangladesh, and Sri Lanka, is backless and cropped to expose the midriff. It is tailored to fit snugly on the body and features short sleeves. It is traditionally worn with a matching sari, but works well with a gypsy skirt.
Wrap Blouse
The wrap blouse is universally flattering to all body types, concealing many less favourable areas of the body. The fabric on one side of the blouse wraps over the other side and is then tied, creating a defined waistline. When wrapped, the blouse creates a V-shaped neckline, highlighting the bust region and helping to give the upper body an elongated appearance.
Short Sleeve Blouse
The most versatile of types, the short sleeve blouse, is a trendy addition to any woman's wardrobe. It comes in a wide array of designs and colours, including bows, pinstripes, thick stripes, patterns, and ruching. Depending on the style, short sleeve blouses may feature collars and button down designs. They be worn with jeans for a casual look, or paired with tailored pants or skirts for business dress.
Dirndl Blouse
Dirndl blouses are typically made of a light fabric, such as thin cotton or silk. Up until the early 1900s, they were also made of satin and polyester. These blouses have open lapel collars and elaborate details, including embroidery and frills.
Factors to Consider when Styling a Blouse
There are many factors to consider when styling a blouse, including sleeve length, collar type, neckline, and fabric. The right style should accentuate a woman's positive features, and conceal her less flattering areas. In addition to body shape, women should consider the occasion and personal taste.
Sleeve Length for a Blouse
Blouses can be sleeveless or have capped, puffed, bell, three quarter, or long sleeves. Longer sleeve lengths are considered to be more formal, while shorter sleeves are more casual and great for daywear.
Collar Type for a Blouse
Blouses may or may not feature a collar. The collars can either stand up or lay flat and can have various shapes, including round, straight, and ruffled. Straight collars are considered to be more formal than rounded and ruffled styles.
Neckline for a Blouse
Blouses without collars are grouped according to their neckline. The type of neckline can greatly alter the look and feel of the blouse, and should be chosen according to a woman's body shape. Popular necklines include V-neck, crew, and scoop. V-necks and scoop necks create the illusion of a longer silhouette.
Fabric for a Blouse
When styling a blouse, consider the type of material it is made of, especially with respect to the occasion because the fabric can alter the formality of the blouse. Cotton blouses are a good choice for outdoor events as the fabric is breathable. Satins and silks are well suited for formal, indoor occasions.
Transforming a Blouse from Day to Night
After selecting the right blouse that suits the occasion and the wearer's body shape, consider how to dress it up to take it from day to night. A blouse that is well suited for the office can be transformed with the right accessories.
To add feminine glamour to the ensemble, pair the blouse with a fitted skirt and chic blazer. The type of skirt should match the style of the blouse. Straight blouses are best paired with flared skirts as it helps to balance out the look. While flats or sandals are ideal for day wear, a pair of heels and an elegant handbag are perfect for a girls' night out or dinner date. Finish off the look with a silk scarf or shawl.
For a more casual night time look, wear long stackable necklaces or bracelets. If the blouse is sheer, consider using it as an accent piece by layering it over a dress. Longer blouses can be paired with patterned leggings and boots or tucked into a pair of classy pants.
Buying a Blouse and Styling Accessories on eBay
If you want to buy a blouse or accessories to style it from day to night, it is easiest to start browsing by typing keywords, like "women's blouse", into the search box at the top of every eBay page. If you have a more specific idea about what kind of blouse or styling accessories you want, you can also include these keywords in your search. Narrow your search by using eBay's advanced search feature. It allows you to limit results based on the item's condition or price. Further, you can browse through eBay's deals for your next top.
Before committing to any purchase, investigate the seller thoroughly. This entails reading a seller's feedback, which is left by past buyers. Consistent positive feedback indicates that the seller is reliable and offers high levels of customer service.
Conclusion
With the right accessories and proper pairing with other garments, every woman can style a blouse to go from day to night. Blouses are often associated with office wear, but the can be transformed for a wide array of other settings. Whether dressing the blouse up with jewellery or heels, wearing a blouse at night can create a chic look.
When selecting a blouse, buyers should consider the various types. Short sleeves with intricate lace details are ideal for more elegant occasions, while wrap blouses give a woman a more curvy figure and a defined waistline. Also consider the fabric and collar type. Satins and silks are ideal for classy events, while cotton is best for the outdoors because of its breathability. eBay offers a range of perfect blouses and accessories for both day and night.