How to Teach Your Child to Clean His or Her Room
Picking up after your child doesn't have to be a hassle for either of you - a positive attitude and a reliable routine can keep your child's room clean.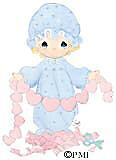 Steps
Establish a firm room-cleaning schedule for your child, such as cleaning at the end of each day before bed.

Put him or her in charge of putting away toys after playing with them. Provide a toy chest, wicker baskets or plastic containers for this purpose - the more colorful, the better.

Try to make cleaning fun - play music from his or her favorite movie or band while sorting toys, for example.

Put up a bulletin board on which your child can keep and display his or her art and other creations.

Show your child that his or her desk is for writing and drawing, as well as keeping papers, books and writing utensils.

Go through your child's possessions together once a year, pick out games and toys that he or she no longer uses and donate them to charity (or sell them on Ebay!!).

Provide separate storage and play areas within a room if two or more children share it.
Tips & Warnings
Be firm and consistent.

Explain that you will temporarily take away any toys left out, and follow through on this.