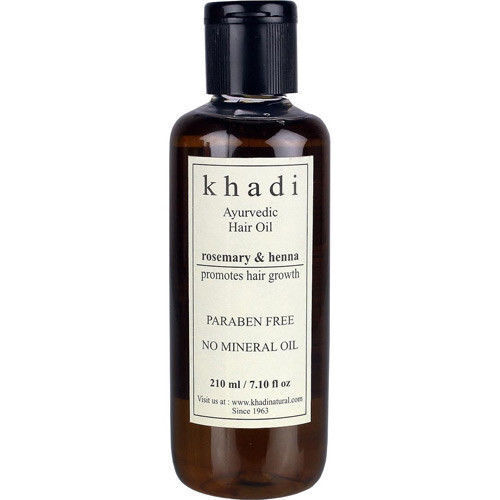 Keeping hair strong, nourished, and healthy can challenge even the most diligent stylist, but Ayurvedic hair oil can help promote strong and healthy hair and lessen hair loss for those with frizzy, dry, or fine hair or for those prone to split-ends. Ayurvedic hair care products usually include herbal mixtures and natural oils that require minimal processing. Such hair care includes herbs and plants like Henna, Indigo, Amla, Neem, and Shikakai. Ayurvedic hair oil products are available from manufacturers like Brahmi, Dabur, Africa's Best, BioInfusion, SoftSheen-Carson, Softee, and many others and shoppers can find these and other products at local specialty or beauty shops or online at eBay.
Using Ayurvedic Hair Oils
For those who need to manage dry scalp or dry hair, Ayurvedic hair oil can help. Most formulas reduce or relieve an itchy scalp and damaged hair. In addition, for those dealing with hair loss, certain oils help stimulate hair growth by strengthening and thickening weak or fine hair. Using Ayurvedic hair oil can also help relieve stress and improve mood. Shoppers should ensure that the oils they select are safe for their hair type. Most of these oil types do not damage colour treated, weaved, braided, or relaxed hair.
Deciding When to Use Ayurvedic Hair Oils
People typically use Ayurvedic hair oils about once per week, although users can apply it more often as necessary. The benefits of this type of hair-care regimen are numerous and include the prevention of flakes and dry scalp, greater blood circulation in the neck and head area, increased hair manageability, and greater lustre and vibrancy. Other positives include the strengthening of roots, which promotes new hair growth; a more relaxed scalp and increased pliability; and protection from the harmful effects of the sun and other harsh weather.
Choosing Herbs for Ayurvedic Hair Oils
Specific herbs provide different benefits, so shoppers should learn about the different options and the resulting effects before making a purchase or using an Ayurvedic hair oil.
Herb

Benefits

Helps calm the mind and nervous system

Nourishes the hair

Promotes hair thickness and body

Cooling, nourishing, and purifying

Good for all hair types

Helps ward off premature thinning and greying

Helps prevent dry scalp and flakes

Nourished the hair

Cooling

Helps maintain hair vitality and colour

Purifies hair

Has cleansing properties

Stimulates hair follicles and promotes growth

Helps prevent premature thinning and greying

Soothes and conditions the scalp

Stimulates hair growth

Balances oil production

Replenishes the hair and scalp

Helps alleviate stress
These are just a few of the herbs included in various Ayurvedic hair oils.
How to Do a Scalp and Hair Massage
To use Ayurvedic hair oil, start by pouring some oil into a bowl. Then add some hot water into the bowl to warm the oil. Make sure the oil is not too hot. It should feel warm to the touch.
Applying the Oil
Using the finger pads, apply the oil a little at a time to different parts of the scalp. Part the hair as necessary and make sure to work in the oil along the length of the hair. Next, massage the oil into the scalp in circular motions using the finger pads. Using slow and deliberate movements helps increase relaxation, but to promote circulation and energy, use steady but vigorous movement. Make sure to cover the scalp entirely. Massage the oil all the way down the sides to the ear area and down the back to the neck area.
Removing the Oil
Leave the oil on for 30 to 60 minutes or longer, if desired. After the massage, provide extra softening and conditioning to the hair by dipping a towel in hot water, wringing out the water, and then wrapping it around the head. Finally, use a natural and gentle shampoo to rinse out the Ayurvedic hair oil.
How to Buy Ayurvedic Hair Oil on eBay
To find oils on eBay, use the Search bar to bring up products and categories to sort by condition, item price, and location. Make sure to read about the product in the seller's listing, and click on the Ask a Question link on the listing page for additional information. You can also look for the best bargain by searching the eBay Deals Fashion & Beauty category..
The primary benefits of using an Ayurvedic hair oil include nourishing, strengthening, and conditioning dry, frizzy, or fine hair. These types of hair-care products contain herbal mixtures and natural oils, such as Neem, Henna, Amla, Indigo, and many others.