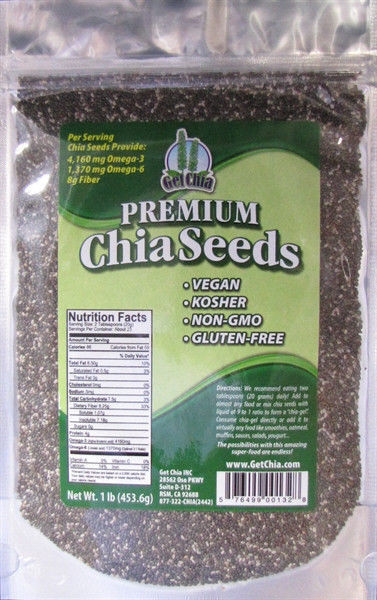 The growth in popularity of chia seeds is due to an increase in awareness around the seeds' health benefits. In addition to the fact that the seeds are gluten free, they provide consumers with a wide range of essential nutrients. Chia seeds include more Omega-3 fatty acids than salmon, and more antioxidants than blueberries. Additional sources cite that chia seeds contain vitamins A, B, E, and D, as well as protein, iron, thiamine, and more. The health benefits include weight loss and an increase in endurance. When a chia seed mixes with water, it forms a gel. This gel suppresses the appetite and retains fluids. Health-conscious consumers who understand various ways to use chia seeds get the most health benefits from them.
Healthy Pudding
When chia seeds mix with liquid, they create a thick gel. More seeds create a thicker gel. To make a delicious pudding, mix chia seeds with milk, almond milk, or coconut milk. Add flavour with fresh fruit, agave nectar, stevia, cocoa powder, or vanilla to taste. Put all the ingredients in a blender, and blend until smooth. Let the mixture thicken in the refrigerator for 10 minutes. There are nearly infinite flavour combinations for this healthy treat.
Addition to Soup or Gravy
Cooks often use cornstarch and other unnatural agents to make soup or gravy thick. To make a guilt-free, delicious soup or gravy, add chia seeds instead. Add them straight to the recipe, or grind them into a powder first. The result is a nutrient-rich alternative for your delicious recipe.
Substitute for Bread Crumbs in Meatballs
While bread crumbs hold a meatball together, they also add gluten and other unhealthy components. Instead, grind up chia seeds, mix them into the meat, and add a little bit of water. It also works for meatloaf and other ground beef dishes. This is a particularly popular use for individuals with a gluten intolerance.
Homemade Energy Gels
Distance runners and endurance athletes are familiar withenergy gels fromGatorade, PowerBars, and others. These are great for a quick burst of energy and nutrients on the go. They come with loads of corn syrup and other unnatural ingredients, however. For a healthier option, mix chia seeds and coconut water. This alternative saves runners from unnatural chemicals, and it provides better energy and hydration.
Breading for Chicken or Fish
Chia seeds are a great substitute for breading on chicken or fish. It is particularly popular among individuals with a gluten intolerance. The toasty crunch of a baked chia seed adds a delightful flavour and texture to a popular dish. To prepare the chia seeds, use ablender,food processor, or coffee grinder to turn them into a powder. Mix the seeds with almond flour and garlic powder for flavour, and place on the meat. Straight chia seeds also work to create a flavourful alternative to breading.
Sprouts for Salad
When they bud, chia seeds create a tasty sprout that goes great in a salad. To make chia sprouts, put them in water, drain the water, and then let them sit for a few days. Approximately every 12 hours, add and drain water. After 48 hours, the seeds bud with edible sprouts that are nutritious and delicious.
Substitute for Eggs
A common ingredient in many bakers' recipes is eggs. While eggs provide health benefits, individuals who are sensitive to them use chia seeds instead. To replace one egg in a recipe, add 1 tablespoon of chia seed powder and 3 tablespoons of water.
Toasty Grain-free Crackers
The magic of chia seeds and liquid offers a gluten-free alternative to crackers. To make these delicious treats, mix equal parts of seeds and coconut milk. Add garlic and salt to taste, and then let the mixture sit for up to 30 minutes while it hardens. Once it is done, scoop the entire mixture onto a cookie sheet and bake it at 162.78 degrees Celsius (325 degrees Fahrenheit) for 30 minutes. Next, break the mixture up into cracker portions and flip it over. Bake another 30 minutes and let it completely cool on the pan.
How to Buy Chia Seeds on eBay
To shop for chia seeds, use the search field on any page at eBay. To ensure the best purchase experience possible, buy from a seller with a long history of successful transactions and a high feedback score. If the details of a listing are not apparent, use the "Contact Seller" feature for clarification.
The growth in popularity of chia seeds has much to do with the health benefits of the product, as well as its large variety of uses. In addition to the seed's nutrients, it increases energy and helps with weight loss. Thanks to the eBay marketplace, shoppers can find chia seeds at a great price.