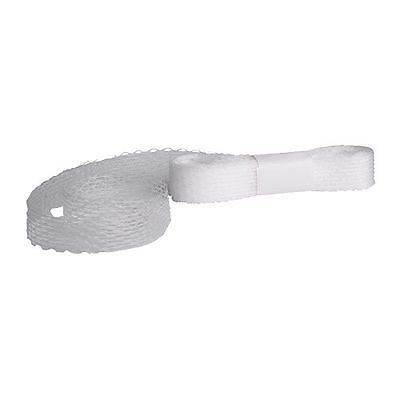 Hemming tape is a versatile product which allows people to alter the length of clothing and is useful in conjunction with straight pins. Straight pins are an effective way to mark a hem and are handy in many mending processes; however, they also tear fabric if the user is not careful. They also sometimes prick the skin and get in the way of sewing machine needles.
Using hemming tape helps avoid these types of problems and is often a much quicker way to make a fast repair to an article of clothing. Look for hemming tape at sewing supply shops and online at eBay. Knowing how to use this product makes the task of hemming a garment quicker and safer.
Prepare the Garment for Hemming
Before using hemming tape, prepare the garment for hemming in the typical process normally employed. This often requires measuring the length of the garment, removing any excess length, marking the hem, and then pinning the hem down. Prior to adding any folds or pins to the garment, add tape to the area receiving the hem. After adding tape to the garment, take a warm steam iron and run it along the hem to activate the adhesive in the tape which sticks the tape and the fabric together, thus creating a hem.
Using Hemming Tape for Quick Repairs
Over time and with repeated wear, hem thread starts to break causing the thread in the rest of the hem to unravel. One of the great things about this type of sewing accessory is that people also use hemming tape to create a quick repair to a loose hem. This is a very convenient and quick way to hem a garment while on the go and when sewing supplies are not readily available.
To use hemming tape in this fashion, start by measuring the area that needs the attention and then add a few extra centimetres to the measurement length. Applying tape that is longer than the unravelled hem ensures the area before and after the mend is stronger while preventing the hem from any further unravelling.
Many people find hemming tape to be an attractive sewing resource because even though this fabric tape alone is typically not the most durable way to hem an item, it is usually easy to remove by heating or steaming the tape to reset the placement of the hem, if the need arises. When choosing to use hem tape as a quick fix, take care in reading the label of the product to make sure that it is one with a removable design or the tape may become a permanent fixture of the garment.
Hemming Tape Choices
When it comes to placing a hem in a garment, there are different types of tape to choose from. Even though the purpose of this fusible adhesive tape is the same, the process for using the tape and the qualities the tape possess differ dramatically. Some people like to use hem tape not only to create a permanent hem, but to fix a torn hem when sewing a new one is not convenient or possible. Not all hem tapes come in the same widths, strengths, or use the same type of materials in their construction. That is why it is important to choose the right tape for the hem as one type of tape ideal for use on denim may not be safe to use on delicate fabrics like silk. Find a variety of hem tapes along with some notable characteristics in the table below.
Type

Notable Characteristics

Useful for creating permanent hems

Comes in a variety of colours, widths, and strengths

Provides a firm adhesive layer for sticking materials together

Offers a handy ruler for easy measuring

Ideal for quick hems on fabric

Useful in crafts as a batting seam tape

Instant hem tape

Comes in a variety of sizes, colours, and strengths

Ideal for immediate hemming and safe to use on no-iron materials
This table represents a small sample of hemming tape products available. Hemming tape is helpful in a variety of situations ranging from quick hem placement to a handy crafting tool as a pleat tape. Always read the label of the product to ensure which types of fabrics the tape is safe for use with.
How to Buy Hemming Tape on eBay
Many people know that when they want to shop somewhere that has a vast array of products available at affordable prices, eBay is the place to go to fill that need. Find many great deals on products like hemming tape from trusted eBay sellers who offer competitive pricing and with many sellers who provide free postage and payment.
Hemming tape is such a versatile tool that no sewing kit should ever be without it. Acting like an extra hand, this tape helps hold fabric in place during the sewing process. Hemming tape is great for permanent seam creations as well as short-term hem repairs. Knowing more about this tape makes the buying choice easier.