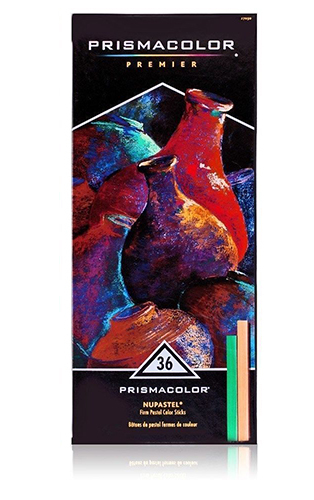 Pastel, in its singular form, refers to an artistic medium defined by the use of similarly named coloured sticks, the plural 'pastels'. Used by all types of artists since the Renaissance, drawing with pastels allows artists to blend and layer colours in a unique way to create vibrant, true-to-life final products.
In the 19th century specifically, a variety of well-known artists such as Degas and Manet used pastels extensively. Today, artists praise the medium for its variety of bold and bright colours perfect for modern artwork. For this reason, many artists and budding artists see learning how to use pastels as an essential skill.
Learn About the Types of Pastels
The term 'pastels', though specific to an artistic medium, is still a bit of a catch-all for any powdered pigment and binder mixed together and presented in stick form. Indeed, the specifics of the binder especially have a marked effect on the way in which the pastel produces colour on a surface. Generally, pastels fall into one of three major categories, or types: hard pastels, soft pastels, and oil pastels. Each type of pastel has a different composition ratio of colour and binder which results in certain benefits and disadvantages to artists during and after use.
Type of Pastels

General Composition

Benefits

Disadvantages

High level of pigment

Low level of binder

Brighter colours

Easy to smudge and blend

Higher proportion of dust

Completed drawings require protection from smudging via glass framing or a fixative

Low level of pigment

High level of binder

Sharp drawing material great for creating detail

Used for outlines and accents along with other types of pastels

Does not require a fixative

Colours are less bright

Colours do not blend well

Limited number of colours available

High level of pigment

Low level of oil or wax-based binder

Intense, bright colours with a soft, creamy finish

Does not smudge

Does not require a fixative

Colours are harder to blend but may be thinned with turpentine
Understanding the different types of pastels and how each works is actually the first step in learning how to use them. For example, many artists choose to blend types of pastels, opting for a hard pastel outline and soft pastel filling. With different blending abilities, colour effects, and preservation needs, keeping track of these facts is important for preserving the integrity of the artwork over its lifetime.
How to Use Pastels
The basic idea behind pastel artwork is the use of colour blending techniques on the paper rather than before application, as with oil paint. In fact, the purpose of the powdered pigment which forms the basis of all pastels, regardless of type, is achieving this blending effect. Therefore, the use of pastels really boils down to two skills: strong outlines and balancing base colours with lightening and darkening techniques.
To use pastels well, artists need a firm basis in sketching and colour theory, either through schooling, practice, or both. These skills, combined with trial and error lead to properly applying and blend pastels like the masters. There are a few important points to keep in mind, however, to begin the process correctly.
Using the Proper Surface
Pastels by themselves are not enough to produce good pastel artwork. The paper is equally important. In general, any paper with a decent 'tooth' or textured surface works with pastels, though specially made pastel paper is always a good option. In addition to the type of paper, properly securing it to a hard surface matters. Acid-free tape which peels off easily and preserves the integrity of the paper and pastels around it is a great choice for securing the paper to an easel or work surface.
Creating a Plan
Especially when first learning to use pastels, starting with a plan is essential. Using a coloured pencil to sketch the initial outline of a portrait or scene not only serves as a road map for colour application, but also ensures that the base of the picture does not smudge during pastel application.
Considering Preservation
Finally, artists need to be careful to preserve their pastel works from damage by following the instructions specific to their type of pastels. Soft pastels need special care since even the smallest disturbance to a portrait smudges carefully blended colours. Many artists choose to use a pastel fixative for this step though, in a pinch, hairspray works just as well.
How to Buy Pastels on eBay
eBay offers artists and their loved ones a variety of art supplies including pastels. Sellers feature all different types of pastels and pastel paper, combination and bundled packages which may include other art supplies, and even the ability to buy pastels in bulk. These offerings, combined with other deals on eBay, provide users with great costs savings every day.
Since they first appeared in the 15th century, pastels have had a major impact on the world of art. Once artists learn to use pastels, the bright colours and unique finish of pastels allow artists the ability to create amazing varieties of work.